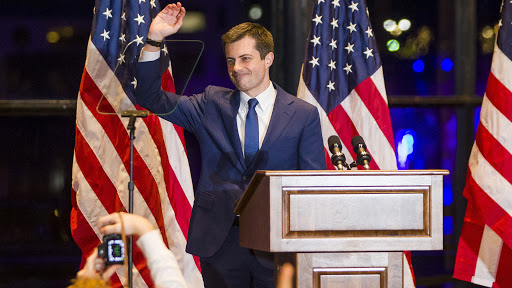 Santiago Flores
Late Sunday afternoon, former mayor of South Bend, Indiana Pete Buttigieg announced that he was ending his candidacy for the presidential election. Buttigieg made the announcement in the same place he started his campaign: South Bend. 
As for why he dropped out of the race, Buttigieg said in his announcement that "the path has narrowed to a close, for our candidacy if not for our cause." The decision came a day after the South Carolina primary, where he placed fourth in an unsuccessful attempt to gain support among black Democrats. And with Super Tuesday approaching, it was expected for him to perform poorly, especially compared to frontrunners Senator Bernie Sanders and former Vice President Joe Biden. Buttegieg was not the only candidate to end his campaign during the three-day period between the primary and Super Tuesday; both Tom Steyer and Senator Amy Klobuchar dropped out of the running as well. And after a miserable performance on Super Tuesday, Senator Elizabeth Warren and former New York City mayor Mike Bloomberg ended their campaigns this week, leaving only Senator Sanders and Biden fighting over the Democratic nomination. 
There are several reasons why Buttegieg dropped out, the most obvious being he had an extremely slim chance of getting the nomination. Coming into Super Tuesday, his home state of Indiana was not involved, meaning he would not have been able to take many votes away from Senator Sanders, and to further his efforts, on Monday, he announced his endorsement for Biden in hopes for his supporters to vote accordingly. He is still young, so it is better for him to quit now to take away any chance of him ruining himself or his reputation to be more successful in future election cycles. 
Buttegieg made history as the first openly gay presidential candidate, and his legacy will be implemented in American history. Had he been running in 2008, he would have been the laughing stock of the election. And that is why his presence alone on a national stage serves as a symbol for the progression and future of American politics. Same-sex marriage was legalized in all 50 states just five years ago. And with a narrow political background, being one of the few Democratic candidates to have not won a previous statewide election as either governor or senator, it is impressive for Buttigieg to have made it this far. But had it not been for the 2016 election, which showed that anyone, no matter the extent of the political background, can be elected president, Americans would not have this new perspective on what is possible of a presidential hopeful. 
Buttigieg's eminence can be attributed to events such as these that progressed and advanced both the social and political scene of the country. Ben Lerner ('21) considered Buttigieg's campaign to be a sweeping success. "I think he ran an incredible campaign and has brought himself from some nobody mayor to a serious player in national politics," said Lerner. "He clearly had a great future in politics and will go far."
To conclude his suspension speech, Buttigieg said, "We must recognize that at this point in the race the best way to keep faith with [our] goals and ideals is to step aside and help bring our party together." In doing so, Buttigieg attempted to rally Democrats to face a common goal: beating President Trump.