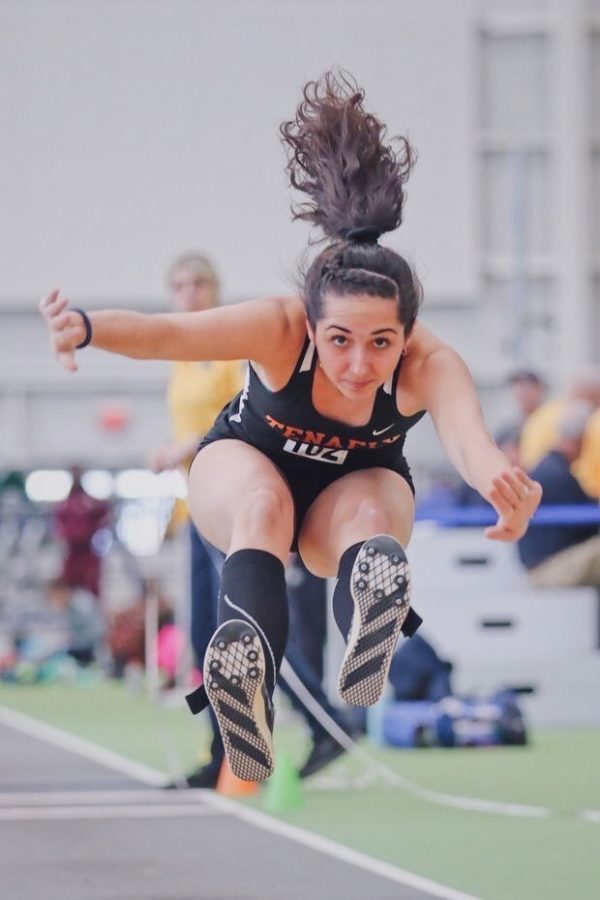 Many of us find the hurdles of high school to sometimes feel insurmountable, but track-and-fielder Sophia Dongaris ('20) has cleared them— quite literally— with seeming ease. She has been very successful throughout her high school track career, placing xixth in the state for triple jump, making First Team All North Jersey for triple jump, making the North Jersey track and field dream team, winning league champion in hurdles and triple jump, and, lastly, taking state sectional champion in hurdles. 
Sophia's achievements do not go unnoticed. She had a dream to go to Lafayette College for track and field. "I wanted Lafayette because, for starters, I had wanted to go there since sophomore year, before I was considering continuing track," she said. "But I also wanted Lafayette because I feel like I would get attention from the coaches and would have good camaraderie on the team." Little did she know, she was right. She did receive a scholarship to Fordham for track and field but decided to turn it down for Lafayete, which does not even give scholarships for track. This shows the love and dedication she has for Lafayette.
It was just a normal day in January when Dongaris was at a Tenafly boys basketball game supporting her school. All of a sudden, she got a call from the Lafayette track coach, which made her extremely anxious but also excited about what they were going to tell her. "I ran down the bleachers to try to get to the hallway but ended up tripping down the stairs because I was going so fast because I was so excited," said Dongaris. The coach told her that she had an official spot on the track and field team and all Dongaris had to respond was yes, and that's exactly what she did. That moment for her was one of the most thrilling times in her life. Not to mention, the coach guaranteed Dongaris a starting spot at meets, considering she was a top freshman recruit. 
When Dongaris was a sophomore in high school at a county meet, she knew that she wanted to pursue track and field in college. That specific meet was the first time she ever cleared 5'2" in high jump, which was such an amazing experience for her. " It was the most exciting feeling ever, and I never wanted to stop feeling that," said Dongaris. 
Track is a huge part of Dongaris's life, but it is not everything. She first started track to stay in shape for the sport she was playing throughout her childhood, which was soccer. She was a great soccer player and loved to play, but she knew track was more important in her life. She quit soccer to focus more on training for track and her future, which she knew was the right decision. She is also thankful that she had the opportunity to be involved with track and field during her high school years, and that she will continue to do so in college. 
In the future, Sophia wants to continue to push herself to be the best she can be to achieve all of her goals. She hopes to have a senior season, and if there are states, her goal is to be top eight again during the spring season. In college, she hopes to get even stronger as a track star and potentially qualify and compete at the league's championship for the Patriot League.