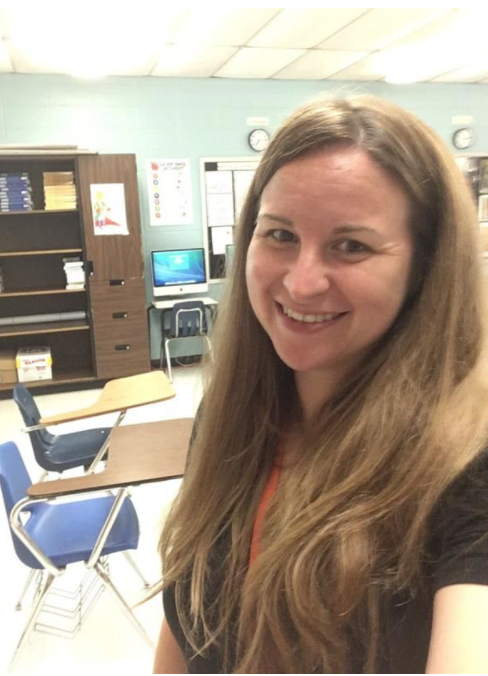 Megan Williams, a French teacher at the school, learned on September 15 that she had been named one of the twenty-one 2020-2021 New Jersey County Teachers of the Year by the New Jersey Education Association (NJEA). 
The awards, which are a part of the larger Governor's Educator of the Year Program run by the Department of Education, acknowledge the hard work and dedication of New Jersey's most outstanding teachers every year. This year's New Jersey County Teacher of the Year Awards Ceremony was held virtually, and teachers who were named County Teachers of the Year are eligible to apply for the State's Teacher of the Year Award, the results of which will be announced in October. 
Williams has been a member of the World Language Department at the school since 2004. She holds a B.A. in French, Spanish, and Secondary Education from the College of William and Mary and a M.A. in French Language and Civilization from New York University in Paris. In addition to working as a French and Spanish teacher, Williams coaches the Freshmen Girls' Volleyball Team and advises the Global Care Unlimited Club. 
Williams, with her ardent passion for teaching, puts great effort into providing her students with an interactive and authentic learning journey. Based upon her own experience learning French, when teaching, she focuses on immersing students in the French language and culture, allowing them to communicate their messages and express themselves through the language. "When I started learning French, I remember being so confident with writing and grammar, but when it came to speaking, it took me a long time before I became at ease," Williams said, describing her own experience. Instead of grammar exercises and vocabulary, which do little in helping one grow practical communication skills, Williams places stronger emphasis on learning the language and culture, which she does by developing her class lessons around the three modes of communication: interpretive, interpersonal, and presentational. 
Williams works to incorporate interactive class activities and engaging teaching methods in her classes. She starts her classes off with some Francophone music, after which a warm-up question is asked to get everyone in the mood for class. Then, students participate in a variety of activities such as interacting in conversations in breakout groups or creating a slides presentation about the main idea and supporting details of a text or video. Frequently, she utilizes interactive games such as Quizlet, Kahoot, or MentiMeter to check students' understanding of the class material. 
Lily Park ('22), a student of Williams, described her classes: "They are extremely motivating and inspiring. From the very beginning of her class, we were asked to speak fully in French, even when asking questions. I lacked confidence in speaking compared to grammar or vocabulary. Ms. Williams understood this and encouraged me to try even though it didn't sound correct. Surprisingly, I have gained so much knowledge every week since the beginning of junior year. I am really looking forward to the rest of the year for many more French experiences. Merci Ms. Williams!"
Another student, Zuzanna Buchnajzer ('21), commented on her relationship with her teacher, "Ms. Williams is the sweetest person; I knew her well before she became my french teacher. She is very involved in the Freshman Girls' Volleyball team as well as in the Pinnacle Volleyball club in which I was a player in the 2019-2020 season. I have French 2 Honors with Ms. Williams and even though it's only the beginning of the school year, I see the reason why she was awarded the teacher of the year title! Ms. Williams couldn't be more encouraging and helpful. I strongly believe that after a year of French with Ms. Williams I will be brave enough to talk fluently when I travel to France!"
Williams describes her most rewarding moments as a teacher as those when her students or athletes become willing to accept her help or build up the courage to try or learn something new. "After all, that's what we teachers are trying to do––guide others and help them find their path, their passions, and even open up some doors for them that they didn't know existed!" said Williams. 
When asked about her goals and aspirations for the year, Williams, unable to pinpoint a single goal, listed out several: She hopes to best serve her students in virtual and hybrid instruction; to continue to highlight her students' talents in class by incorporating their interests in the units and giving them voice and choice in class as much as she can; to collaborate more with her colleagues in the World Language department to incorporate more proficiency-oriented practices in the classes; and to incorporate and celebrate more BIPOC (black, indigenous and people of color) authors and individuals in the units she teaches and represent as much more of the Francophone world as she can. 
In response to receiving the award, Williams expressed her gratitude and appreciation to those around her, "I'm beyond humbled to receive this great honor. There are so many incredible educators in Bergen County––and in Tenafly especially––who are deserving of recognition. I hope someday they all receive the recognition they deserve! I know that I owe so much of who I am to the wonderful teachers I had in my life and to my colleagues––both past and present, across all disciplines and athletics at THS, who have mentored me and who inspire me with their ideas and approaches to education. They have made me better and everyone else they worked with. This award also holds special importance to me because I come from a family of teachers––from my grandparents, parents, siblings, aunts, uncles, cousins––many of whom also work, or have worked, in Bergen County schools. I share this award with my family of teachers and with all teachers who give their all to education."