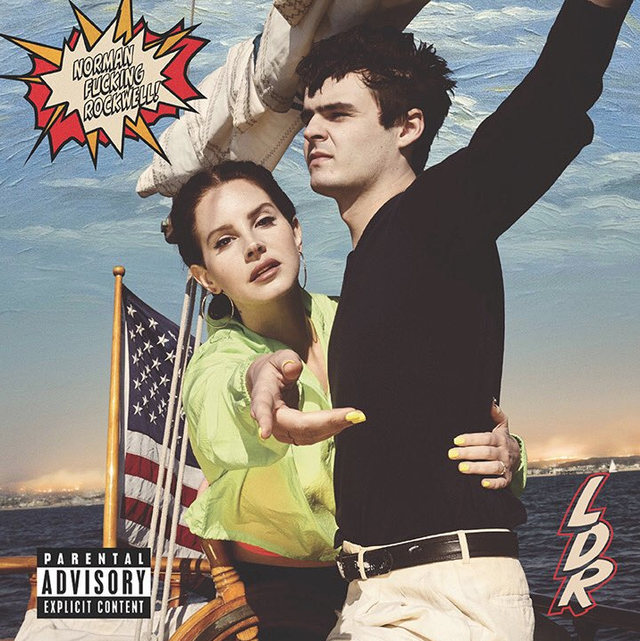 Saying Lana Del Rey impressed me with Norman F****** Rockwell! is a great understatement. Del Rey, the queen of flower crowns and making girls cry, came out with her long-awaited sixth studio album on August 30. Del Rey has made quite a name for herself in recent years after coming out with consistently amazing albums, from Ultraviolence to Lust for Love to the absolutely iconic Born to Die. Her latest album consists of fourteen songs, each one outstanding in its own way. From the dynamic melodies to the ever-so melancholy lyrics to the literal tears I shed while listening to "Happiness Is a Butterfly," Del Rey really sold me with this album. Her voice sounds as though she recorded all of the songs with an old-timey microphone, which fits with all the retro references made within the album. The psychedelic and nostalgic tones transported me to a hippie poetry session in 1960s California. There is not a single bad, or even mediocre, song on the album. My personal favorite is "California," with "Cinnamon Girl" following as a close second, but there are no losers with this album—except for Lana Del Rey's haters.
"Norman F****** Rockwell"
"Your poetry's bad and you blame the news"
Del Rey shows off her fierce feminist side with this song. Norman Rockwell most prominently painted pieces with notes of obvious, yet discreet to most, political commentary, as did Del Rey with this album. This song sets the precedent for the meaning of the rest of the album, in which Del Rey discusses how the world seems to be going back in time in terms of politics and societal norms.
"Mariners Apartment Complex"
"I f***ed up, I know, but Jesus, can't a girl do the best she can?"
Whenever Del Rey does that husky half-singing, half-speaking thing she does, I get goosebumps. Upon hearing the album for the first time, I didn't have to wait long to get what I wanted. I also loved the sudden change in tone in terms of the instruments used, from the somber piano in the introduction to the jaunty guitar in the verses to the upbeat combination of both in the chorus.
"Venice B****"
"Paint me happy and blue Norman Rockwell"
Del Rey literally put out a nine-and-a-half minute song called "Venice B****." She really did that. And she killed it. This song is perfectly petty and will forever be a favorite of mine and other girls who own the title of a b****.
"F*ck It I Love You"
"Maybe the way that I'm living is killing me"
Del Rey shows off her vocal range in this song, from the mousy verses to the falsetto riffs sung concurrently with the husky mumbles at the end. It sounds like she finds her confidence as the song goes on; she carried a tone of innocence and uncertainty in the beginning, but by the end she is belting "F*** it I love you."
"Doin' Time"
"Summertime, and the livin's easy, Bradley's on the microphone with Ras MG"
This song, being one of the more upbeat songs on the album, had me reminiscing about summer, even though I was slumped down at my desk. While it is a cover of the 1996 Sublime hit, Del Rey adds her unique jazzy flair to create a more feminine and sassy take on the song. 
"Love Song"
"You know I'd just die to make you proud"
The song seems pretty self-explanatory from the title; although, you wouldn't know it by the self-deprecating lyrics carried through the solemn melody. Cleary this "love song" does not apply to self-love. 
"Cinnamon Girl"
"Like if you hold me without hurting me, you'll be the first who ever did"
While the lyrics are beautifully heartbreaking, what truly sets this song apart from the rest is Del Rey's vocal range. She goes from belting powerfully to whispering and quivering in a matter of seconds. In the rest of the songs, her voice stays relatively in the same range; however, this song breaks that barrier. 
"How to Disappear"
"I watch the guys gettin' high as they fight for the things that they hold dear to forget the things they fear"
Del Rey took retro to a new level as this song transported me to Beatlemania-filled 1964. From the folksy melody to the lyrics with the snippets of random people's lives, this song can seriously pass as a Stevie Nicks throwback.
"California"
"You don't ever have to be stronger than you really are"
Del Rey had me hooked on this song from the first lyrics uttered in that soft tone, which she gradually turns into a booming belt in the chorus. The song is not only a lyrical masterpiece, but it has an awing melody that places it above the rest.
"The Next Best American Record"
"And we were so obsessed with writing the next best American records 'cause we were just that good"
This song contains the strongest connections to Norman Rockwell himself. Rockwell's prominence lasted during the "good old days," even though political unrest, racism, and drug abuse littered the era, as Rockwell illustrated. 
"The Greatest"
"We didn't know we had it all but no one warns you before the fall"
The psychedelic tones. The quivering voice. The hopeless lyrics. This song definitely belongs in the classic rock era, not in abysmal 2019, where SoundCloud rappers are all over the top charts and Taylor Swift is winning Grammys over Kendrick Lamar.
"Bartender"
"Baby, remember, we're not drinkin' wine, but that cherry coke you serve is fine and our love's sweet enough on the vine"
Alcohol has been a recurring theme since the dawn of Del Rey's career, so of course she included a song called "Bartender," filled with tons of references to drinking and different types of drinks. Nonetheless, the melodious chorus stood out from most, as did that stutter in the word "bartender." Execution is key.
"Happiness Is a Butterfly"
"If he's a serial killer, then what's the worst that can happen to a girl who's hurt?"
Whoever did not shed at least a pound of tears while listening to this song may actually be a serial killer. This song made me feel emotions I didn't even know I was capable of feeling. And even when I listen to it for the thousandth time, I still get goosebumps. The title itself is chilling, and it gives listeners a taste of the lyrical genius they are about to encounter upon the opening notes of the song.
"Hope Is a Dangerous Thing for a Woman Like Me to Have – but I Have It"
"Hope is a dangerous thing for a woman like me to have."
Name a more iconic title. I'll wait.