Lollapalooza: What to Expect at a Music Festival
August 8, 2017
There are so many music festivals that happen every summer, and they're covered all over social media. Some people talk about how much they love them, and others  talk about how much they hate them. I wanted to check one out for myself, though, and Lollapalooza was the most convenient for me due to the fact that I was already going to be in Chicago that weekend. It was actually the second music event I had ever been to— the first being a Weezer concert back in 2010— so I considered it to be a very special treat, even if I could only attend the last day. Although temperatures only reached the mid-seventies that day, the large crowd made it feel much hotter. Endless hordes of people showed up, some covered in so much glitter that it got stuck to my face after I went through a crowd. When it came to basic needs, bathrooms were hard to come by, but food was cheap, delicious, and plentiful. As expected, there were tons of merchandise and photo-ops, but what surprised me the most was the number of stages: eight, including the kid's one. There was no shortage of bands playing, and at most times there were at least three playing at once. Here's a rundown of the what I saw at the performances, minus the abundant dad dancing.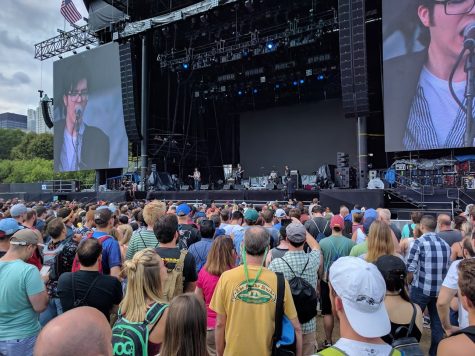 After chowing down on a chicken rice bowl and a frozen chocolate banana, my first stop was to see Car Seat Headrest. The band started off with their most energetic song, "Vincent." The rest of the set was much less hard-core, and despite a great performance of "Drunk Drivers/ Killer Whales" that combined all of the different variations of the song, there seemed to be a loss of energy from the crowd. I thought that all would be remedied when they brought out their special guest, a saxophonist, to help them play the last two songs, but it was almost impossible to hear him due to the heavy guitars. Perhaps someone forgot to do a sound check. To be honest, I was a bit disappointed because of just how great the songs would have sounded if I could have heard the saxophone, especially since they gave him a solo in "1937 State Park."
After that I had some time to wander around before the next set I wanted to hear. Grant Park is enormous, which provides ample room for all sorts of activities and vendors to go to in between sets. I checked out the merch shop, sat in the shade to recharge for a bit, and went to the very crowded water refill station. I even heard there was a roller rink, but the park was so big and crowded that I couldn't find it. I also decided to go see Milky Chance's set for a bit, which was packed with dancing festival-goers. I had to leave early, though, because I needed some dinner before the next set I wanted to see, which was on the opposite side of the park. It was difficult to get there due to the giant crowd going the opposite direction as me to see Lil' Yachty, but I was able to get to the main stage and grab a chicken sandwich with time to spare.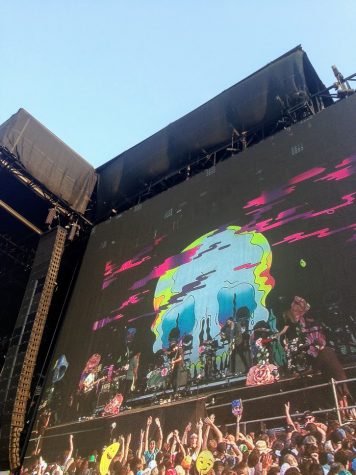 As I sat down on a hill to see The Shins, the weather had cooled off just enough so that it was no longer uncomfortable to stay in the sun, so much so that frontman James Mercer repeatedly remarked on how it was "such a beautiful day." The sound quality of the performance was crisp and all the instruments could be heard individually. The set featured their most recent album, Heartworms, but it also included previous works. Highlights included "Half a Million" and "Simple Song," which carried through the crowd with warmth and delight. The only part of the set that dragged was actually one of the band's most famous songs, "New Slang." The song is one of their most popular due to its feature in the movie Garden State, but the slow tempo just isn't suited for a concert. All was well in the end, though, as they played "Sleeping Lessons" with a snippet of Tom Petty's "American Girl" snuck into it. That's how you do a cover!
You can watch a clip of the performance here.
Just a forty-five turn from where I was seated was the stage for the next set: Grouplove. Although frontwoman Hannah Hooper's neon pink ensemble made her easy to see from a distance, as I tried to join the crowd, a dense wall of tall people prevented me from getting much closer. As I retreated back to the hill, I noticed that the poor sound quality did not improve from any distance. The two lead singer's voices were completely fried, and yet still overpowered the instrumentals throughout the entire set. One strange feature was a cover of the Beastie Boys' "Sabotage," which is a large departure from the band's typical genres. They mixed old songs with new, even pulling out their first major single, "Tongue Tied."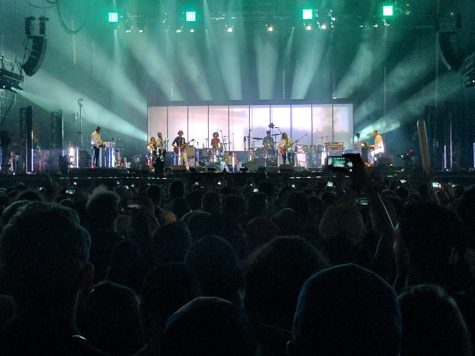 The headliner for the night was Arcade Fire, who are currently on tour to promote their new album, Everything Now. I was glad that frontman Win Butler ditched the intense theatrics and paper-mache heads of their last tour in favor of a simpler approach to concerts: letting the songs speak for themselves. They definitely delivered all the hits from across all five of their albums, with just about every band member changing instruments multiple times. The crowd was into it as well, crooning the backing vocals on just about everything from the chants of "lies, lies" in "Rebellion(Lies)" to the "hey" in "No Cars Go." The lowest point came during a more recent song, "Electric Blue," which was unable to get the crowd excited. "Electric Blue" is one of the few songs sung by band member Régine Chassagne, which made the lack of response even more disappointing, but she made up for it later with a phenomenal "Sprawl II (Mountains Beyond Mountains)," which was one of the highlights of the night. Other high points included an extended "Neighborhood #3 (Power Out)" and the anthemic "Wake Up," which was the first of two encores. The second encore was a very strange cover of John Lennon's "Mind Games" with snippets of Radiohead's "Karma Police" and David Bowie's "Oh! You Pretty Things," which in the end circled back to "Wake Up" once again. I must say, it was an adventure of a concert.
As I made the long trek back to my hotel, I contemplated whether or not I could have lasted the full four days if given the chance. One day took a lot out of me, so much so that the next morning I fell asleep on the way to the airport. I would have liked to have seen some other bands, but I care more about my health than I do seeing another band. Nonetheless, I had a great time, and as my first festival, it will be one to remember.