Apple Cider Donuts
October 30, 2017
Apple cider is an all-time fall favorite, but a huge mystery to many. Apple cider is not made by a typical juicer or cooked apples, or even spiced until after it's ready. Making this seasonal drink requires equipment, time, and a heck of a lot of apples. To make a gallon, you start out with roughly 30-40 fallen apples that have been washed thoroughly. The apples have to be ground to a pulp using an apple grinder that contains cast iron wheels. That pulp is then put into a tub, and a wooden pressing plate is used to free up the juices. Once all the juice is pressed out, the rest of the pulp is discarded, and the juice oxidizes, giving it that beautiful amber color. After this process has been done, you can take it from there, whether it's making spiced apple cider, just drinking it cold/hot, or—my personal favorite—making some fresh apple cider doughnuts!
Or, if that sounds like a lot of work and you don't feel like going to all that trouble, come by Farmhouse Café on one of these upcoming fall weekends and purchase a fresh, homemade cider doughnut!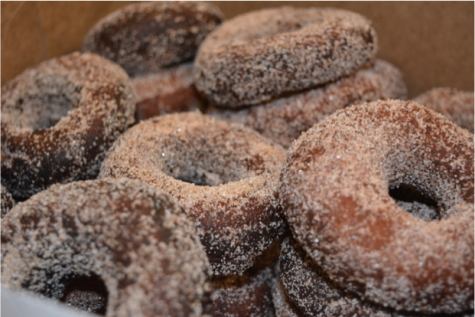 Apple Cider Donuts
(makes 24)
Ingredients:
4-6 cups Apple Cider
5 Cloves
5 Cardamom pods
1 piece dry Ginger
1 Cinnamon stick
3 Orange Slices
2 cups granulated sugar
2 tbsp. ground cinnamon
4 large eggs
6 tbsp. butter (melted and cooled)
7 cups all-purpose flour
1 1/3 cup packed light brown sugar
4 tsp baking powder
Kosher salt
1 tsp baking soda
3 tsp ground cinnamon
50 oz. vegetable oil
Directions:
Combine granulated sugar and cinnamon in a paper bag.
Prepare the cider: combine apple cider, cloves, cardamom, ginger, cinnamon sticks and orange slices in a saucepan. Bring to a boil, and let it reduce to 2 cups (15-20 minute). Remove spices and let cool.
Whisk together eggs, butter, and reduced cider in a medium bowl.
Whisk together the brown sugar, flour, baking powder, salt, cinnamon and baking soda until combine. Add the cider mixture and combine until moistened. Cover and chill at least 1 hour.
Divide dough in half, and on a floured surface roll it to about ½ of an inch thick. Cut into doughnut shapes using floured doughnut cutters. Repeat with the other half.
Heat oil in a large pot to 365 degrees.
Fry doughnuts and holes in batches until golden brown (45 seconds to 1 minute per side)
Drain doughnuts on a paper towel-lined baking sheet 30 seconds.
Toss warm doughnuts in cinnamon sugar and serve warm or at room temperature.