French Crêpes
November 9, 2017
Crepes are almost synonymous with my childhood. I grew up eating them at my best friend's house after school, making them with the Mackay School French club, experimenting until finding my tried and true recipe in the William Sonoma children's cookbook. When I was in 5th grade, I probably made these crepes every Saturday morning. They are to this day one of my favorite foods.
I hadn't had crepes since last Christmas, but the other morning I was feeling a little nostalgic, so I whipped up a half-batch just for me. The perfect crepe may seem difficult to achieve, but once you've made this recipe a few times it's almost foolproof. The key to successful crepes is a very hot, nonstick pan. Its okay to sacrifice the first crepe of a batch – its almost never quite as good as the ones that follow.
In terms of toppings, I always like to keep it simple to highlight the delicate flavor of the crepe: lemon and sugar (in France, au sucre) or, my personal favorite, cinnamon and sugar. Nutella with chocolate sprinkles is delicious too. These sprinkles from the Netherlands (hagelslag in Dutch)  are by far the best; they're typically used to top buttered toast (a classic Dutch breakfast), but I think they pair perfectly with crepes.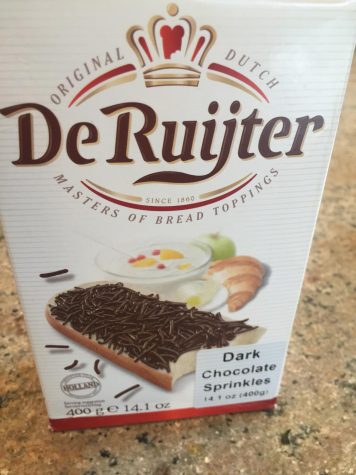 The crepes are best eaten and filled straight off of the pan, but if you're cooking for a crowd, you can set the oven to 350 and cover your stack of crepes (adding each as they come) with tin foil. This recipe serves 2-3 people, so in that scenario, I would double the ingredients as well. I think they're best fresh, so I would recommend reserving the batter rather than saving already-made crepes.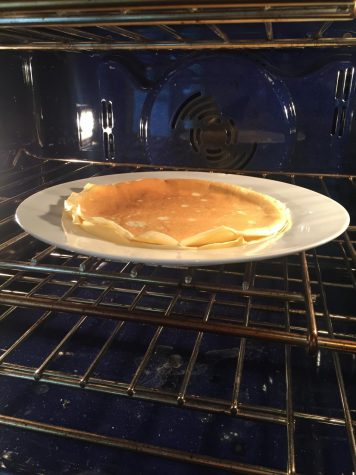 Ingredients:
(yields 5-6 crepes)
1 tbsp butter
1 egg, room temp
1 cup milk, room temp
3/4 cup flour
1/4 tsp baking powder
1/4 tsp salt
1 1/2 tsp sugar
Preparation:
1. Melt the butter in a small saucepan, or microwave on high for short intervals. Set aside and allow to cool.
2. Blend milk and egg and, with blender running. slowly incorporate the butter.
3. In a medium sized bowl, combine flour, baking powder, salt and sugar. Add to blender in two parts.
4. Let sit for 10-15 minutes while you heat a buttered/nonstick pan. At this point you can make the crepes or refrigerate the batter to use later. It keeps for several days.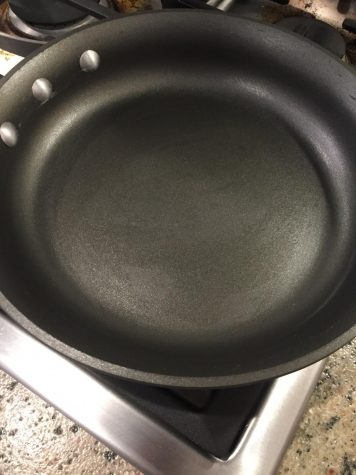 5. Pour approximately 1/4 cup of batter (more batter yields a thick and doughy crepe, just enough to coat the pan yields a thin and crispy crepe) onto the pan and with the other hand, swirl to coat the entire surface. Let cook for 4-5 minutes. Once the edges have set, run your spatula along them to ease flipping the crepe in the next step.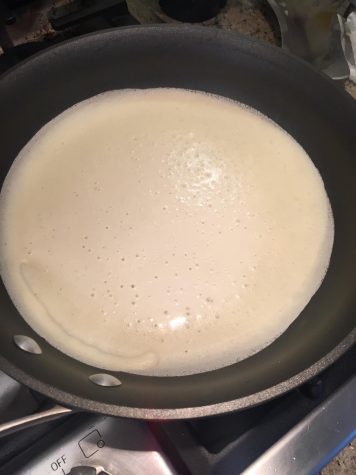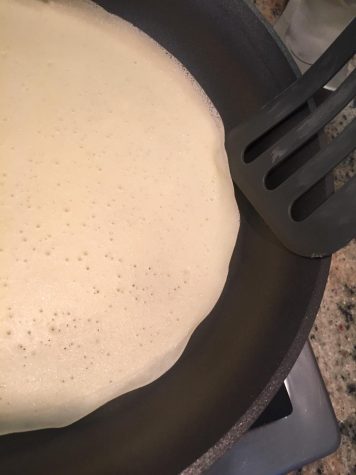 6. Flip and cook for another 3-4 minutes until the bottom side begins to form brown spots. Don't be afraid to peek underneath and check as it cooks.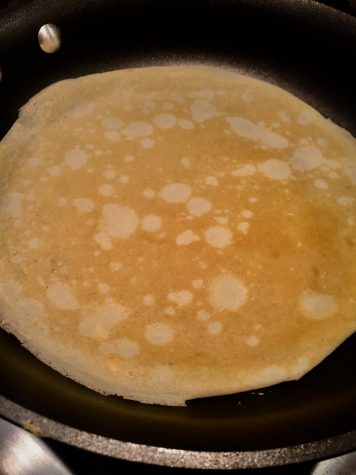 7. Top and serve while still warm. To fold, either roll the crepe from one edge to the opposite end, or fold in half then in half again for elegant triangles. (Optional) Garnish with powdered sugar.