Music Moments of 2017
December 14, 2017
During the month of December, most music websites and blogs began to publish what they consider to be a list of the "Best Albums of the Year," or the "Best Songs of the Year." I find, however, that there are so many great albums and songs that come out every year, that it's hard to rank them. In light of that, I decided to compile a list of some of my favorite music moments of the year. This is all about the unprecedented—the things that might be able to make an impact on how we use and consume music in the media. Whether or not these things do impact the future of music, they will at least be remembered as uniquely 2017.
The Music of Twin Peaks
https://www.youtube.com/watch?v=xAyP00S651E
While some may argue whether or not the return of Twin Peaks after twenty-five years lived up to the hype (yes, twenty-five years!), the inventive use of musical acts to end just about every episode was a surprising innovation. Not only did it provide some welcome punctuations in the confusing and absurd 18-hour narrative, but it also provided a chance for famed director David Lynch to show off his musical taste. Guest stars included contemporary bands such as The Veils and Sharon Van Etten, established acts such as Nine Inch Nails and Pearl Jam's Eddie Vedder, and Lynch regulars such as Julee Cruise and Rebekah del Rio. Since one was to assume the episode was over whenever a musical act performed, it also allowed for some interesting surprises whenever there was a break in the formula. The return of Angelo Badalamenti's haunting score was also more than welcome since it helped tied the new season back to the original ones from 1990. 
Edgar Wright's Baby Driver
Director Edgar Wright took his unique use of music to a new level with his film Baby Driver, solidifying his place as one of Hollywood's most creative filmmakers. Just about all of the action sequences in the film are timed to the music, ranging from The Beach Boys to Beck. There's a wide variety of different music-listening methods featured as well, from records to mix-tapes to MP3s. Wright has also released his annual playlist of his favorite songs that came out this year, which can be listened to here.
An honorable mention goes to Run the Jewels and Danger Mouse, who wrote the song "Chase Me" for the film. This year, Run the Jewels officially released their third album, Run the Jewels 3, and performed a memorable set at Lollapalooza (which I sadly missed by a few days) in which they invited a fan onstage to rap "Legend Has It" with them. Producer and musician Danger Mouse has also been putting out a playlist of some of his favorite songs from a variety of different eras and genres, which is updated periodically and can be listened to here.
Neil Young's Music Archive
While Neil Young is not one to currently represent the up and coming in new music (my dad's a fan of his), he has made an important stride in how we listen to it. For years, Young has been a staunch advocate of being able to access music online, but not through streaming services. He finds that streaming services have lowered the sound quality of tracks in order to stream them easier, and because of that, we are not obtaining the full experience of a song. In order to combat that, Young created his own archive website to house all of his music that he has rights to, which is a lot, for free and full sound quality. Although he may not have the rights to everything at the moment, it is unprecedented for an artist to give away as much music as they have for free. While musicians have created their owns teaming services before such as Jay-Z's Tidal, none of them directly give away their music at this level of quality without asking for money. In all honesty, I'm not sure whether or not this plan will be successful, but if it is, Young has set the precedent for free music, and perhaps younger artists will follow suit.
King Gizzard and the Lizard Wizard's Five New Albums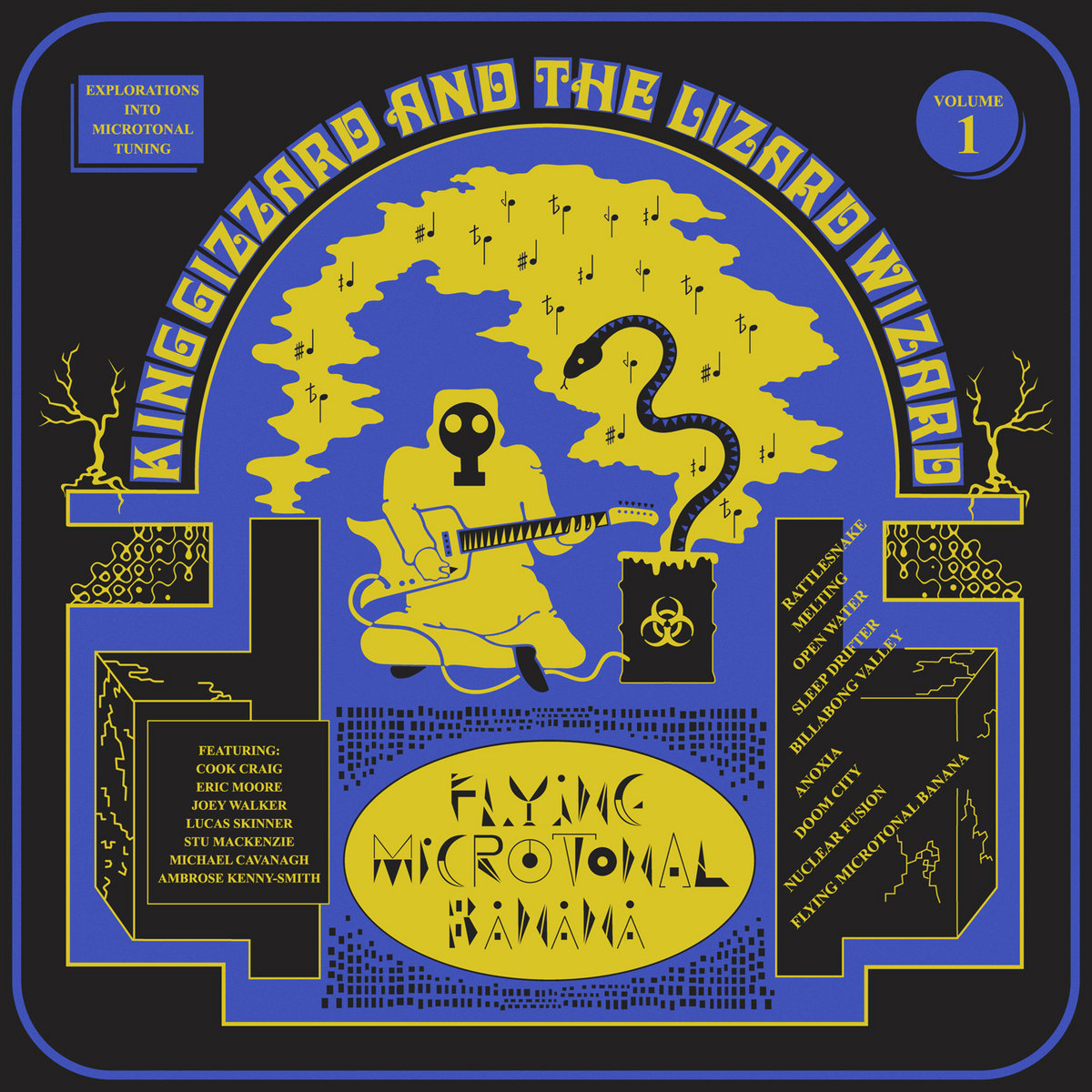 Consequence of Sound, an online music blog, recently named King Gizzard and the Lizard Wizard, a near-obscure Australian rock band, as their band of the year, and for a good reason. The group has released four full-length albums so far this year, and are planning on a fifth to be out before the end of December. While this may not be the best way to gain revenue from albums, it's definitely an interesting look at the creative process. Many musicians work on albums for years before they are finally released, mining over every little detail until it's perfect. King Gizzard and the Lizard Wizard decided instead to go about making their albums as if it were a regular 9 to 5 job, in which they would be productive just about every day. Not only was the amount of outcome impressive but all four of the albums released so far have been critically successful. Most importantly, though, King Gizzard and the Lizard Wizard showed that mass production can be done, and it can be successful. Now, no band has an excuse to wait for many years before releasing an album anymore.