Deviled Eggs
February 4, 2018
Game day. I may not bring much of the football spirit to the party (I'm one of those people who watches the Super Bowls for the commercials), but I do like to bring a good snack. This is my family's take on deviled eggs: they are light, tasty and they look great.
Deviled eggs have been around since the feasts of the Romans – there are references to a basic recipe for spiced eggs in Petronius's novel Satyricon (late 1st century AD). The name "deviled eggs," however, was coined much later. From Rome, the recipe spread through Spain and Great Britain, where "deviled" came to denote the added spice. Name aside, before World War II we might not have even recognized them as the eggs we know and love – mayo was not a standard ingredient in deviled eggs until the late 1940s. These days, it's a necessity; people are even making their own homemade mayo to go the extra yard. Personally, I recommend Hellmann's. Anything other than the classic mayo just won't taste as comforting.
A few tips before you get going:
The key to deviled eggs is to cook your eggs a little less than you would for straight up hard-boiled eggs; the yolks end up a little creamier and are easier to whip up for the filling.
Don't cook at too high of a temperature or for too long, and make sure to place your eggs in an ice bath when they're done, or you'll get a green ring around the yolks.
Each time you cut your eggs in half, make sure you wipe off your knife to keep the yolk from dotting your whites.
Use white over black pepper so it won't show up in the yolks.
Ingredients:
12 extra large eggs
½ cup mayo
1 tsp mustard
½ tsp white pepper
3-4 stalks of chive, chopped (or cut with scissors)
Preparation:
1. Poke a small hole in the base of each egg (a safety pin works great). Bring a large pot of water to a boil.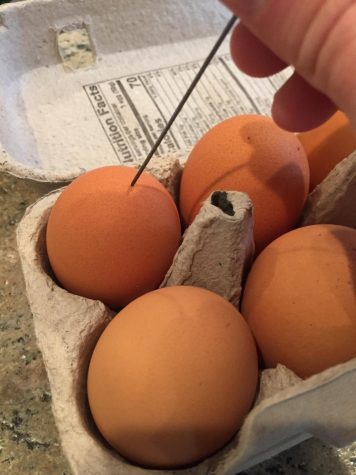 2. Add eggs and let come back to a boil, then reduce heat to medium. Continue to cook for 13 minutes. If eggs begin to rattle in the pot, reduce heat by small increments.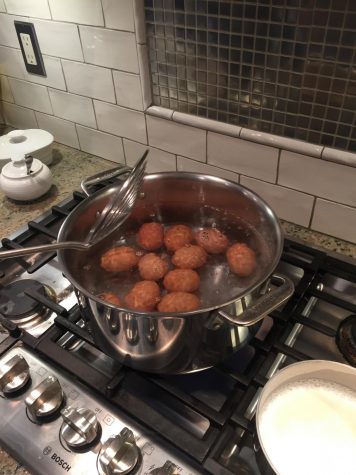 3. Fill a large bowl with ice and cold water. After 13 minutes, gently place eggs into ice bath.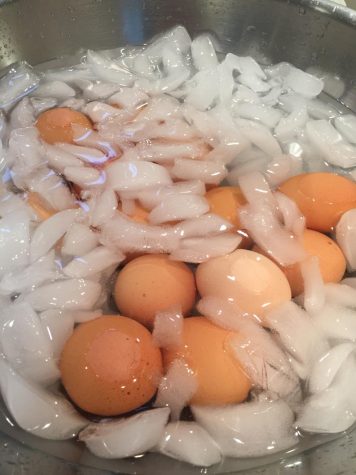 4. Crack and peel each egg, and pop the yolks into a glass bowl. Use a fork to make as fine a paste as possible. Add in mayo, pepper and mustard and mix until creamy. (Add more mayo if the mixture seems too dry).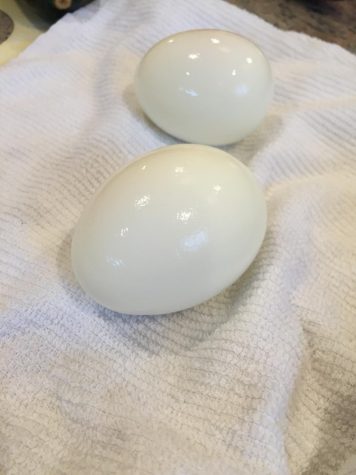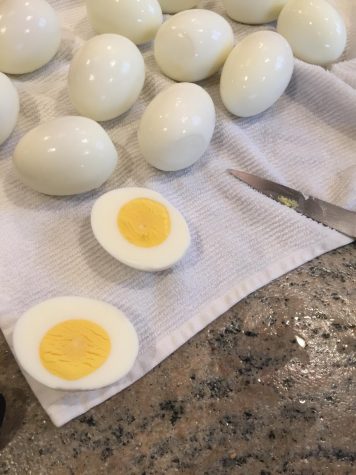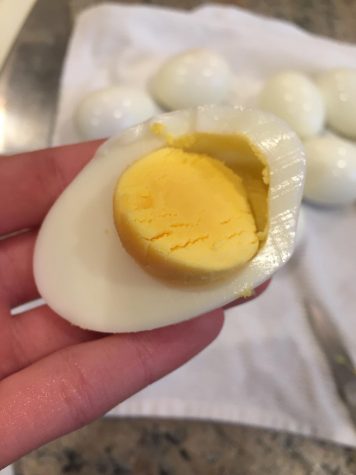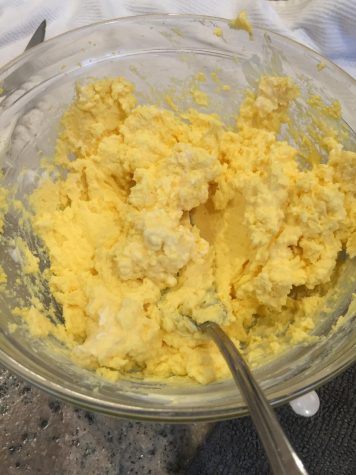 5. Fill a Ziploc bag with the mixture and pipe into the cavity of each egg. Top with chopped chive and serve.