Dark Chocolate Sablés
June 6, 2017
I'm not above slumming it every once in awhile when it comes to my dessert . Stop & Shop sprinkle cookies and store-bought cut-outs can satisfy your sweet tooth cravings, but once you've tasted real-deal pastries, it's hard to go back. There's something special about cookies made from scratch. Even die-hard Pillsbury lovers have been known to love these chocolate sablés (pronounced say-bulls in English); I like to call them the slightly more grown-up version of the slice and bake.
The word sablé is French, and it translates directly to "sandy" – like the texture as the butter, sugar, and flour come together to form the dough. (The cookies themselves, thankfully, do not taste like sand). The first ever sablés appear in the letters of Marie de Rabutin-Chantal, an aristocrat of Louis XIV's court. Marie loved the "biscuits" so much, she wrote a letter home about them (the first record of the sablé). According to Marie, sablés were invented in 1670, in the Pays de la Loire region of West France.
Sables can be sweet, like these, or savory, made plain or flavored with citrus or herbs – I've had versions with cheese, scallion and prosciutto that were very successful, but I'm a fan of the deep chocolate. There are not too many ingredients to this recipe, but it does feature Demerara sugar and Dutch process cocoa, which might call for a visit to the grocery store (or Amazon).
Demerara sugar is a raw cane sugar; it's made from crystallized and spun sugar cane juice. The name came from a Dutch colony in Guyana, where it was originally produced. Nowadays the sugar has retained its name, but is grown large scale in other regions of the world – like India, Mexico, Mauritius, and Hawaii. It's a great ingredient to have in your pantry for baking, and it makes for a nice sweetener in a café latte.
Dutch processed cocoa is unsweetened cocoa powder treated with potassium carbonate (K2CO3). Normal cocoa powder is naturally acidic, but Dutch processed has a pH of 7 (like pure water) that is neutral. In recipes that require a rise (like cakes or breads), an acidic component will usually react with a basic leavening agent (like baking soda or baking powder) and create carbon dioxide (CO2). (For those of you that have taken chemistry, this would be a simple acid-base neutralization reaction.) Because chocolate sablés don't need to rise, the baking soda in this recipe will not react with the Dutch process; CO2 will not be created, and the cookies will bake as level disks.
Here's the recipe, adapted from Nick Maglieri's Cookies Unlimited:
Ingredients:
1 ½ cups all-purpose flour⅓ cup Dutch processed cocoa powder
½ teaspoon baking soda
⅛ teaspoon salt
8 tablespoons (1 stick) unsalted butter
½ cup sugar
1 teaspoon vanilla extract
1 large egg
2 cookie sheets lined with parchment paper
⅓ cup Demerara sugar
Preparation:
1. Measure out the cocoa powder
(spooning it out into the measuring cup over a plate works best to avoid a mess) and flour (careful not to pack it) into a bowl, then sift together to get rid of any clumps. Once sifted, add baking soda and salt to dry mixture.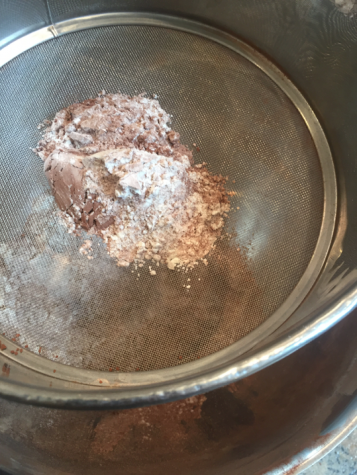 2. In an electric mixer with the paddle attachment, beat together the butter and sugar on medium speed until light and fluffy, about 4 to 5 minutes, then beat in the vanilla and egg. Continue beating until the mixture is very smooth, about 2 more minutes.
3. Scrape the sides of the bowl and beat in the dry mix on a slow speed.
4. Scoop the dough out onto a sheet of parchment paper.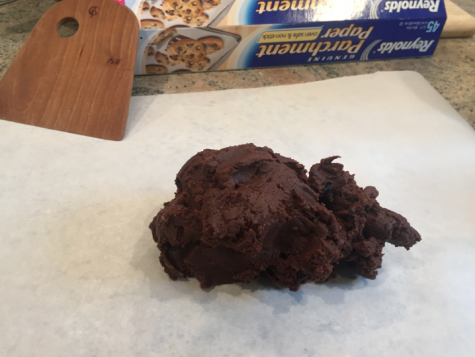 Roll one side of the parchment paper over the side of the dough, and press a dull edge against the seam, slowly forcing the dough into a cylindrical shape. Repeat process until the cylinder is about 2 inches in diameter (This will be fairly close to the diameter of your baked cookies).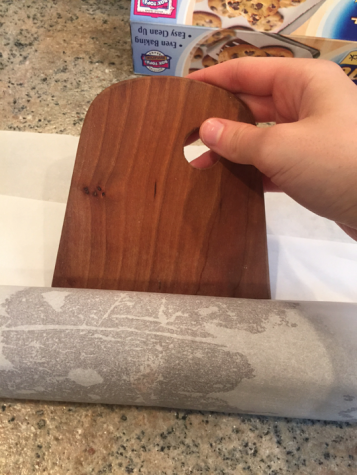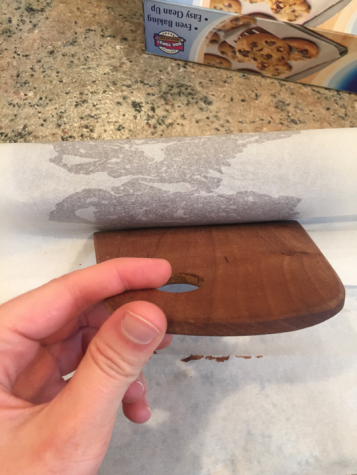 5. Chill the dough an hour, or until firm (or freeze it to bake off later).
6. Preheat the oven to 350 degrees.
7. Sprinkle the Demerara sugar over the cylinder, and roll in the parchment paper until the entire surface is covered.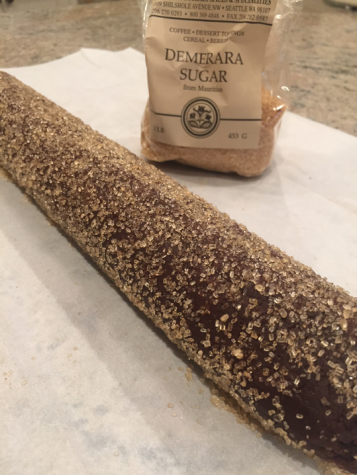 Slice the cookies about ¼-inch thick, rotating as you slice to keep the cookies circular.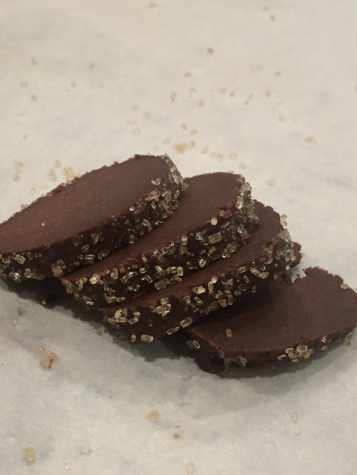 8. Place the cookies on the cookie sheets (don't worry about leaving too much space between them – they do not expand much as they bake).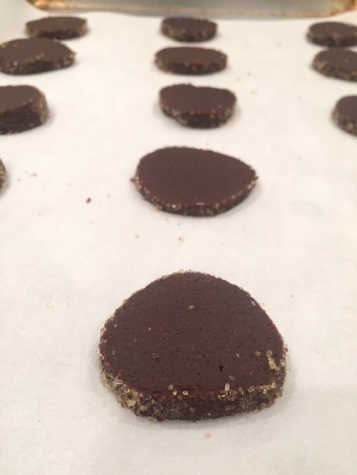 9. Bake for 12 minutes (if baking on different racks, switch halfway through).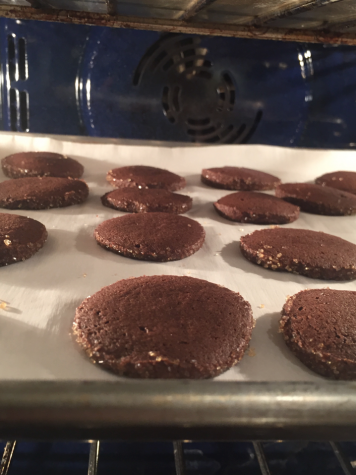 10. Allow cookies to cool and enjoy!