3,000-Year-Old Mummies Pop Up During Halloween Season
Just in time for Halloween, 30 coffins containing mummies inside were discovered last Saturday, October 19, in Luxor, Egypt. These coffins were found by accident under a mound behind the Asasif Necropolis on the west bank of the Nile river. 
Mostafa Waziri, secretary general of the Supreme Council of Antiquities, told reporters that the discovery was the country's largest in more than a century. The last two discoveries were made in 1881 and in 1891, both by foreigners. Waziri is proud to say that this time, they made this discovery with Egyptian hands.
The coffins are thought to be about 3,000 years old. They belonged to men, women, and two children, who were most likely from the middle class. According to archaeologist Zahi Hawass, the discovery of the two children, being extremely rare, has caused huge interest worldwide.
The discovery was presented in front of Hatshepsut Temple at Valley of the Kings in Luxor. The coffins, which were buried in the Al-Asasif Cemetery, were described by the Egyptian Minister of Antiquities Khaled El-Enany as "exceptionally well-preserved, exceptionally well-colored" despite being buried for thousands of years. According to Waziri, the reason for this is that natural colors from stones like limestone and red oak, and turquoise with egg whites, were used. Its natural shine was maintained by a mixture of egg yolk and candle wax that was spread over the coffin.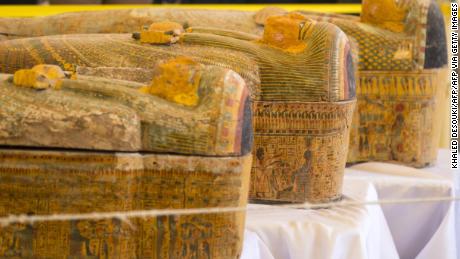 These coffins are decorated with gorgeous designs, such as scenes from the Book of the Dead, Egyptian deities, hieroglyphics, and multiple spells to help the soul to find its way through the afterlife. Names of the dead were also carved onto some of the coffins, Hawass said in CNN news.
The coffins were probably hidden to keep tomb thieves away, but officers say that the first coffin was discovered because its head was semi-exposed. Seventeen more coffins were found as they continued to dig. After those coffins were excavated, twelve more were discovered.
This discovery is vital to understanding the beliefs of the afterlife because it reveals important details about ancient Egyptian burial rights, like how the dead were respected no matter what their gender or age were.
The mummies will be restored and be given their own exhibit. According to CBS news, they will later be moved to the Grand Egyptian Museum, which will open next to the Giza pyramids next year.