Joie's Jams of the Month: May Edition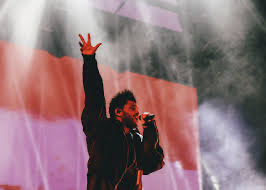 It is finally Spring. The grass is getting greener, the sun is shining brighter, and we can finally put down our car windows and enjoy what is now warmth! With these in mind, it is only fair we review the songs you should be listening to right now to properly live out this month. 
When I tell you I screamed when I first heard The Weeknd's new song "Double Fantasy," I mean it. It is insane. Then again, if The Weeknd did a cover of the water cycle song, I would still scream, but I promise this is a good one. Anyone I have spoken to about the song says the lyrics are a bit of a deal breaker, but his voice is so good it doesn't even matter, and from a marketing standpoint, he is a genius. While his new show The Idol takes the world by storm, he gets to produce all the music that goes along with it. Even more so, DAWN FM is a trilogy, meaning more amazing albums are coming. I actually cannot wait. 
Yes, I know, I'm supposed to hate Frank Ocean after his Coachella fiasco, but his song "Pyramids" is just too good. I cannot stop listening to it in the car. Also on my playlist is my 2015 revival moment including Ellie Goulding's hits "Love Me Like You Do" and "Something in the Way You Move." I think she has one of the best voices. 
Have you read the novel Daisy Jones and The Six? If you're like me and rather skip to the good part, the show happened to be amazing. Even more so the soundtrack. The songs "Regret Me," "Let Me Down Easy," and "Look At Us Now (Honeycomb)" are excellent. The lead singer and main character of the band is Riley Keough, Elvis Presley's granddaughter. How much better can it get? I definitely recommend watching the limited series because the cast, the aesthetic, and the music areso good. 
Of course a Joie's Jams wouldn't be a Joie's Jams without picks from Taylor Swift. I will not lie; her albums Lover and Folklore came in hard this month. My favorites are "The Last Great American Dynasty" and "The 1" from Folklore (yes, I know super basic) and "Cornelia Street" and the ultimate 70-degree song "Cruel Summer." You might be able to tell from my articles, but I have become quite the Swifty this year. I just love her, and I know none of her real fans approve of her new romance with The 1975's Matty Healy, but again, if you read my articles, you can probably guess how much my jaw dropped. 
Lastly, the new artist I have discovered this month is The Japanese House, and more specifically her song, "Saw You in a Dream." Definitely go check it out. And pretty much every other song I have written about. Happy Spring!