Super Tasty Music – October Edition
Start the month off with some groovy tracks to get you in the mood for Fall.
OLIVIA'S PICKS
Prom – SZA
In one of the rawer tracks off her latest album, Ctrl, SZA confronts the fears that many of us feel as we watch ourselves grow up: "Am I doing enough?/ Feel like I'm wasting time/ Promise to get a little better as I get older." The production in the verses takes on an indie-rock feel that is reminiscent of The Killers and Young the Giant, mirroring the lyrical theme of teenage angst. As simple synths and a crescendo of bass fly in with the track's pre-chorus, the song perpetuates Ctrl's alternative R&B vibe. SZA throws her worries to the wind with her final lines: "Take it off me, all it off."
Baby – Ariel Pink and Dâm Funk
Evocative of a soulful 1950s slow jam, "Baby" follows indie one-man-band Ariel Pink's admiration of his muse. The filtered vocals coupled with soft hums in the background make the piece shine, particularly when played through headphones. Take a snippet of lyrics from any point in this track, and they'll prove equally as sappy as the pre-chorus: "Feels so good walking side by side/ wanna be with you all my life."
Issues/Hold On – Teyana Taylor
Major chords, simple beats, and Taylor's raw, soulful voice mesh together beautifully on "Issues/Hold On" to remind us of the pleasure in musical simplicity. "Can't hide behind the carats on my diamond ring/ I don't even care if you lie to me/ Cause there ain't much that gets by me these days." She belts these lyrics over the feel-good tune of a plucking guitar. Her velvety-soft vocal riffs almost allow the coarseness of the lyrics to slip by unnoticed. She later explores lyrically how "daddy issues" have shaped problems in her romantic relationships, while somehow maintaining that same lighthearted sound that makes "Issues/Hold On" a perfect track for head-nodding and toe-tapping.
Uno Dos – ¿Teo? and Jaden Smith
Even with the same-old Spanish-inspired sound, implying a sultry medley of acoustic guitar and drumbeats reverberating throughout the entire track, "Uno Dos" is a two-for-one. ¿Teo?, AKA Mateo Arias, croons softly over minimal percussion in the first half: "Your scars show you signs/ Your love's only blind when you lose track of time." As the bass and more intense, trap-inspired beat fill the song out, Jaden Smith's short verse packs a lot of his signature quirky lyrics to create a more upbeat second half.
My Girl – HalfNoise
A track full of vulnerability, "My Girl" showcases HalfNoise's mellow side when compared to faster songs of theirs, like French Class and "Every Single Time". The track's soft, Hawaiian-inspired percussion lulls listeners as a lullaby would, and lead singer Zac Farro's melancholy vocals match the lyrical tone perfectly: "All the girls in the corner go outside/ Closer to the California summer light/ And I can't believe we were almost there/ You were almost my girl." The depth of the lyrics doesn't progress much further than that, but the track's repetition allows listeners to hone in on Farro's pain, caused by the bittersweet loss of someone who was never truly his.
ALESSANDRA'S PICKS
Easy – Mac Ayres
With an enticing beat and a chill vibe, Mac Ayres's "Easy" encompasses the feeling of being so infatuated with someone that even a lack of reciprocation would not cause the love to waver: "I would rather hold you close/ Than try to understand." The instrumentation of the song has a sweet, romantic flare that pinnacle the emotions he feels towards the song's subject. Ayres's voice flows with a smooth and effortless tone, making the song an easy listen.
Why iii Love the Moon – Phony Ppl
Although this song simply comes off as the perfect song to roll your windows down and drive to, it speaks volumes greater than you would think upon first listen. By comparing it to the loyalty and consistency of the moon, Phony Ppl touches on the disappointment that comes from putting too much faith into people who will eventually leave, go back on their word, or lie: "That's why I love the moon/ Every night it's there for you/ It's constant/ Unlike these human beings." The beat, piano riffs, and unassuming cowbell that rings in the back contribute to an almost alternative-techno feel.
Forever Always – Peter CottonTale
This song could probably be considered the holy grail for alt-R&B fans. With features from Rex Orange County, Daniel Caesar, Chance the Rapper, Madison Ryann Ward, and YEBBA, London producer Peter Cottontale masters a balance between each artists' own style and marries them in a vibrant, yet soothing track. Each voice intertwines with one another, creating a blend of alternative, R&B, rap, and even a little bit of pop. While bringing all of these elements to the table, CottonTale is still able to keep the song relatively simple, making it a perfect listen for any situation.
Why You Always Hatin? – YG
If you think that you're playing this song loud enough, you probably aren't. With features from Drake and Kamaiyah, YG's track radiates swag and confidence. This song is an anthem to remind all the haters that they'll always be one step behind, jealous of all the success that isn't theirs: "Just admit it already/ You had plans to do it/ But we did it already." The hard beat in this song and repetitive bass makes it impossible to not groove your head and feel like a next-level boss.
I Can't Help It – Michael Jackson
A song that just missed the mainstream, "I Can't Help It" is off of Michael Jackson's fifth solo studio album, Off the Wall. Although this album harbors some of Jackson's most famous songs, including Don't Stop 'Til You Get Enough and Rock with You, I Can't Help It has a much more subbed, groovy mood. Jackson admits how the love he feels cannot be contained, and even if it could be, he "wouldn't help it" restrain itself. This track takes on a mysterious sound, emphasizing the sensuality of his love. The repetitious chorus is more than catchy, and the song is perfect for setting the 80s (1979 to be specific) mood that you didn't know you needed.
About the Contributors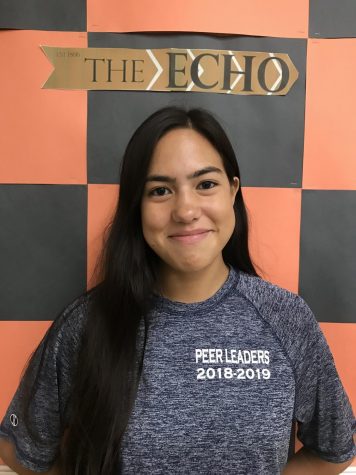 Alessandra Bontia, Staff Writer
Alessandra Bontia ('19) is a staff writer for The Echo. She enjoys listening to and discovering new music, learning more about pop culture, and being...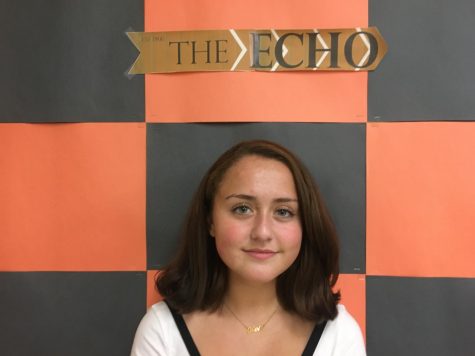 Olivia Westfield, Staff Writer
Olivia Westfield ('19) is a Staff Writer for The Echo. Her hobbies, in addition to writing, include serving as the Class of 2019 secretary as well as secretary...