Tenafly High School's Club Fair Meets Its 40th Anniversary
Tenafly High School's annual club fair rolled in again this year and celebrated its 40th year anniversary. More than 90 clubs were eligible to participate. The club fair was met with new and returning clubs that ranged from the debate team to various culture clubs. 
The first club fair held in Tenafly High School was held in 1982. Many were initially excited about this year's club fair because of its rich history. 
Unfortunately, on September 16th, 2022, Mr. Hubbard, the advisor for Tenafly High School's Student Organization, sent a school-wide email explaining that the club fair, initially scheduled for September 19th, would be postponed indefinitely. 
With the exception of some paid clubs, most student-led clubs were shut down as a result of a financial issue. According to some members of our school, the postponement was due to miscommunication and delay between the administration and club advisors. 
Later in the month, the new club fair date was announced with the inclusion of several extra clubs that received approval. Finally, after many schedule changes and the addition of new clubs, the club fair date was set for October 24th, 2022. 
The club fair turned out to be a huge success. "The club fair seemed to go well. I think more students got to see it than ever because some PE classes came by (thanks PE), and it was open for a bit longer than years past," Mr. Hubbard said. "The process mostly consists of setting up a process for clubs to know if they are approved or not, communicating the dates, and making sure there is enough room in the library. This year was tough––there were a few surprise date changes and the most clubs we have ever had (96!)."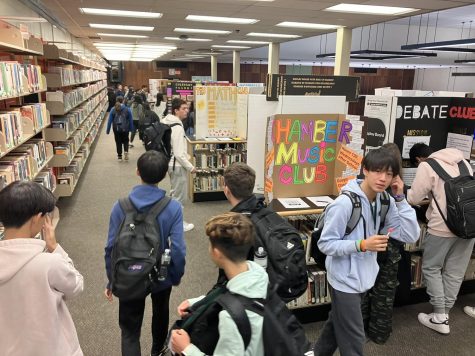 The Student Organization also played an important role in organizing this year's club fair. "Most of our work was based upon simply accounting for the huge influx of clubs this year, the organization of clubs within the library in order to encompass this huge number of clubs, and sorting out issues with date due to the issues of the strike," said Sean Kim ('23). "Mr Hubbard had the innovative idea to utilize the second floor and to try and implement a flow in order to keep everyone moving and encourage everyone to look at all the clubs."
On the morning of October 24th, 2022, many students waited outside the library door to find the best location for their club's trifold. Students entered at around 8 a.m. to begin their setup. "Before the club fair, I had made all the tri-folds for the first club fair before it was canceled. It took me about three to four hours to make all four tri-folds," Zachary Shammash ('24) said. "I think it was nice that [the club fair] was delayed this year; it helped me settle into the school year more, but ultimately, I would like the club fair to come back to the normal time next year" Shammash ('24) said. 
The club fair encountered many difficulties as it reached its impressive 40th year anniversary. With a successful finish, many are hoping that future classes will be able to continue this beautiful THS tradition.