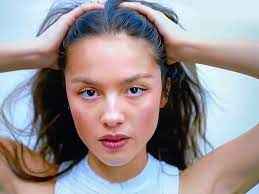 And we're back. Happy first month of school to all who celebrate, and welcome to another year of Joie's Jams of the Month. 
Let's get into it. Over the summer, I definitely explored some new artists and songs. As for the new stuff that came out, I enjoyed the Selena Gomez song"Single Soon" as well as the works of emerging artist Malcom Todd, most notably his song "Roommates." Additionally, some other songs are listed below: 
"Inside Out" by Spoon

"Split Screen Sadness" by John Mayer

"Tonight" by Phoenix featuring Ezra Koeing

"Me and Michael" by MGMT

"Mariella" by Khruangbin and Leon Bridges 

"Kilby Girl" by The Backseat Lovers

"Cold Little Heart (Radio Edit)" by Michael Kiwanuka

"You Get What You Give" by New Radicals 

"Hysteria" by Def Leppard
That's summer, so can we talk about fall now? More specifically, Guts by Olivia Rodrigo. When I first heard "Vampire," the first song Rodrigo dropped, although I liked it, I wasn't so impressed. As all things compare to Taylor Swift, it didn't feel like the beginning of a new era for Rodrigo. But I was wrong because Guts most certainly is one. Whereas her debut album Sour was the result of 17-year-old Rodrigo's songs from her bedroom about her heartbreak and loneliness, Guts included those same feelings but focused more so on the struggles of navigating a world of fame. In her songs "Pretty Isn't Pretty," "Teenage Dream," "Logical," and "All-American Bitch," Rodrigo shows her relatability as she writes about the struggles of being a teenage girl, which is her staple image as an artist. In this album, I found  growth in Rodrigo's ability to play more freely with the sounds and instruments. Her screams throughout some of her songs are a clear representation of this. Where the tale used to be "Good 4 U," it is now "Get Him Back," showing Olivia taking more ownership of the narrative she wants to tell. My favorites are "All-American Bitch," "Ballad of a Home schooled Girl," "Making the Bed," "Pretty Isn't Pretty" and "Bad Idea Right?" I cannot stop listening. 
As much as I would love to say I'm an unbiased listener, I just can't. This column will probably have at least one Taylor Swift paragraph per article, and the Folklore in me wants to tell you all about it. Rather than telling you about the classics like "August," "Cardigan," and "Betty," I strongly encourage you to listen to "Seven," "Peace," and "Mirrorball." However, it's been a little while, so if you have not listened to Speak Now (Taylor's Version), then we have a more serious problem because "I Can See You," "Foolish One," and "Castles Crumbling" are amazing. I cannot wait for 1989 (Taylor's Version). It is my favorite album, and there are five from the vault tracks. I already know the Joie's Jams of the Month: October Edition is going to be full of it, as well as my playlist!
Hopefully you consider listening to the songs and albums I listed. I promise they are all worth the two-four minutes of time they will steal you from. Anyways, happy fall, and happy listening!