Teachers' Pets: The Cats of Humanities
In the halls of THS, we get to witness the passion and love that teachers put into their work, but what we don't see is the real love that they have for things other than their passions: their pets. Meet the pets of the esteemed Humanities teachers of THS.
When Mr. Hutchinson isn't in the classroom filling students' minds with facts about the poleis and the Middle Ages, he is home with his two orange tabby cats, Archie and Cece. The twins are the third set of cats Mr. Hutchinson's family has cared for. His cats in the past included Betty and Jackson and Deuce and Max. Mr. Hutchinson says that he likes to keep the cats in pairs so they always have someone to play with.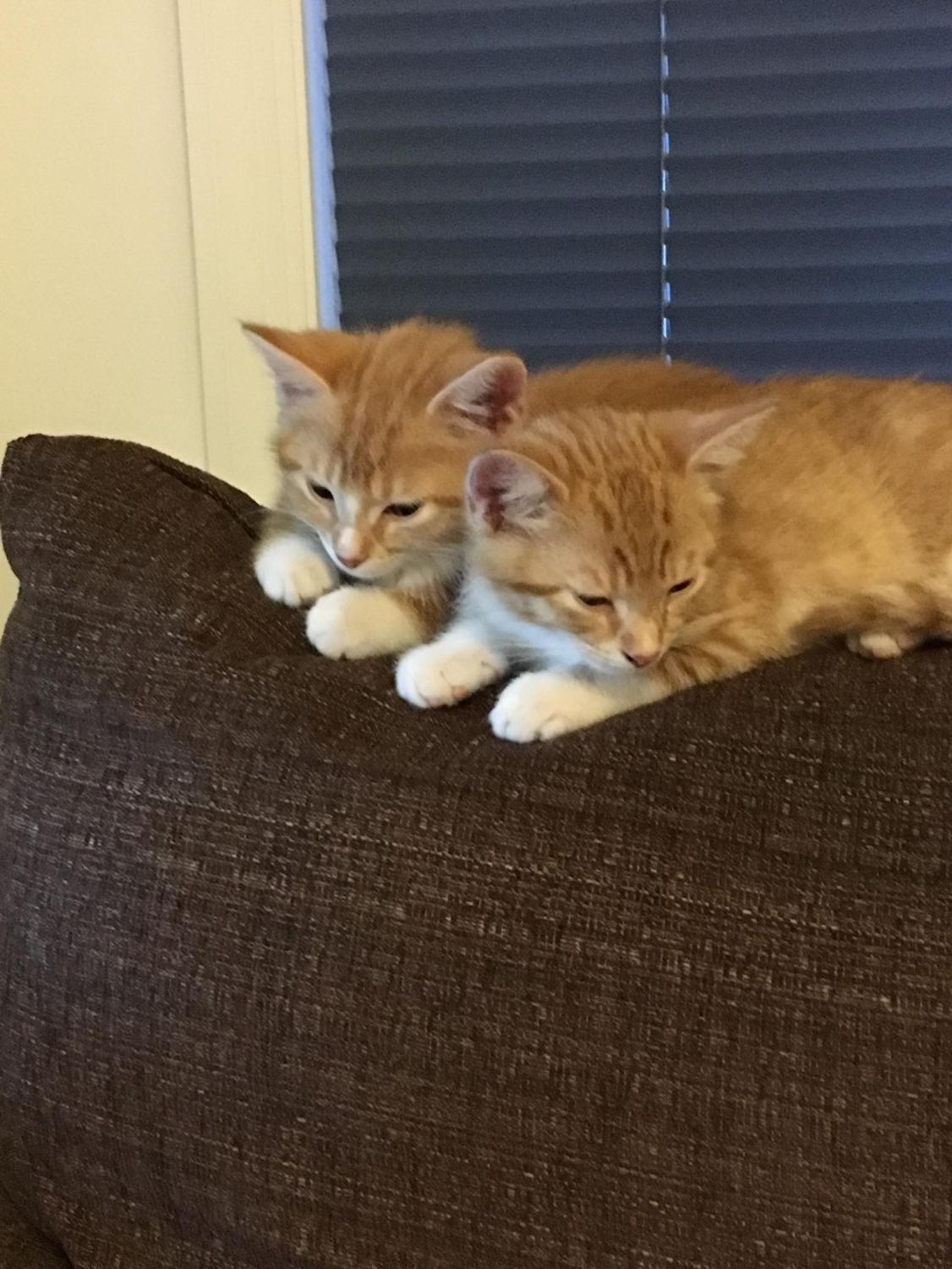 Mr. Hutchinson describes Cece as "adventurous, playful, and a great aerialist." If Cece were to be a different animal, he would be "a monkey because they are mischievous." About Archie, Mr. Hutchinson said he is "shy but he can be extremely affectionate. He purrs the loudest purr I've ever heard. He is very needy, but our theory is that he is a big mush. Constantly in your face. Like a machine purr you can hear from two rooms away." If Archie were a different animal, he would be an orangutan because they are orange and shy.
Surprisingly, Mr. Hutchinson likes dogs more than cats despite not owning any. "Dogs are so much work. You can't go away for extended periods of time." Mr. Hutchinson very much loves his cats, and his cats very much love each other. "They don't know life without each other," he said.
THS's Humanities English Teacher Mrs. Oppedisano, renowned for her very trendy Doc Martens and love for cats, cares for two nine-year-old Maine Coons, Clio and Midna. When Mrs. and Mr. Oppedisano first set out to adopt a kitten, they were expecting to only go home with one, but they ended up taking home two sisters from the same litter.
Describing Clio, Mrs. Oppedisano said, "Essentially, she's the stomping-of-the-heavens kind of Greek goddess. She puts cat-butt all over the essays I grade and likes to be in my face whenever I'm doing something. Clio chirps, sings, and talks like a puppy. She loves attention and wants to be involved in everything." Once, Mrs. Oppedisano saw a spider on the wall and hurled Clio where it was sitting. Clio ultimately caught the bug with her mouth and killed it. She has also hunted many house flies in the house and occasionally carries them in her mouth like a trophy. Clio is to be said more Mrs. Oppedisano's cat than Mr. Oppedisano's. She reflects more of Mrs. O in both her love of food and flopping in the sun. If Clio weren't a cat, she'd be "a furry dragon guarding a mountain of pie."
Mrs. O compared Midna to the cat in Coraline. "She's a walker between worlds." She is scared of strangers, but she will occasionally flop on top of you and purr. "Cats have moments of rewards when they show you their honest affection," Mrs. O said. One surprising thing about Midna is that she absolutely loves Hot Cheetos. "She will lick the whole thing clean." Midna is described as more Mr. Oppedisano's cat. She tends to be calm, observant, and skeptical like Mr. O's personality. She is cautious around new people but tries to look for the best in everybody. If Midna were not a cat, she would be "a sprite from Spirited Away or a bat that swoops down with grace and moves through twilight. This would make sense since she was named after the twilight princess and has little fangs like a creature of the night; she is really cute but capable of being deadly."
Although Midna and Clio were closer when they were younger, they still keep each other company. During the winter, they can often be found sitting next to each other watching the snowfall. They enjoy each other's company to this day.
Although THS's sophomore Humanities is famed for its rigorous curriculum, is it good to keep in mind that the teachers teaching the course are fluffy-hearted cat enthusiasts who do not always have Humanities on their mind—unlike their students.