Oklahoma!: The Rodgers and Hammerstein Classic Reimagined on Broadway
THS students recently attended a performance of the Broadway revival of Rodgers and Hammerstein's revolutionary musical, Oklahoma!
Richard Rodgers and Oscar Hammerstein II's revolutionary musical has gotten a modern Broadway revival directed by Daniel Fish. When it originally opened in 1943, Oklahoma! was the first musical to merge singing, acting, and dancing into one cohesive plot. It paved the way for all musicals that followed. Taking place in 1906, the musical follows the life of a good-hearted cowboy named Curly as he tries to win over Aunt Eller's niece, Laurey Williams, while the ominous Jud Fry attempts to do the same, all while a promiscuous girl named Ado Annie Carnes must decide between her two suitors: the kind Will Parker or the sketchy non-committal Ali Hakim. 
While the plot may sound traditional, this revival is quite the opposite. It stars a diverse cast, with many people of color taking on roles typically played by white performers. Most surprisingly, Ado Annie is being played by Ali Stroker, an actress from Ridgewood, New Jersey who became wheelchair-bound at the age of 2 due to a car crash. She won a Tony Award for her performance this past year. The original revival cast also stars Naomi Jones as Laurey, Patrick Vaill as Jud, Mary Testa as Aunt Eller, and Will Brill as Ali Hakim. Most notable to Tenafly High School, however, is Damon Daunno, who is making his Broadway debut as Curly. Damon grew up in New Jersey and is the best friend of the son of Tenafly High School's Orchestra and Choir Director Mr. Jim Millar. Mr. Millar has described Damon as his "second son," while Damon calls him his "second father."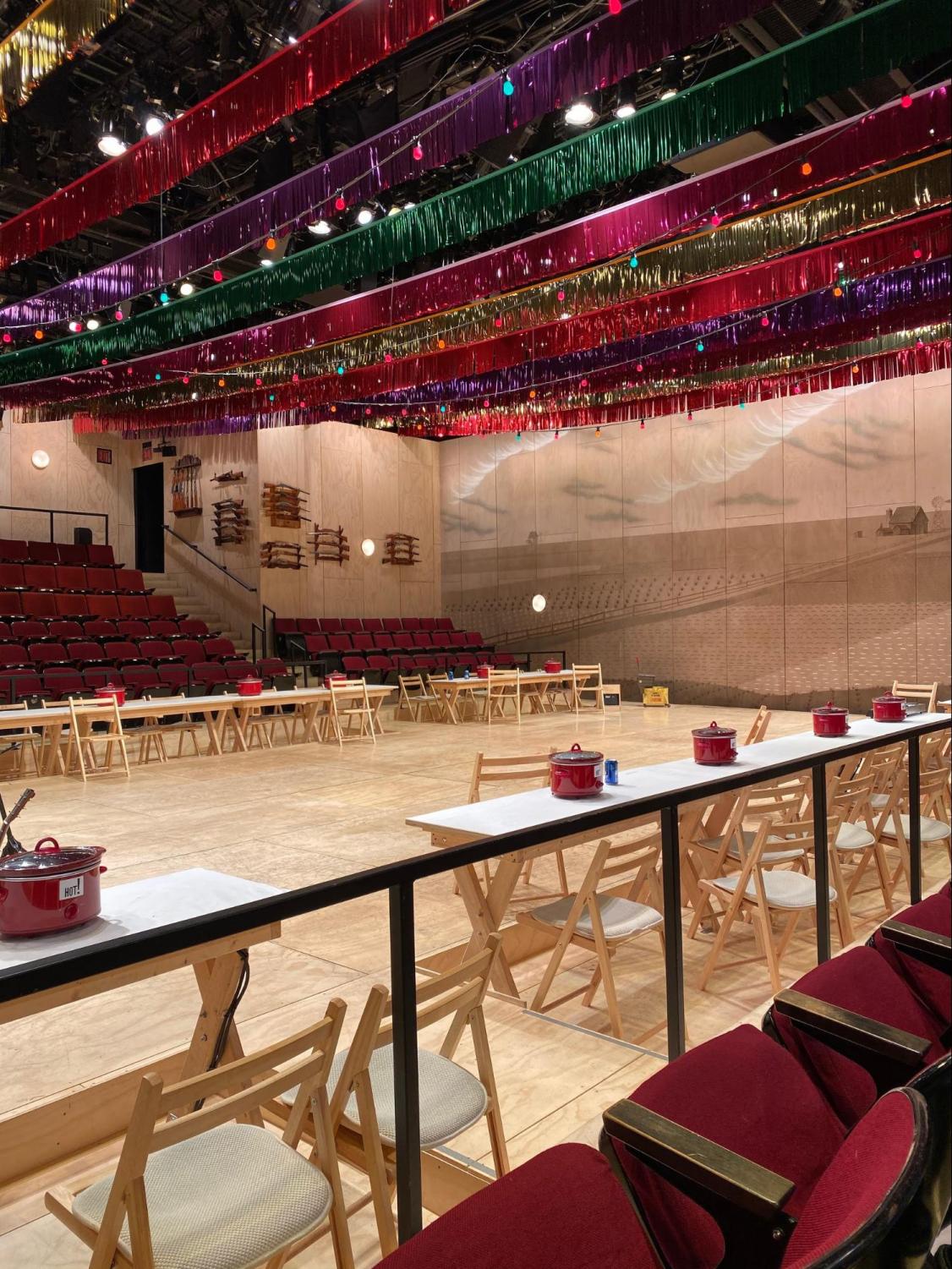 On Wednesday, October 23rd, students involved in Tenafly Performing Arts had the opportunity to see Okhlahoma! We arrived at the Circle in the Square Theatre and were astonished to see just how non-traditional this revival really was. For one, the stage was placed in the middle of seats that were located in a circle above the stage. You could view the stage from all angles. The actors performed the show to everyone in whatever direction they were facing. The relatively small number of seats made for a more intimate theatre experience. The front row of seats was even placed on the actual stage! During intermission, vegetarian bean chili and cornbread were given out, but you had to move fast to get some because they went quickly! The opening for Act 2, which is usually a full ballet with the company, was performed by one girl wearing a modern-looking t-shirt that read "Dream Baby Dream."
Following the show, we had the privilege of staying after to have a talkback session with Damon Daunno. He answered a bunch of our questions, such as those regarding the symbolism and the modern twists used in this version of the show. 
I asked, "Since this revival is so different from the original version, what do you want audiences to take away from this performance?" Mary Testa, who later joined the talkback, was there to answer. She told me that this revival is made to show how issues such as racism, xenophobia, and misogyny are still very much prevalent in today's society, but they present themselves in different ways than they did in the 1940s. Damon talked about the importance of "calling things out and [in the revival they are] taking a beloved piece of American history [that] we all assume we know … and [asking] people to look at it through a different lens that might challenge their views that mean a lot to them…we're asking you to sort of go on a sophisticated journey with us…I think it's a really wild piece of art." 
When asked about the scene in which Curly and Jud sing the song "Por Jud is Daid," in which the lights are turned off and gunshots can be heard, Damon said that people typically see Curly as a lovable character, but "you could say Curly's the bad guy in that moment and it is deeply manipulative….but there is also an aching humanity [in the scene]." He got us to think of this revival in an even more modernistic way. He told us that this show has really changed him and that he is "a musician at heart," so he loves to play guitar on stage every day. He also told us that with Mr. Millar, "we're in really great hands."
Elyse Rho ('20) commented on how "the show benefitted from being in such a small space. Even though we sat in the back, it felt like we were a part of the show."  While Julie Lederer ('21) "thought [that] it was an interesting rendition of the original play that made the ending more impactful." Ryan Kim ('23) said that "Damon… was great, [and] the whole cast had incredible chemistry and timing."
Oklahoma! runs on Broadway through January 19th, 2020, so get your tickets soon!
Check out these clips from the show!