Preview of Tenafly Boys Basketball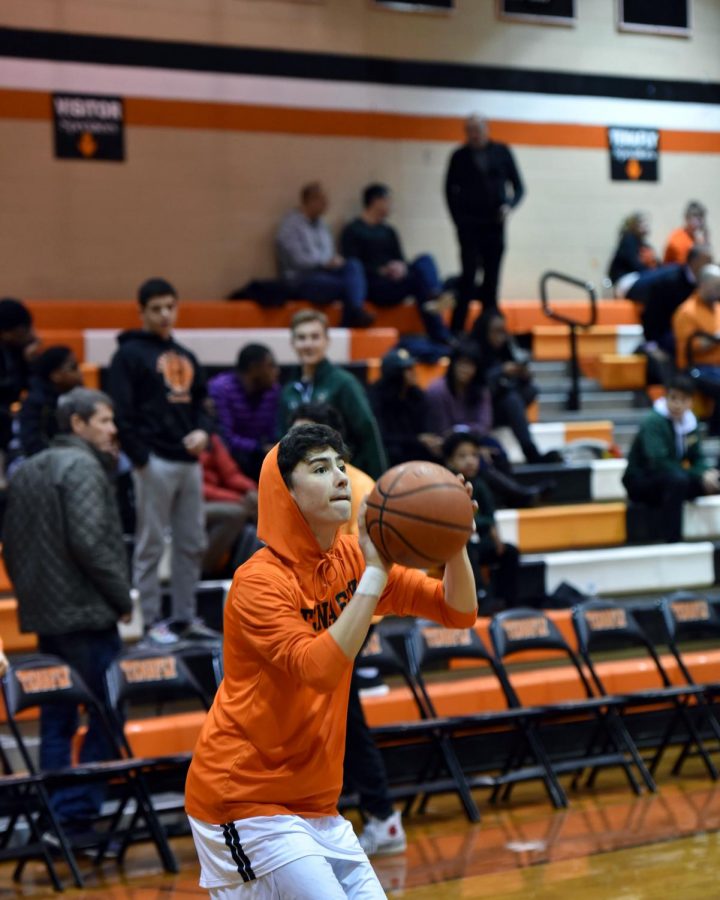 With last year's stellar seniors gone, the current Tenafly Varsity Boys Basketball seniors have big shoes to fill. The current captains Andy Cho ('20), Jesse Ryno ('20), Sam Reichert ('20), and Alex Kwon ('20) are hyped for the season and hope to lead their team in the right direction. This season is sure to be exciting, with rivalry games against Dumont and Cresskill. 
The projected starting lineup for this season includes Cho, Ryno, Johnny Coppolino ('21), Edward Ward ('21), and John Celli ('22). This undersized lineup is sure to bring speed and exciting plays this season. Off the bench, the Tenafly Boys have Reichert and fellow senior Jacob McGuire, both of them predominantly big men, who are sure to get lots of minutes especially when they play bigger teams. Off the bench for the guards will be senior Josh Kwon. This mixture of fast explosive guards and stretch big men will pose a problem to opposing teams.
The Tigers will perhaps show the most prowess with the three-point shot. Every player is a danger from deep and cannot be left open, especially guards Andy Cho and Eddy Ward. Although last year's lineup seems at first glance to have been more athletic, this year's lineup does not fall short. The starters have the ability to make tough layups and shots. 
The December 20th home opener for the Tigers is against Dumont, who upset Tenafly off a buzzer-beater last year. This will be a redemption game for the Tigers, who will come in fresh, locked in, and ready to shoot. Two games later, they will face neighboring Cresskill on January 11th at home, which is sure to be a thriller. "The team set big expectations for ourselves this season," said Ryno. "We lost our entire starting line up, but we still got great guys and are super hungry for another league chip. We are also out to reclaim our spot in the Jambo, and as Coach always says, 'shock the county.' We are gonna be a fun team to watch, so come out and show some love."
When asked about the same season's expectations, Cho said, "This season we're coming in as the underdogs of the county. After losing six seniors who were all key factors of our season last year, you should expect to see a bunch of new guys step up. With so many new players moving up to varsity this year, we're going to have an adjustment period, but as we practice and get to know each other's playing styles, we will be able to build off of each other and become a better team. We have a bunch of guys who are willing passers and great scorers. With our group of guys right now, I wouldn't be surprised if we shock the county this season." The Tigers have big shoes to fill this season, but they appear to be up for the challenge.