Journalism Class Visits CNN
On November 19th, Tenafly High School's Journalism class took a field trip to explore CNN in the Big Apple. Our teacher, Mr. Whitehead, was invited by former student and THS alum, Deb Brunswick ('00), who works as a producer, editor, and writer at the news organization. Brunswick reached out to Mr. Whitehead about a story on school shooting drills, and the conversation ended with her offering to give our class a tour of CNN's northeast headquarters.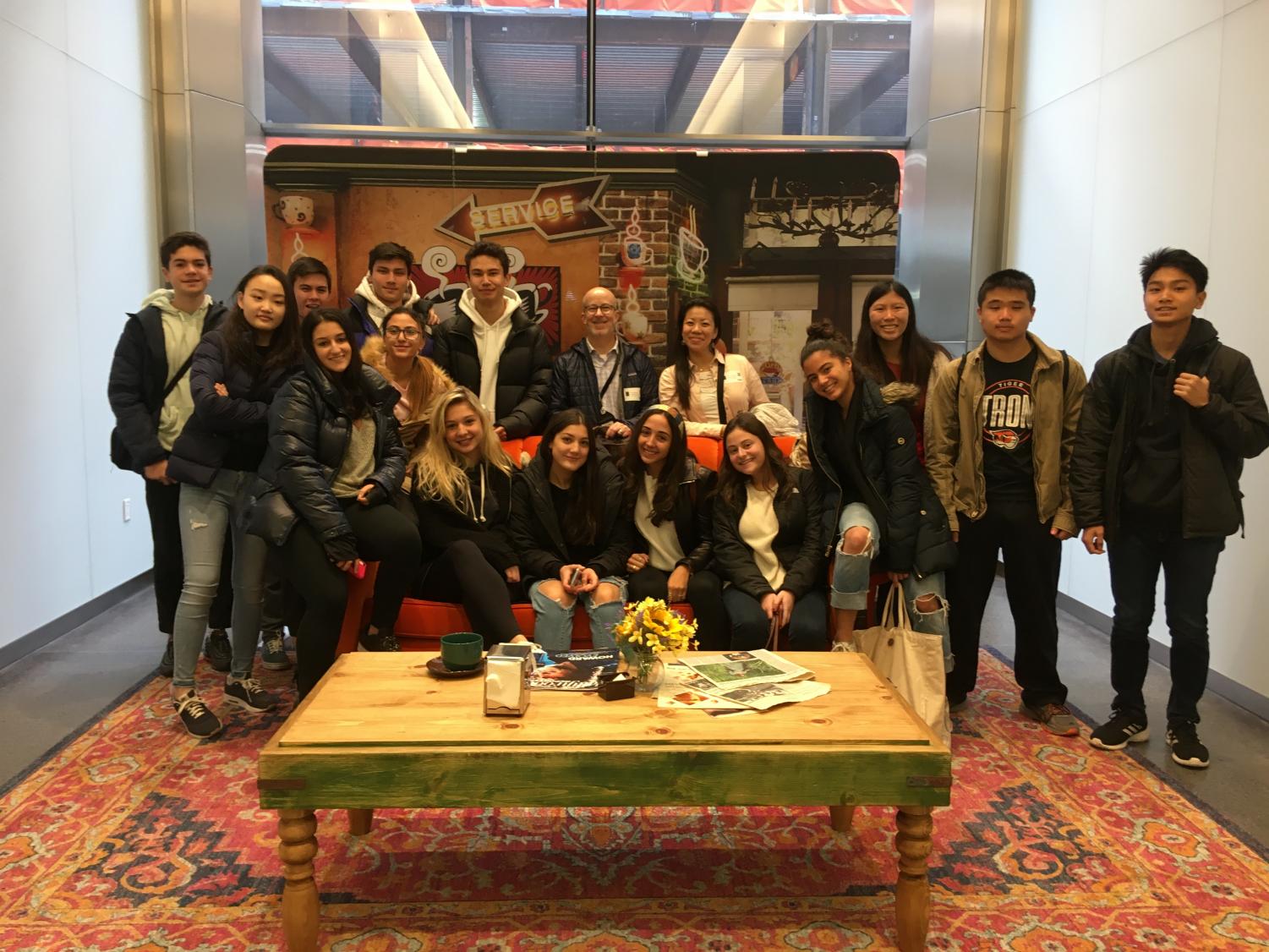 Brunswick, who attended The University of Michigan, where she studied film and editing, was an excellent tour guide. She first led the class into the CNN offices at Hudson Yards. In the lobby, students got to sit on the couch from the TV smash Friends. Brunswick then took the class to the studio where the CNN morning show New Day is filmed. Students got to sit in the anchors' chairs and on the couches where guests are usually seated. Next, Brunswick took us on a tour of the editing cubicles, small, darkened rooms where film editors work on their clips. One editor we met, explained how he used "Adobe Photoshop, Premiere, and Lightroom" to create his films for CNN. One highlight of the trip was a walk through a hallway, where an art sculpture made of dozens of clocks, shows each minute in a synchronized fashion. Another highlight was when Brunswick took us to a conference room, gave all of us CNN pads and pencils, and invited two of her co-workers, a journalist named Donie O'Sullivan and a producer named Samantha Guff, to speak with us about their work. The visit culminated in a walk through the breaking news room, where we saw writers and film editors working on breaking news pieces. 
" I learned it takes a lot of people to create one news story and everyone has an active role in creating the media we see," said Ariana Bondi ('20).
Brunswick, who enjoys taking pictures of the environment and the things around her, realized at the University of Michigan that she wanted to work in film as a profession. Straight out of college, she landed an entry-level job at CNN. She would listen to long pieces of audio and write down everything that was said. My class and I learned that Brunswick worked extremely hard to get to where she is today and that she often travels to cover stories. 
The CNN field trip Mr. Whitehead's journalism class went on was really educational, but also super fun. Deb Brunwick and Donie O'Sullivan explained the stories they were writing about at the time, which were about interesting things going on in the world, one of which included deep fakes, which are "media that take a person in an existing image or video and replace them with someone else's likeness using artificial neural networks." That was a very entertaining topic to learn about and O'Sullivan did a great job explaining it. The field trip taught us so much about broadcast journalism, and we are grateful to Brunswick for hosting us.