Smorgasburg: A Foodie's Paradise
Smorgasburg, dubbed the "Woodstock of Eating" by The New York Times, is the largest weekly open-air market in America, attracting 20,000 to 30,000 people to Brooklyn each weekend to try its funky foods and savory snacks. Founded by Jonathan Butler and Eric Demby in 2011 as a Brooklyn hub for local vendors, the market has greatly expanded, capturing the hearts (and stomachs) of food lovers across the country. The market is held every Saturday at a Williamsburg waterfront lot and every Sunday at the gorgeous Prospect Park— rain or shine. Smorgasburg spin-offs have even opened up across the country, such as Smorgasburg L.A and Smorgasburg Upstate.
As I walked through the Williamsburg Smorgasburg for the first time, I knew I had entered a foodie's paradise. The aroma of freshly baked doughnuts, sizzling shrimp, sweet mangoes, and artisanal ice cream permeated the summer air. The frenzied buzz of conversation, giggles, "mms" and "yummies" rang in my ears, the muted song of the East River my source of sanity.
Smorgasburg is more than a feast for your stomach. With its colorful crowds and sparkling skyline backdrop, it's a feast for your eyes, as well. Looking around, I could not help but smile at the array of people just as diverse as the Smorgasburg menu itself. There were families, foodies, and friends; Brooklynites, Manhattanites, and New Jerseyans; hipsters, vegans, and millennials all enjoying the same delicious food and the same beautiful view.
I was in heaven, and I hadn't even tried the food yet.
The Ramen Burger, the little sandwich that took the country by storm, was my first conquest. After seeing this burger on countless Snapchat stories, Instagram posts, and Buzzfeed articles, I knew I had to try it. The line for the Ramen Burger was, without contest, the longest at the market. Usually, I would not wait so long for such a small dish, but everyone around me assured me that this burger was well worth the wait. When I finally got to the front of the line and received my Ramen Burger, my mouth was watering and my stomach was grumbling. After taking a quick photo, I dived right in. The burger was sizzling hot, the shoyu glaze dripping right off the beef patty, all nestled between two crispy ramen buns. The tangy melody of flavors and the inventive way this burger is presented made for a truly unique and delicious experience.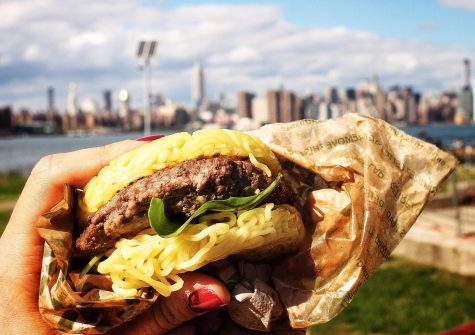 For my next stop I went to Red Hook Lobster to try Smorgasburg's take on my all time favorite food— the Maine lobster roll. Although on the pricy side, this New England delicacy is worth every buck. The buttery bun melted in my mouth as the spicy paprika-scallion mayo danced on my taste buds, perfectly accompanying the freshly caught Maine lobster meat.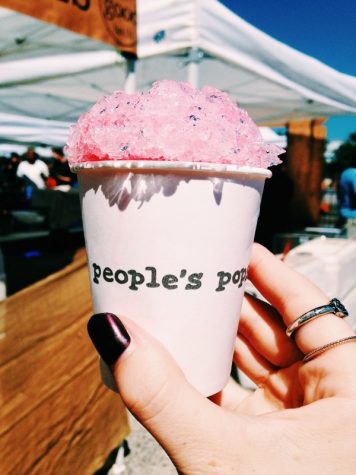 For dessert I opted for a palate cleanser: shaved ice from People's Pops, an innovative ice pop and shaved ice brand that uses the best fruits and herbs New York has to offer. With interesting flavors such as blackberry lemongrass, roasted peach jasmine, lime cilantro, and apricot chai (to name a few), People's Pops are both refreshing and refined.
Other highlights include Ube Kitchen's Halo Bowl ( a dragon fruit filled with exotic ice cream and toppings), Roll Play NYC's Vietnamese take on nachos, Dulcinea's churro ice cream sandwich, and Burrito Juàrez's Mexican street food.
If I have one piece of advice for you before attending New York's most vibrant and unique food market, it is to come with an empty stomach and a full wallet. Although expensive, the one of a kind dishes and experience that this Brooklyn market offer make it a must-see summer trip.