The Little Shop of Horrors Off-Broadway Revival – A Must Sey-mour!
Alan Menken's Little Shop of Horrors is a classic piece of American musical theatre. The dark comedy (based on the 1960 film of the same name) was written by Howard Ashman and Alan Menken. Ashman and Menken also co-wrote music for The Little Mermaid, Beauty and the Beast, and Aladdin, with Menken also composing songs for musicals like Pocahontas, Newsies, Hercules, The Hunchback of Notre Dame, Tangled, and others.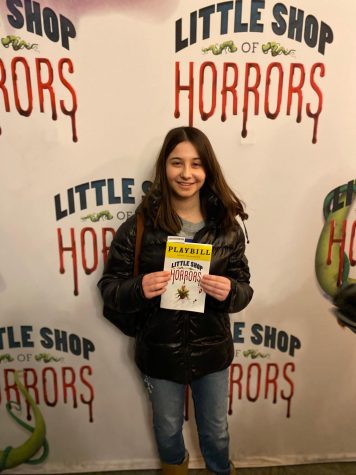 The story centers around Seymour Krelborn, a kind yet poor and clumsy man living in the slums of New York City ("Skid Row"). The show is narrated a group of sardonic, homeless women known as the "Urchins." Seymour works at a florist shop on the verge of closing, which is run by a strict yet comedic old Jewish man named Mr. Mushnik, who took him off the streets when he was younger to work for him. Seymour has had a long-time crush on his co-worker named Audrey. Unfortunately for him, she has an extremely abusive and sadistic boyfriend whom she cannot leave. Seymour has always had an affinity for strange and unusual plants, and one day he stumbles upon a venus flytrap-like plant that begins to attract customers. He names this entity Audrey II. Before long, the plant begins to wilt and demands a different kind of food which Seymour has to personally provide….
There have been countless productions of this show, both on- and off-Broadway. However, the most recent revival has been quite popular among the younger generation of theatre goers. As of October 17th, 2019, Little Shop of Horrors has been playing at the Westside Theatre Upstairs to packed houses. The revival is directed by Michael Mayer. It originally starred Broadway's Jonathan Groff as Seymour. Groff was the original King George III in the critically-acclaimed musical Hamilton, as well as the original Melchior Gabor in the cult classic yet controversial musical Spring Awakening (which Michael Mayer also directed). He was also Kristoff in the movie Frozen opposite Kristen Bell. As of Tuesday, January 21st, 2020, the role has been taken over by Gideon Glick, who has starred as Dill in Aaron Sorkin's To Kill a Mockingbird, as well as Ernst in Spring Awakening. Audrey is played by Tammy Blanchard, Audrey II by Kingsley Leggs, Mr. Mushnik by Tom Alan Robbins. The Urchins are played by Ari Groover, Salome Smith, and Joy Woods (Ronnette, Crystal, and Chiffon, respectively). Christian Borle takes on the role of Orin Scrivello D.D.S. (Audrey's boyfriend) Borle has starred in shows such as Thoroughly Modern Millie, Mary Poppins, Something Rotten!, Charlie and the Chocolate Factory and in the fan-favorite production of Falsettos. 
I had the opportunity to see the production for Groff's 3rd-to-last show. As a die-hard musical theatre fan, Little Shop has always held a special place in my heart, and I came into it with a pretty open mind. The production blew me away. The energy of the crowd was palpable. The start of the opening narration was met with loud chants and claps from the crowd. Tissues were being passed around during songs like "Somewhere That's Green", and laughs were shared during songs like "Dentist." Groff was born to play this role. His vocals were incredible, and he perfectly blended Seymour's kindness and his vulnerability without making him too soft. In addition, his annunciation was incredible and I was able to discern each and every word that came out of his mouth. (The words of course, came at the price of large sums of spit being shot at the crowd, 'cuz its theatre baby.) Being that it's live, no special effects could be used and I sat in awe of the perfectly executed transitions. Audrey II was a marvel herself. It takes 3 people to solely control her movements when she reaches maximum size. 
The Westside Theatre places plaques on the walls going up the stairs to represent all the productions that have been done there. For me, I loved seeing the original Playbill for my favorite show March of the Falsettos. After the show, I purchased an Audrey II pin and a planting pot, both proudly displaying the words "Feed Me!" Unfortunately, due to the weather that day, majority of the cast was unable to come to stagedoor. However, I did meet Kingsley Leggs, the voice of Audrey II, who happily signed my playbill.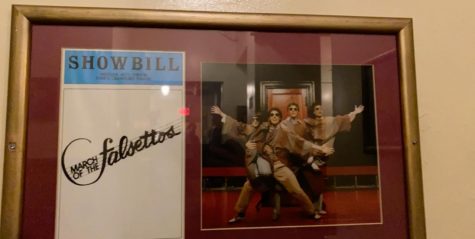 The New York Times called Groff a "Seymour at Heart." Another NYT article said that "Mayer's interpretation, staged in a 270-seat theater, summons the shivery elation I felt seeing "Shop" at the East Village's Orpheum nearly four decades earlier. It restores the show to its original scale and sensibility, reminding us of the special potency of grisly things that come in small, impeccably wrapped packages." 
The show is still running at the Westside Theatre, so get your tickets now! 
https://www.broadway.com/shows/little-shop-horrors/