Tenafly High School's Lunar New Year Celebration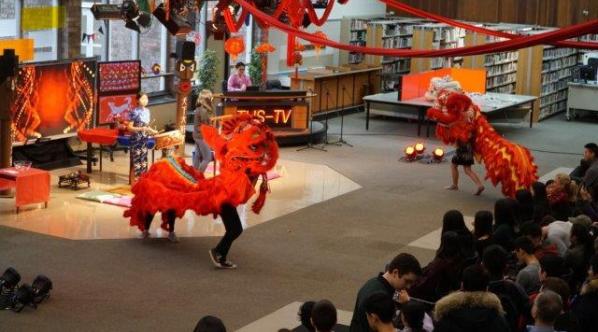 Tenafly High School's Lunar New Year celebration hosted in Lalor Library Media Center, is set to take place on February 14th, postponed from its original date of January 30th. That doesn't mean you still can't look forward to lively dancing, food, and spectacular musical as well as visual performances all from THS students. If you didn't catch it earlier, the new date this year happens to take place on the same day as another well-loved holiday: Valentine's Day. Don't let this bum you out, though. Take the time to enjoy this holiday with your other half by seeing—and hearing—some of the many student performances while eating great food, courtesy of the Chinese and Korean Culture Clubs.

The Lunar New Year celebration is a sort of long-standing tradition for Tenafly High School and it's Asian-American community. With the help of parents, as well, this day is truly transformed into something all THS students can delight in. This year, it is the Year of the Rat. Both the Chinese and Korean Moms Associations bring tasty food into the high school for everyone to enjoy in addition to chaperoning in the library. To find out more about just how it all comes together, we also interviewed several THS juniors closely involved with the event.

To provide a little bit of history behind the Lunar New Year event. Ryan Chang ('21), Edward Nah ('21) and Samuel Shon ('21) explain some cultural details, the practical reasons behind the day, and some of the differences and similarities between the Chinese and Korean cultures.

The library will be showcasing eye-catching visual performances such as the lion dance, a traditional dance involving two people mimicking a lion's movement for good luck and fortune. On the other side of the same coin, there's the fan dance, representative of beauty, grace, and delicacy, as performed by both the Korean and Chinese Culture clubs. Other performances include K-pop dances, tae kwon do performances, traditional as well as more modern musical performances, and notably the high-flying Chinese yoyo performance. Michelle Dai ('21), a performer in previous years for the popular yo-yo act and emcee this year said she thinks it's her, "favorite and most interesting act," because it, "requires a lot of skill and learning to actually be able to balance it on the string." She adds, "You can also do a lot of cool tricks with it, like throwing it up high and hopefully not hitting anyone or missing the catch!" The yoyo performance certainly is exciting, but the adrenaline-infused yells from the KCC's martial artists, and groovy, synchronized dancing from the K-pop performers all prove to be a fair match. Both the K-pop and taekwondo groups work tirelessly after school to refine and choreograph their respective performances for the big day. Eunice Koo ('21) adds, "If you guys wanna see Edward Nah doing taekwondo, you should come out on February 14th." Koo is also taking part in a K-pop dance routine for the Lunar New Year celebration.
Regardless of all of the great performances happening at Tenafly's library, it's important to take away from all this that Lunar New Year is a time for family and friends. And hopefully, the celebration will also leave you feeling all warm and fuzzy before relaxing on Presidents' Day weekend.