A Glass-Half-Full Outlook on Coronavirus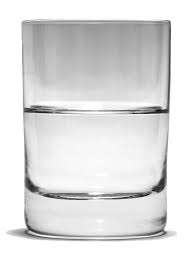 A worldwide pandemic has struck our society, causing schools to be shut down in every state, restaurants to do take out and delivery only, and the streets of the City That Never Sleeps to be desolate. Our own state's governor, Phil Murphy, has implemented a curfew. Residents can't travel between the hours of 8 p.m. and 5 a.m.
It was on Friday, March 13th, that the Tenafly Public Schools announced they would be closed indefinitely. Most students said they saw these changes coming while some did not think schools would be shut down. "I thought school would be shut down for two weeks if there was a case of COVID-19 in Tenafly, but I did not expect it to be longer," said Ben Fink ('20). 
"I knew that at some point Tenafly schools would close, but it wasn't until they did that I fully understood the severity of the situation at hand," said Maria Mihalatos ('20). "School was always a part of our daily routine and it was something that we knew we would always be there. But once you take that away, things really start to be put into perspective."
"I didn't expect a shutdown to happen because I thought it was just Asia that was being impacted by this virus," said Priscilla Song ('20). 
"It all felt so unreal, but I thought there was a chance we would close down our school," said Isabella Verona ('20). "I didn't expect the rest of town to also shut down, but it was a safe decision." 
Some anticipated the school closure but not the length. "I thought that high schools would be shut down, but I didn't think it was going to be for this long," said Do Eun Kim ('20).
Tenafly High School's senior class is most affected by this school shutdown, as seniors' last semester of high school could be cut short. As a senior myself, I sympathize with my fellow classmates and understand how it can be difficult even for the optimists out there to remain positive when prom and graduation, some of the highlights of high school, might not happen. However, there are positives in what may seem like an altogether lousy situation. 
"As a senior, and despite the possibility of losing major milestones like prom, commitment day, and a proper graduation ceremony I think this pandemic has allowed me to take a step back and breathe a little more," said Noa Shevchuck ('20). "Sure the days can feel longer sometimes, but I've been using this time to bond with my family and really tell them every day that I love them. And yes, I've definitely been able to home in on activities that I've said I wouldn't have time for. Things like taking walks with my family, being able to watch Netflix, and reading a lot more books have all been on my to-do list and now, with a lot more time on my hands, I can really do all of these things!" 
Yes, there is a bright side to this pandemic! "In this crazy time, I try to stay as positive as I can and I have been using this time to better myself by working out a lot more, despite not having a complete track season," said Shevchuk. "I just wish I could see my friends and teachers face-to-face." 
Most students find themselves catching up on sleep, doing homework, going for a walk, walking their dog (if they have one), eating, FaceTiming friends, watching movies, retapping into essential life skills, getting more connected with nature, organizing, cleaning, and exercising during this quarantine. What some students might not realize is that this is the perfect opportunity to start an activity or hobby you have always wanted to do but never had the time for. Emma Sindoni ('20) has taken up scrapbooking, finding it fun and therapeutic.
 It's important to tap into your creative and imaginative side. You don't even have to be good at the hobby. What matters is that you are doing an activity that is fun, that you enjoy, and that excites you and makes you want to get out of bed.
When was the last time you sat down and really appreciated life? I would not be surprised if most people said never because it's difficult to appreciate something that is so easy to take for granted. Our lives are so packed and we always try to do more and accomplish more that it's easy to get caught up in superficial things or things that may seem important at the moment when in reality it's the simplest things in life that we need to pay more attention to in order to really appreciate life. And sometimes it just takes what seems like the end of the world to force people to stop what they are doing, to take a deep breath, and to think about their life and how far they have come. A big part of this conception that life is supposed to be busy and fast-paced comes from the system and culture we have thrown ourselves in that we can't seem to escape. In particular, students and young people can understand the pressures to pack their lives full of things to do. In school we are expected to not only keep up with our work and get good grades but to also join as many extracurricular activities as possible. This same attitude is continued into the workplace and throughout life. In fact doing nothing, catching up on sleep, or meditating—any form of just relaxing and slowing down—are seen as signs of laziness and unproductiveness, characteristics that are looked down upon in this society. And we go on living as if there is nothing wrong with this pattern. If this system is as good as we think it is, then why are people so stressed and depressed and constantly looking for temporary escapes through medications, drugs, and alcohol? There never seems to be a finish line. This hecticness can end if we try to slow it down. This quarantine has given students the opportunity to slow down, as most students are generally more relaxed and in a better mood throughout the day while on quarantine. However, some students at THS still find the school work and assignments getting in the way of relaxing. 
"I'm not doing nothing. I have a lot of work in my classes, so I'm either doing my schoolwork or procrastinating doing it," said Ella Herman ('20). "This cycle has kind of made me anxious because every time I should be doing work and I'm not, I feel bad about myself." We can see this stigma around doing nothing and taking a mental-health-day and being unproductive in our students. This system has been drilled and engraved in our heads so that even when we try to relax, our guilty conscience tells us to get back to work and to keep moving and to keep going.
"Life is still very busy," said Emma Sindoni ('20). "Even now, even in this quarantine, I feel like I can't appreciate life because I'm preoccupied with homework." 
Another important thing in life to do that is often overlooked with our activity-packed schedules is spending time with your loved ones. You and your family finally have time to just sit in the house and spend time with each other. No more busy schedules to interfere with quality time with the family. According to becomingminimalist.com, "Relationships form the backbone of a purposeful life. Sharing secrets, fears, and hopes with another human is the surest way to slow down and enjoy life. Without close contact with other people, we grow into cold, lonely beings. Make time every single day to spend with loved ones, and you won't end up with a single death-bed regret." 
Many students at THS agreed that they find themselves spending more time with their siblings. 
"I don't get to talk to them as much as I'd like to because work and school takes up most of my family's time," said Song. "Now that we are all stuck in the same house with nothing to do and nowhere to go, I feel like we can connect more."
"I've been spending quality time with my family," said Mihalatos. "I really feel that this time has helped me to connect with my siblings more as we are all together doing our work and playing soccer outside in our backyard."
"I appreciate my family being home and getting to spend time with them," said Herman.
According to the Harvard Study of Adult Development, one of the longest-running studies on happiness, researchers found a strong association between happiness and close relationships like spouses, family, friends, and social circles. "Personal connection creates mental and emotional stimulation, which are automatic mood boosters, while isolation is a mood buster," said Dr. Robert Waldinger, the project's director.
"I also have had the time to catch up with my friends that live in other parts of the country," said Sindoni. "I've found solace in knowing that I am not alone, and we will get through this pandemic as a country. For the first time, I felt like this pandemic united what should already be the United States of America."
"I am definitely less anxious," she added. "I am opening my college decisions in the comfort of my home knowing that the next day, no one has to know where I got in or didn't get into." 
There are also unintended climate benefits because of the pandemic. For example, the canals in Venice before the lockdown were murky. However, since Italy went on lockdown the canals are becoming clearer where fish are now visible. Countries that have gone on lockdown have also seen a noticeable drop in pollution and greenhouse gas emissions, according to NBC news. Satellites have also shown significant decreases in harmful emissions since countries have taken restrictive measures to prevent the spread of COVID-19.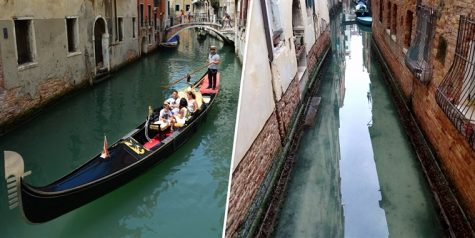 Cleaner air and cleaner water are not the only positives to this quarantine. According to NBC news, all forms of traffic in China have slowed down or stopped altogether, meaning less air pollution—carbon monoxide, greenhouse gas emissions, carbon dioxide emissions and smog. Industrial operations have also been paused, which play a major role in air pollution. The percentage of the average fine particulate matter—tiny particles in the air that are dangerous because they can be breathed deeply into the lungs—has decreased. Dioxide is tied to industrial activity, electricity production, and transportation, so anything that affects those sectors will impact greenhouse gases, as well," said Christopher Jones, lead developer of the CoolClimate Network, an applied research consortium at the University of California, Berkely.
"Pollution-monitoring satellites operated by NASA and the European Space Agency observed drastic decreases in air pollution over China over two weeks in February when the quarantine was in effect. The satellites measured concentrations of nitrogen dioxide, which is released by cars, power plants and industrial facilities, from Jan. 1 to Jan. 20 and again from Feb. 10 to Feb 25".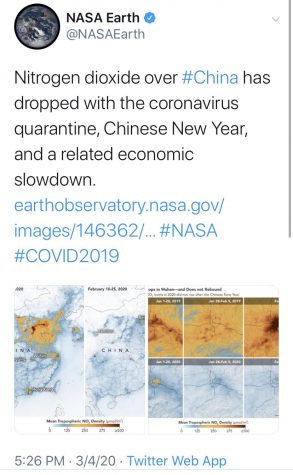 This fast-paced, constantly-on-the-go lifestyle that has now been put to a halt should be a wake up call that we need to slow down as a society and as individuals. While this virus may seem like a huge inconvenience as all our vacations and sports might get cancelled, it may be just what we needed that we didn't even realize we did. A big pause button on life. A blessing in disguise. I, too, found the adjustment difficult at first, but this quarantine has allowed me to realize what is important at the end of the day. And sometimes it just takes a worldwide pandemic to realize what matters in the end.