Penguins Freely Explore Depths of Chicago Aquarium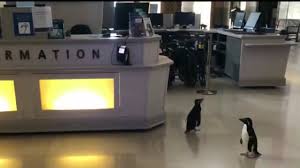 Wellington, the oldest penguin of the three, calmly observes the disk tetra fish found in the "Amazon Rising" exhibit of the Shedd Aquarium in Chicago, Illinois. The following morning, his buddies, Annie and Edward, embark on an adventure through the Caribbean Reef rotunda of the aquarium. 
Starting the morning of March 15th, the Shedd Aquarium has been releasing daily three of its penguins to freely waddle on the tiles of its exhibits. The aquatic museum had no choice but to close amid the coronavirus pandemic and following the ban on public gatherings issued by Illinois Governor J.B. Pritzker. Staff decided to release the penguins in an attempt to keep them more active. 
"Without guests in the building, caretakers are getting creative in how they provide enrichment to animals," a Shedd representative explained in a statement to the Chicago Tribune. "[They have been] introducing new experiences, activities, foods and more to keep them active, encourage them to explore, problem-solve, and express natural behaviors."
Amused as can be, the three continue to roam around the aquarium, meeting all their fellow aquatic creatures. "While this may be a strange time for us, these days feel normal for animals at Shedd," the representative added. The fish continue to swim around in their tanks, unbothered by children pressing their faces against the glass, and the penguins are rewarded with a small adventure.
The recent quarantine may make us feel as if we're the creatures behind glass, while the animals stand there and watch. However, as humans, we are social creatures that also must practice natural behaviors. In the same way that these penguins are getting out for a stroll, we should all try to stay active and get some fresh air. Just remember that we must keep our social distance and remain careful at all times. Avoid coming in contact with surfaces outside your home and wash hands regularly. Follow these few rules so that we can go visit Wellington, Annie, and Edward as soon as possible!