Señora PM: A Comedic and Supportive Outlet for Students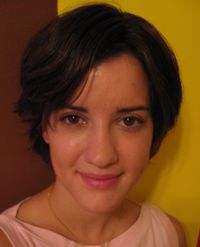 With school out for the rest of the year due to COVID-19, students and teachers have been picking up new hobbies and finding new ways to kill time. In particular, staff member, Señora Pelaez-Martinez, or Señora PM, has been exploring new hobbies, all while keeping positive and remaining a supportive outlet to students.
Señora PM teaches AP Spanish along with Señor Youssis, Italian Four Honors, Italian 2 CPA, Spanish 3 Honors, and Spanish 3 CPA. In addition to being a devoted teacher, PM is also a devoted mother to three girls. And just like everyone else in this quarantine, PM admits that it can be "stressful" and "hectic" but, like the other optimists in the world, she finds her own ways to take unfortunate and stressful times and turn them into opportunities to radiate her humor and positivity. "I bring my A-game peppered with humor and a healthy dose of patience and enthusiasm every day," said PM. This can definitely be seen in her posts in Google Classroom. "Signora PM lightens up the class with funny jokes and by teasing the class," said Shany Kashkash ('20). "She makes the tense environment of school much calmer and puts the students at ease, which helps us learn."
"Señora always sends us a funny video of her and her kids and reaches out to us to find out how we are doing," said Itamar Freund ('20). "I can tell she cares about how we are doing. I can tell she cares about how her students are handling the current situation."
"Señora PM motivates her students and is incredibly supportive during these tough times. Whether it's hosting Zoom meetings or posting funny videos, she is always making us laugh and brightening our days," said Eleni Lotito ('22). "She makes it known to her students that she is here if we need any help with our assignments and has really been there for her students during the change to at-home learning."
"Even though we can't be in class together, she has still made this time just as fun and educational for her students," said Ella Herman ('20). She has posted numerous videos of herself wishing the best for us and our families, and letting us know how she and her own family are doing. She has lifted our spirits and made us laugh by sharing videos of her and her kids having a dance party and one of her and her daughter doing a makeup tutorial. She is always available on Zoom or through email to answer questions or just talk about our days and has created fun and worthwhile assignments and activities. PM has been creative, supportive, and resilient during this time of uncertainty and fear."
PM, like other staff members with children of their own, have been taking this opportunity to spend more family time with their kids. PM can be found creating TikToks and having dance parties with her children. PM was taught "the Renegade," a popular TikTok dance, by her daughter. PM also tries to weave in her humor to lighten students' moods through posting coronavirus memes and videos of her singing and dancing. She has even featured her Pusheen stuffed animal in one of the many videos where she frequently checks in with her students.
PM has also posted fun videos of herself lip-synching, doing dance routine with her children, bad singing, parodying influencers—GRWMs (Get Ready With Mes), and spoofing bad makeup application by her daughters. She always makes sure her students have a little silliness to start their days and lighten their moods, complementing, of course, the school work assignment for the day. "It is getting more challenging to not be more goofy than usual," said PM.
Along with keeping her students entertained yet focused, she has also been busy with moving. "It was interesting," said PM. "The quarantine has definitely given me the opportunity to slowly get to know my new neighborhood. I have a newfound respect for elementary school teachers as I do my teaching and prep at the same time that I am helping my 2nd grader and my preschooler with their work. My daughters' teacher has patience and dedication I don't think I possess!"
PM has also tapped into a new hobby as well. "I rediscovered my love for jigsaw puzzles—being on a screen so much every day has inspired me to seek some analog entertainment, so I find jigsaw puzzles relaxing," said PM. She said she cultivates her "love for vintage design by doing puzzles that are based on Charley Harper drawings and Frank Lloyd Wright illustrations."
"I don't know if I am keeping them motivated as I am up against a very stress-inducing situation. I can say that I do try to be patient and supportive. I have shared some silly videos of my daughters and I try to make my kids laugh at our antics, so I hope the effort is appreciated. I hope that we all remember that this too shall pass and that, even though we are isolated in many ways, we are still connected. I am sure that my students are learning but I also genuinely hope that they know their well being is on our minds too."
Some of PM's humorous memes…