The Zany World of Zoom
As Tenafly High students pursue virtual learning, programs like Zoom have become a hallmark of these strange times. Jonathan Tenenbaum explores some of the features (and their misuse) of Zoom as he dives into the culture surrounding the program.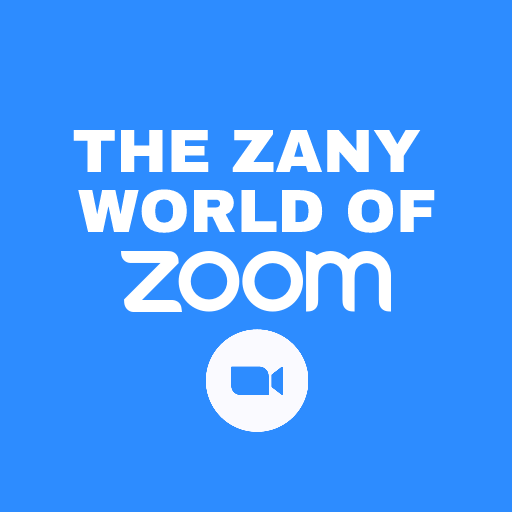 It's nearly as difficult to imagine quarantine life without virtual solutions like Zoom as it was to imagine living in quarantine prior to the pandemic. While this may be a slight exaggeration, Zoom has definitely become a norm of quarantine and undoubtedly a hallmark of these strange and uncertain times. Zoom has found its way into schools, workplaces, and even social gatherings, as friends "meet up" to play virtual games. Zoom's features, from virtual backgrounds to the ever-elusive 'Unmute' button, have positioned the application as a cultural phenomenon and powerful tool, despite falling victim to virtual pranksters. Today, I'll take you by my side as we dive deep into the weird and wild world of Zoom.
Let's start with the features that make Zoom so unique. No, not the ability to easily click on your image in order to manage your settings. No, not the ability to seamlessly switch between portrait and landscape view. No, not the ease of screen sharing either. I want to talk with you about the features that I feel have played the greatest role in establishing Zoom as a true platform for expression and a bonafide revelation in often awkward virtual conversation technology. This begins with the virtual background. Let's be honest, you thought virtual backgrounds were hilarious at first. You'd throw a picture of the confessional room from The Office behind you and, boom, instant comedy gold. Now you're not only the most technologically advanced in class, but the virtual class clown. Don't get me wrong, tasteful use of the virtual background feature is appreciated, especially among students when a teacher sits in front of a background that ever-so gently derails the focus of class discussion. However, more often than not, the use of virtual background treads on tasteless or redundant. It's comforting to see that some things haven't changed despite the quarantine, namely, the fierce grip certain individuals maintain upon dated internet humor. Two months into the quarantine, I still see the occasional toilet paper virtual background, a reference to the toilet paper shortage in the early weeks of the stay-at-home order started by bathroom supply hoarders and preying upon those who don't frequent their local Costco and buy in bulk. Admittedly, time has been a blur in quarantine, but, in my opinion, you have one shot at virtual background humor per Zoom call, and it's best not to blow it on a stale joke.
The next feature that I feel often goes under-appreciated in terms of the profound impact it has upon the virtual school experience is the unmute button, not so much in its explicit function, but in its being frequently forgotten. I can't tell you how many times a question has been asked to a teacher, possibly during a quiz or practice quiz in the weeks leading up to the AP, to be met with radio silence. Teachers will often respond to the question with a helpful answer or explain the area of uncertainty, only to realize that they had been talking on mute and would need to restart their explanation off of mute. This often happens in the transition following a video or some other online activity where the teacher temporarily mutes him or herself. If I'm being completely truthful, though, I too am a culprit in the neglect of the unmute button. I have many a time begun to answer a question or give my input when suddenly cut off by the teacher or another student or left completely ignored. I begin to wonder if my input in the discussion wasn't on-topic or valuable. I question my confidence and the importance of my opinion. I let out a sigh of despair, until I realize that I'm still on mute. Of course, it's far less dramatic than that when it does happen, but Zoom calls wouldn't be the same without accidentally staying on mute. In fact, I've had two Zoom calls in the past on two separate occasions with two different groups during which a friend was talking with a group but thought he was being ignored, but was really just on mute.
Another important facet of the Zoom meeting sphere is the infamous waiting room meeting participants are placed in when they join if the feature is enabled. The screen reads, "Waiting for the host to let you in." You sit there, wondering when you'll be let in, whether your attempt to join was noticed, and if you'll be marked as late. The waiting room is far from an enjoyable place. In some sort of timeless middle ground between meeting participation and absence, the white screen of a waiting room is an uninviting void that Zoom participants frequently fret over. The same goes for the waiting room where the screen reads, "Waiting for the host to start the meeting." This screen initiates a different, yet equally frantic train of thought. Am I too early? Do I have the wrong link? Did the teacher forget about class today? This last question is the one I see most frequently texted in my group chat with my friends as they cross their fingers for another hour of sleep or scroll mindlessly through TikTok. More often than not, the teacher is simply a minute or so late, but the waiting room stands as a powerful realm, full of potential, freedom, or oblivion. Not to mention, the waiting room is quite possibly the least enjoyable waiting room I have visited. This waiting room lacks tacky carpeting, uncomfortable chair cushions, or buzzing white ceiling lights. This waiting room lacks worn, months-old editions of quality magazine publications such as, but not limited to, Field & Stream, Good Housekeeping, and Country Living. This waiting room is charmless and unsettling. The least Zoom can do is add a feature where meeting hosts can play music in their meeting's waiting room or at the very least include a royalty-free jingle.
There are still so many more notable topics of discussion surrounding Zoom and how students and working professionals alike make light of and navigate virtual meetings, but I thought I'd include some of the features I find most interesting. Even despite issues with Zoom meetings, some of which are due to the program itself and some of which are a result of online tomfoolery, such as the infamous "Zoombombing," where internet trolls join Zoom meetings to mess with participants, I, for one, feel that the transition has been relatively smooth, certainly thanks to the can-do attitude of THS students and staff.
Before I leave you to return to the world of Zoom class meetings and get-togethers, I want to end with some advice. Make sure you are muted when you don't wish to speak and are unmuted when you do. Make sure you don't overuse the virtual backgrounds. Make sure you're on time so you can avoid the dreaded waiting room.  Make sure to be wary of what you message in a Zoom meeting, a transcript of all private message conversations in a Zoom call are provided to the meeting host. Lastly, do some research. There are some really great Zoom games to find online that you can play with friends and extended family to feel closer despite the unfortunate boundary between us.
As I'm sure I do not need to tell you, these are unfortunate and uncomfortable times, but tools like Zoom are real ways that we can get things done and communicate "face to face" in larger groups. A real culture has formed around Zoom and how virtual meetings are conducted. While I do love to explore subcultures and their often comical intricacies, I hope our time with Zoom fades as quickly as possible and we can reminisce only fondly on the lighter parts of quarantine, like funny virtual backgrounds or the time your teacher taught a lesson while unknowingly on mute the whole time. 
We are truly living through history in an irritating way, so I hope you and your loved ones are finding ways to pass the time and look for ways to find moments of  joy in quarantine, be it through Zoom or whatever way you work to protect your mental and physical health.