Athlete Continues to Practice Despite Canceled Season
Along with other sports, the Tenafly Softball Team has also suffered by missing out on a whole season. But that has not stopped Claire Guitmann ('22) from hitting the batting cages and keeping up with softball conditioning drills.
Guitmann has been playing softball since the second grade, wanting to follow in her older sister, Alexa Guitmann's ('16) footsteps. Guitmann would watch her sister play so she was always close to the sport even before she started playing.
"My sister started playing the sport before me …probably in preschool," said Guitmann. "Watching my sister play and always being around the game, I wished I could be on the field with her, but since I was so young, I couldn't. Instead I would always practice with her, and that made me grow a love for the game."
Guitmann has been a pitcher and played first base for Tenafly High School's Varsity softball team since she was a freshman. During the summer and fall, she plays on the club team, Heist. The team competes in a club bracket, participating in different tournaments and playing against other teams.
Guitmann loves that softball is a team sport but that each player gets her time to shine and stand out at the same time.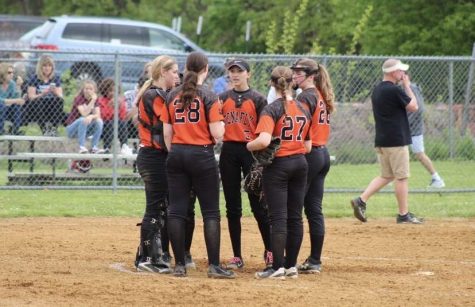 "I love that when it is your time to bat or your time to make a play, the lights and attention are on you," she said Guitmann. "While it's a team sport, I like how all the good little things that all your teammates do come together and how everyone gets to play a small part and how it's really evident when you are playing."
Despite the challenges Guitmann has faced in her softball career, she was able to push through and come out stronger on the other side. In her freshman year, she ended up stress-fracturing her forearm. Not knowing the extent of her injury, Guitmann played through the pain. "While I was in a lot of pain and it was really hard at times, I felt like it was a big thing that I had to do as a person," she said. "It showed who I was as a player and that even though I was in so much pain, I still did it for my team." 
After getting through her injury, Guitmann, along with many of her teammates, were faced with another obstacle—the coronavirus pandemic. Unfortunately, the girls did not get very far into their season before the virus closed down all schools and all extracurricular activities.
While Guitmann feels for her fellow senior teammates not getting to play another season, she is eager to return next season to play with her teammates and improve as a player.
Guitmann and her teammates have even tried to hold socially-distanced practices to keep themselves fresh.
"We are trying to get some practices together actually this week.. I've been working out more than I ever have, honestly, and I have been hitting and pitching with my dad and having lessons still, so I'm still kind of on a roll with it, but I know most of the other girls in Tenafly, especially the seniors, are not really going to be playing as much because a lot of them don't play club."
With the unexpected challenges life has to offer, Guitmann tries her best to appreciate every moment and opportunity she is given to play the games that she loves.
"Play every game like it is your last because, for me, I never thought that I would only play five games my whole high school career," said Guitmann. "Every time I'm on the field, it feels like a blessing for me."
Guitmann will always cherish the friendships and relationships she has built along the way from the friends she has made to the coaches she is able to talk to about things. She finds these relationships have really made her develop as a person.
"I hope to get into my top three schools—Duke, Michigan, or UNC. Another goal is to win the World Series. A personal goal of mine is to hit at 70 mph. My highest I have ever been clocked is 64 mph."
"I enjoy playing softball and there is just nothing like being in a game and having that experience that compares to anything else. And having that pressure, I just love it. But really when I was younger I just really wanted to get that scholarship."
Guitmann plans on playing softball at the college level and hopes to play D-1, as schools have already shown interest in her "That is the goal," she said.