Black Motorist Shot and Killed By NJ State Trooper
On May 23, black man Maurice Gordon, 28, was shot and killed by a New Jersey State Police trooper on the Garden State Parkway. Gordon was initially stopped by Sergeant Wetzel for driving over 100 mph on the parkway. Released dash-cam video and audio files have offered inklings of the events that led up to Gordon's death, including suggestions of a struggle between Gordon and the officer. 
According to numerous files, Gordon's stop with Sgt. Wetzel was not his first stop with law enforcement officials that morning. Reports indicate that a friend of Gordon's from Poughkeepsie, New York, had made a call to 911 the night prior. The released recording revealed that Gordon had been acting "a little weird," elaborating  further about a "paranormal experience." Gordon had supposedly left the house in a panic that night, and local officials had kept watch for his appearance. Gordon was reported to have first met with an off-duty Red Bank, New Jersey, officer early on the morning of his death. His vehicle had run out of gas and was parked in the middle lane of the Garden State Parkway when the officer found him at 3:13 a.m. The officer aided Gordon by calling a tow truck, and only two hours later, at 4:54 a.m., his vehicle allegedly ran out of gas again. Another state trooper stopped to call for help from another tow truck. At 6:13 a.m. Gordon was stopped for the third time that morning for reportedly driving 101 mph. And only ten minutes following his departure from his last stop, at around 6:40 a.m., Gordon was pulled over for the fourth and final time by Sgt. Wetzel for driving 110 mph.
According to the released video-audio files, it seems as though Gordon and Wetzel's interaction began once Sgt. Wetzel stopped Gordon for driving well over the speed limit. However, Gordon's vehicle also appears to have become disabled at a certain point, and Sgt. Wetzel called yet another tow truck. In the meantime, Sgt. Wetzel appeared to have offered Gordon a seat off the highway in the back of his patrol car, which Gordon accepted. Gordon soon began putting on and taking off his seatbelt repeatedly, as well as entering and exiting  the car. "I keep telling you not to get out of the car, but you keep hopping out," Sgt. Wetzel said. "Why do you keep taking your seat belt off? Just keep it on in case someone hits us from behind." Sgt. Wetzel then offered Gordon a face mask, which he accepted. Sgt. Wetzel can then be seen leaving the patrol car to retrieve the mask, at which point Gordon exited from the back seat and ran from the scene. Sgt. Wetzel demanded that Gordon return to the car, and the two are caught wrestling behind the vehicle on the video files. Gordon then rushed towards the driver's door in an attempt to get into the driver's seat, to which Sgt. Wetzel responded by deploying pepper spray. The two continued in a struggle behind the vehicle before six shots rang out and Gordon collapsed on the ground. Sgt. Wetzel quickly handcuffed Gordon before yelling into his mobile radio, calling for additional help and EMTs. Audio caught on the dash-cam overheard Sgt. Wetzel's radio report as he claimed that Gordon had supposedly gone for his gun. "He ran away from me, tried to hop into my trooper car, grabbed my gun," Sgt. Wetzel is heard to have said. "We were fighting with my gun and I shot him." Maurice Gordon was officially pronounced dead at 7:28 a.m.
New Jersey State Attorney General, Gurbir Singh Grewal, has since released a statement concerning the matter: "Our team of independent investigators has been working hard to complete the initial investigation into the shooting death of Maurice Gordon as quickly as possible. That initial investigation is now complete." However, Grewal continued by mentioning that the situation is still under investigation, with further evidence to be presented to the grand jury. 
Debate regarding the fault of the involved trooper, Sgt. Wetzel, continues. Pete Stilianessis, President of the State troopers Non-Commissioned Officers Association, argues that Sgt. Wetzel's use of force was "reasonable under the circumstances." As of right now, Wetzel is on paid administrative leave as standard protocol, with further action to be decided. "It is important to look at the videotape of the stop, to consider the Trooper's courtesy and multiple attempts to safeguard Mr. Gordon, using verbal commands, physical resistance, and then pepper spray, escalating to lethal force only when Mr. Gordon tried to grab the Trooper's gun. This incident occurred not because of police aggression, but despite every attempt to de-escalate the situation."
However, Gordon's mother, Racquel Barrett, demands justice and answers. Ms. Barrett has expressed her frustrations with the state's lack of action against Sgt. Wetzel on MSNBC. "I think the police need to be charged. I don't think he should be on leave, getting paid, because it's just distasteful and everything, you know. I have no words; it's just distasteful." Since Maurice Gordon's death, his mother has openly spoken of him and the man he had been. "My son was the most amazing, amazing person. He's a wonderful son. My life will never ever, ever be the same again. I lost a piece of me — that's my son." Ms. Barrett had often worried about Gordon's settlement in the United States. While she and her family lived in London from Jamaica, Gordon had moved to Poughkeepsie, N.Y. to live with his half-siblings for his work and education. "I never have deep concern about him… He's just a loving, kind person and he's respectful as well to his elders, and I always think if somebody [were to] stop him, like a police officer, he'd be nice and smile." 
Likewise, Gordon's sister, Yanique Dorgon, 27, has flagrantly expressed her own frustrations with the "American system." Yanique herself is a large activist for equality, and has frequently brought up the conversation of equality in London. However, since her brother's death, she's begun to voice her opinions about the conditions of racism in America. "It really scares the life out of me to think this could happen to [my half-siblings] as well. The odds are against us as black people in America." In particular, Yanique fears that her brother's death will not receive a proper investigation, doubting whether or not authorities would even take cases concerning black people with conventional regard unless backed with video evidence. Referencing George Floyd's death, which only received proper justice after going viral over social media, she said, "I have zero trust in the American system. There is no accountability. You have to get every single voice screaming and shouting for your rights."
Further comments from a former girlfriend of Gordon's disclose that Gordon was being treated for schizophrenia. The unidentified individual opened up about Gordon's mental condition in a statement to The Pine Barren Tribune, suggesting that his condition could have been the cause behind his behavior. However, his mother has followed up, stating, "I don't think his mental health has anything to do with it."
There are hopes still that the fervor of the Black Lives Matter movement will offer Gordon's case with the same attention and justified action as Floyd's death, and the unsolved cases of many other black individuals that have since emerged in our media. However, statements and files have yet to be thoroughly reviewed before further action is to be taken regarding the incident. Nevertheless, Governor Philip D. Murphy has assured the state that the affair would not be overlooked. "Any life lost is a loss to be mourned and grieved. Police have a responsibility to protect the people they serve, and that demands a high level of accountability when things go wrong."
About the Writer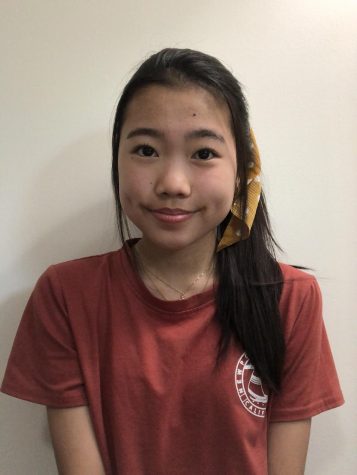 Jacqueline Kim, Staff Writer
Jacqueline Kim ('23), a Staff Writer for The Echo, is thrilled for the opportunity to broaden her perspective of writing through journalism. She also...