Two Rising Seniors Take Prizes in the 2020 Bergen County Writing Awards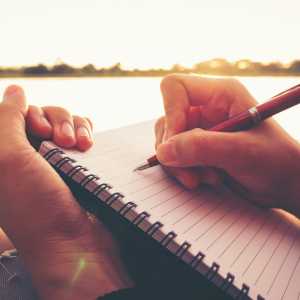 Two rising seniors, Jonathan Tenenbaum and Rebecca Parish, learned last week that they were awarded prizes in the 2020 Bergen County High School Writing Contest. Both will receive gift cards and publication of their essays in Pegasus, the competition anthology.
Despite the several setbacks caused by the outbreak of the coronavirus and the resulting quarantine, Bergen Community College has persisted in hosting and sponsoring its annual writing competition: The Bergen County High School Writing Contest. The writing contest is designated to collect unique, original writing pieces from junior and senior high school students across Bergen County. This year's theme, "The Pressure Teens Face," encouraged students to build off of personal reflection and experience, and the writing submissions were judged on standards of creativity and originality.
The contest comprises four major categories, judged on a criteria exclusive to each division: essay writing, short story, poetry, and drama. For each category, judges awarded students in 1st, 2nd, and 3rd place, as well as one honorable mention, with a certificate and their respective prizes.  First-place winners will receive $50 Amazon gift cards, second-place winners will receive $40 Amazon gift cards, third-place winners will receive $30 Amazon gift cards, and Honorable Mention winners will receive $25 Amazon gift cards. In addition, the works of each winner are to be published in the Bergen Community College's literary magazine, Pegasus, as per tradition.
Despite the program's efforts to move forward amidst the obstacles of quarantine, there have been several delays and conflicts directly related to the effects of the pandemic. The announcement of this year's winners was delayed due to difficulties in managing the funds needed during such financially troubled times. Nevertheless, funding was soon secured, and the contest quickly resumed with certificates and prizes mailed to each respective winner on Friday, July 17th. However, the impact of the pandemic has also prevented the printing and distribution of the magazine, and  it has been decided that the magazine will be published electronically. In addition to this, the annual awards ceremony has been canceled.
Among this year's winners were Tenenbaum and Parish, both of whom submitted last winter essays they had written for their respective AP Language and Composition classes instructed by Mr. Whitehead. Tenenbaum took the prize of 2nd Place in the category of Scholarly Essay and 3rd Place in the category of Personal Essay. Parish won Honorable Mention in the category of Scholarly Essay.
Both winners shared their enthusiasm in response to the contest's results, as well as in their own successes and recognition. "I'm really proud that my writing was recognized because this was my first time submitting to a writing contest," Parish said. "I also want to thank Mr. Whitehead for informing me about the contest and encouraging me and other students to submit."
"I was very excited with the results of the competition for two major reasons," Tenenbaum said. "First, and most importantly, that everyone at the Bergen County High School Writing Awards decided to continue the competition regardless of the current global circumstances. It's often difficult to unite or find positivity in these times so often riddled with confusion and discomfort, but the fact that they chose to come together, figuratively, to continue the competition was a surprise I enjoyed wholeheartedly. Second, of course, for the fact that I was awarded for my writing, but beyond that, how open-minded the judging committee was. I wrote my scholarly essay using Pink Floyd's Dark Side of the Moon as a lens for analysis in The Scarlet Letter. I was stoked to find out that they liked it, as I tried to stretch the limit a bit of what a typical scholarly essay looks or reads like."
The electronic publication of this year's copy of the Pegasus has yet to be released as winners await for their certificates and prizes to arrive in the mail.
Students interested in submitting to the 2021 competition should speak to their English teachers in mid-winter.