"Mr. Vice President, I'm Speaking" – A Nonpartisan Recap of the 2020 Vice Presidential Debate
The only 2020 vice presidential debate took place on Wednesday, October 7th at the University of Utah. Representing the Republican party was the current vice president to Donald Trump, Mike Pence. Representing the Democratic party was former Vice President Joe Biden's running-mate, California Senator Kamala Harris. This occurred only days after President Trump's diagnosis with coronavirus, and at the request of the Biden campaign, plexiglass was placed in front of both Harris and Pence. They were also placed 12 feet apart from one another and every member of the audience was socially distanced and masked. The moderator of this debate was the Washington Bureau Chief for USA Today, Susan Page.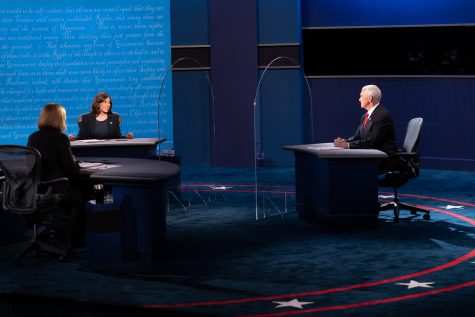 Here's a nonpartisan recap of the most important issues of the night:
The Coronavirus Pandemic
Susan Page, an American journalist who hosted the debate, began by asking Harris about what a Biden/Harris administration would have done differently in January and February in response to the virus. Harris called the Trump administration's coronavirus response the "greatest failure of any presidential administration in the history of our country" as they were informed about the effects of the disease yet did not disclose the information to the public and still does not have a concrete plan. She said that the Biden/Harris administration would have made a fast and free vaccine and would've increased national testing. 
Page then asked Pence why the American death toll is significantly higher than that of other wealthy nations as he is in charge of The White House Coronavirus Task Force. Pence commented that Trump's top priority is the health of the American people which is why he placed a travel ban on China very early on. He said that this was a decision that Biden ignored as he believed it was xenophobic. He mentioned that it is hard to create a vaccine very quickly but that everything that Biden plans to do is largely what they have been doing and plan to do in the future. Lastly, Pence was asked about why he attended a non-socially distanced event that was held at the White House but chose to ignore the question.   
The Economy
Due to the pandemic, many Americans have lost their jobs. This has affected Americans of minority groups the most.
Harris stated that in order to bring these jobs back, she would tax only wealthy Americans $4 trillion. She said that Biden wants to invest in research to help combat climate change. She wants to give Americans the option to either choose private or public health insurance and that families making less than $120,000 a year would be able to attend a free public college. 
Pence said the economy will be able to come back fast and that Trump originally greatly improved the economy by cutting taxes, which allowed individual households to generate more income. He said that Harris wants to raise taxes, ban fossil fuels, ban fracking, pay trillions of dollars for the Green New Deal and repeal the tariffs currently placed on China. After Harris said that they would not ban fracking, Pence said that Harris is "You're entitled to your own opinion, you're not entitled to your own facts."
Climate Change
The candidates were asked whether they believe that climate change worsens wildfires and hurricanes. 
Harris said that "Joe believes in science" while Trump does not. The Biden administration would create new environmental jobs.
Pence said that the US has the cleanest air and water and that the Green New Deal would simply increase the cost of energy. He said that NAFTA has a "radical environmental agenda"
American Leadership
Harris believes that you have to treat your political allies and enemies accordingly, rather than as friends. She brought up the example of how Trump trusts Russian President Vladimir Putin in spite of the fact that they interfered with the 2016 election. She also criticized Trump's decision to pull out of the Iran Nuclear Deal as she said that it puts the lives of Americans at risk.
Pence claimed that as far as foreign relations go, Trump should be praised for his work on foreign relations as he moved the US embassy to Jerusalem, Israel's rightful capital. Trump killed terrorists Abu Bakr al-Baghdadi (Iraqi) and Qasem Soleimani (Iranian), a decision that received backlash from Biden. 
Abortion
Recently, Trump chose Amy Coney Barrett to succeed late Supreme Court Justice, Amy Coney Barrett. If she is approved to the court, Roe v. Wade, which gave women the right to choose whether to have an abortion or not may be overturned. Page asked the candidates whether they would want their home state to enact abortion restrictions. (Harris's home state is California, while Pence's in Indiana.)
Harris said that both Biden and she are people of faith and would never use Barrett's Christianity against her, but she is pro-choice. She believes that the seat in the Supreme Court should be filled after the election.
Pence said that he hopes that Barrett will get a fair hearing as she is a very smart woman and that people do not attack her faith. He stated that he is unapologetically pro-life and does not support using taxes to pay for abortions. He then repeatedly asked Harris if she would pack the Supreme Court given that Barrett is confirmed, however, she did not give a straight answer. 
Racial Injustice
Page asked both candidates if Breonna Taylor, the innocent black woman who was killed at the hands of police officers received justice. 
Harris said that she believes Taylor has not yet received the justice that she and her family deserve. She said that she was a prosecutor so she is aware of how the criminal justice system works. While she does not condone violence in any capacity, she believes that they need criminal justice and police reform. She said that this involves banning chokeholds as well, legalizing marijuana, banning private prisons, and creating a registry for police officers who break the law. Harris also called Trump out for not condemning white supremacy.
Pence said that he trusts the criminal justice system and that the death of George Floyd is no excuse for the rioting and looting that occurs. He denied that America is systemically racist and claimed that police officers do not have an inherent racial bias. 
(Then a fly flew onto Mike Pence's head and remained there for several minutes, which certainly lightened the mood and created some viral memes and material for SNL.)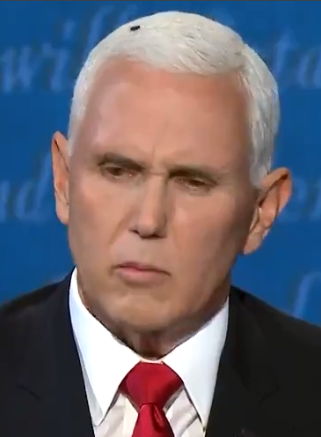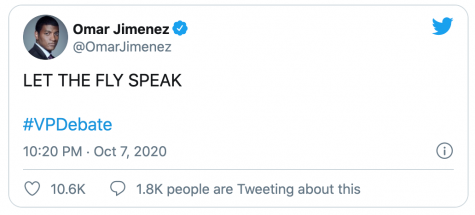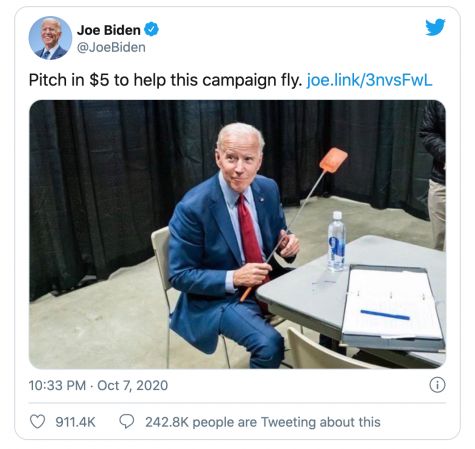 Question from Brecklin Brown
The last question of the night came from 8th grader Brecklin Brown who said that when he watches the news all he sees is people fighting and wonders how US citizens are supposed to get along when the leaders of the country cannot even get along.
Harris said that she loves hearing from her and she believes that the future is bright. She thinks that Joe Biden has the power to "lift people up."
Pence said that when he was Brecklin's age he loved to watch the news and is glad that she is as well. He said that the news does not represent all Americans and that although citizens may debate they "come together as Americans." 
The second presidential debate was set for Thursday, October 15th. Due to growing concerns surrounding the pandemic, it was to be held virtually. Donald Trump has declined to participate and as of now, it is canceled. The electron will still take place on Tuesday, November 3rd. If you are not yet registered to vote, go to HeadCount to register!