The Fate of Tenafly Thespians in Time of COVID
One year, it was mobs of aggrieved civilians who sang in a harmonious uproar in the backdrop of 19th century France. Another year, bright lights flashed and blaring music blasted in the bustling London scene as an intelligent, autistic child looked for his mother on his own for the first time. But the same year that a set of colorful wrongdoers ran around a luxurious, New England 1950's mansion as a hysterical whodunit charade ensued, the celebrated stage of Collins-Tall auditorium would cease to be used for young Tenafly student actors to display their talent and passion. 
Theatre at Tenafly High School has been a strong and thriving component of the school's performing arts program, annually providing two productions in the Fall and Spring (either a play or musical) and a student-run One Acts Festival. But during the 2019-2020 school year, the spring musical Kiss Me Kate, stalled mid-production as the school building closed for its students and faculty due to the Covid-19 outbreak. The then seniors parted ways with the loss of their last production of their high school career, but the juniors were in constant worry about the uncertainty of the future for their last year. Fortunately for them, an opportunity for a last hurrah offers itself as An Evening of Theatre History: a live streaming performance of monologues from different spans of time. 
The event, which will take place on Thursday, November 19th and Friday the 20th, will feature one actor on stage (with possibly one or two tech crew members on set for working on the lights) performing a monologue from one era, ranging from ancient Greek to Shakespeare to modern-day. The performance will be filmed on the spot and, once it is finished, the next actor will perform, and so on. In order to maintain the safety of everyone involved, the actors will vacate the school building once they have finished their turn. Each monologue will be about 2-3 minutes long. 
"One of the things that I find challenging about this situation is that I don't get to interact with my peers in the same way," said Sam Vukic ('21). Vukic has been involved in theatre at Tenafly for three years, his first production being The Curious Incident of the Dog in the Night Time during his sophomore year. "I enjoyed getting to spend time with and create [memories] with friends…. We are missing out on that connection and part of the fun that usually comes with participating in shows." So far, the cast members have met through Zoom for introductions and read-throughs. Mr. Ahn-Cooper, the theatre director, has worked one-on-one with each actor individually outdoors on his/her respective cohort day after school while the full virtual students have worked with him through Zoom. 
But there is a bright side to this alternate method. Vukic thinks that "the theme for the production, the History of Theatre, is very interesting. It allows us to highlight a variety of famous works along with showcasing some lesser-known ones." The works of Shakespeare, Wilde, and Chekhov may be familiar to the typical audience of Tenafly's productions, but those of contemporary playwrights, such Michael Frayn and Howard Korder, may not. It also seems that many of the monologues are pushing the boundaries of the actors. "This year I got a …darker monologue, and I'm very excited to perform it because I've never played a dark role before, and it's an interesting change," said Jake Pleva ('24), who has previously worked on the theatrical productions at the middle school and will be playing an introverted college grad, Phil, in Boy's Life. As for Vukic, he'll be portraying the middle-aged Italian Salieri from Amadeus. "The monologue is very heavy, complex, and completely different from what I have done at school in the past," he said. "I am very excited to work on it."  
Following, in the order in which they will appear in the show, are the actors and the plays from which their monologues are found:
Nina Bogosian ('23) – Trojan Women
Bina Lee ('21) – Twelfth Night
Mira Shah ('24) – Uncle Vanya
Ava Peterson ('21) – Spring Awakening
Rayea Jain ('22) – A Winter's Tale
Luca Ahn-Cooper ('22) – A Chorus Line
Alexandra Tauber ('22) – The Importance of Being Earnest
Grace Chung ('24) – Romeo and Juliet
Sam Vukic ('21) – Amadeus
Jay Arish ('21) – The Glass Menagerie
Mika Harari ('24) – Noises Off
Jake Pleva ('24) – Boy's Life
Arden Segaloff ('22) – Fool for Love
Ziv Zaifman ('22) – The Importance of Being Earnest
Michelle Lee ('21) – Uncle Vanya
Hank Jennings ('22) – Rumors
About the Writer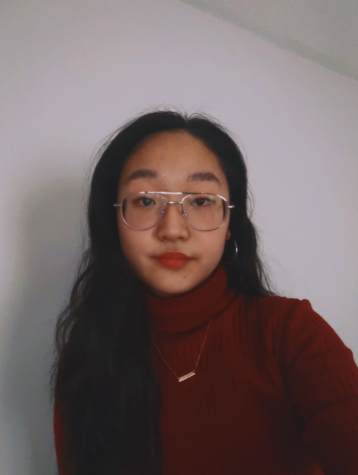 Bina Lee, Staff Writer
Bina Lee ('21), a Staff Writer and a senior taking the Journalism Honors course, is fond of books, music, and movies. She is interested in learning French,...