How Nothing Going According to Plan Made for the Happiest Day
9:30 I wake up absolutely parched and turn to the nightstand, where an empty glass sits. Despite my threats last night, my sister still drank my water. I go into the kitchen of my sister's apartment, where her two roommates are sitting. One of them laughs at me when I bumped into the counter right in front of me, but without my contacts, I can't even differentiate between the two blurry blobs. After I gulp down some water, wash my face, brush my teeth, and put in my contacts, I can finally think clearly enough to get my day started. My sister and I are going to D.C. to meet with her friend, who attends a college I am applying to.
10:30 As we sit around the table for breakfast, slightly nauseous from the lingering smell of pumpkin carvings from last night, one of my sister's roommates announces that CNN and MSNBC have finally called the election. Considering how we've followed the election for five days now, the final announcement is quite lackluster and anticlimactic. We enjoy some banter about Trump's Twitter account and Nevada's mathematical excellence. In more exciting news, my sister miraculously finds tickets to the National Museum of African American History, which typically has a three-month waiting period. With that being said, we start getting ready for an interesting day.
12:00 At this point, I have been ready for 30 minutes, just sitting in the kitchen conversing with my sister's roommates, as my sister makes herself five shades darker and gives herself eyebrows. We finally leave and make our way to the Metro station in the comforting heat, a rare commodity after the recent months in Jersey. 
12:45 A wonderful concoction of my sister's amazing navigation skills and her stubbornness lead us to arrive at the wrong station. We call an Uber, hoping to make our 12:30 pm reservation for the museum, even though we are already 15 minutes late. But little do we know that we might run into some light traffic. 
1:30 Half of the roads are blocked off by the police. Two lanes turn into five. Crowds of people line the streets with a bottle of alcohol in one hand and a handmade poster in another. The only thing louder than their cheers is the incessant honking, some in celebration, and others in aggravation. A 15-minute Uber ride turns into 50 minutes, and we are still half a mile away from the museum, so we just get out of the car and start walking. 
1:45 We finally arrive at the museum, just a bit over an hour late, no biggie. My sister, an architecture major, keeps pointing out random facets of the building and spewing concise history lessons. Her enthusiasm is adorable. Too bad I stopped paying attention 15 minutes ago.
3:00 We leave the museum and enter a frenzy of sunshine and bliss. Right across from the exit is the beautiful sight of the Washington Monument on the National Mall, hemmed with food trucks all along the sidewalk. We are absolutely famished and decide to have a picnic on the grass. It truly is an immaculate and amusing scene: Trump supporters surrounding the Washington Monument chanting "Recount the vote!" juxtaposes the serenity of the lawn with the occasional person running with a Biden-Harris flag followed by cheers.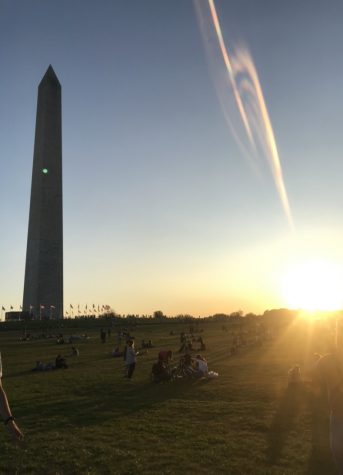 4:00 It's getting darker and I still do not understand the purpose of Daylight Savings. We are enjoying ourselves too much to be bothered taking a 45-minute metro ride to a ghost town of a campus. We completely forgo the original plan and just walk around the city, taking in everything going around us.
4:45 We hear "Stand By Me" and turn to see a crowd around a street performer. But it's a bit different: he's the iconic Ben E. King's son. Instead of singing "stand by me" in the chorus, he plays on the lyrics, making it "stand by Biden." He continues this with "Sweet Caroline," turning the "ba, ba, ba" into "f*** Donald Trump," and "Another One Bites the Dust." People wave their phones with the flashlight on, like lighters at a concert. Couples dance in the center. Everyone is singing alone. I can say with absolute certainty that this is the best concert I have ever been to, and I have heard "Mo Bamba" live. Twice.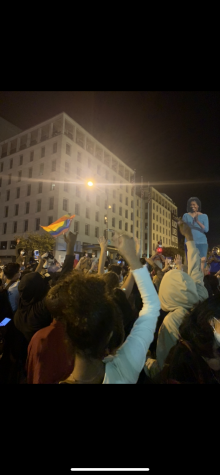 5:15 We turn and take our walk onto Black Lives Matter Plaza, right in front of the White House. There is a DJ playing absolute bangers that are quite fitting: "All I Do Is Win," "FDT," and, of course, "Party in the USA." The smell of marijuana permeates the air. I count too many people with empty wine bottles in hand. All of a sudden, everyone screams. I turn only to see a cardboard cutout of Michelle Obama floating about. All that is on my mind is whose is that and where can I get one. Weirdly enough, something about a crowd of people clad in masks doing the Cupid Shuffle in front of the White House has never made me more proud to be American.
8:00 As we sit on the Metro on the back to my sister's apartment, we just reminisce about our day. What even happened? No, seriously. Everything we had planned completely fell flat. We never even had a moment to think, we just acted and existed. Every moment felt surreal as if we were in a dream. We just witnessed history in the making. And without a doubt, this was the happiest day in the mess that is 2020.