The Future of the Fashion Industry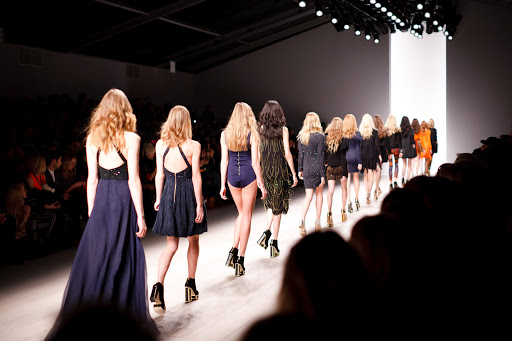 Every day, as we stroll up to our computers and log on to Zoom in our pajamas, have we forgotten what it is like to put on actual clothes? Have we entered the new reality of sweatpants and matted hair? As we ditch jeans and opt for the same comfy clothes, how do our decisions affect the fashion industry?
In a socially distant world, as masks are becoming the new normal, the fashion industry is still adjusting to the current climate of the world. Brands like Cynthia Rowley, Jonathan Simkai, and Christian Siriano chose to do virtual runaway shows. New York City, once bustling with influencers, photographers, and stylists during Fashion Week, was empty due to online presentations, which reduced brands' carbon footprint and cost. The future of fashion is uncertain. The transition to virtual shows aligns with many consumers' desire to see improvement in the industry's environmental impact. Since designers benefited from pandemic streaming of shows, many wonder if there is a need to revert to Fashion Week traditions. Does this change undermine the art form of fashion? Can the new way of shows convey feeling rather than merely presenting a product?
Unlike high fashion, the fast fashion industry—including companies like Forever 21, H & M, and Topshop, which emulate high fashion looks at low prices—is based upon following trends at quick production rates. These brands are dependent on China for cheap manufacturing, which has been disastrous because many garment workers remain home due to virus risk. These companies can no longer keep pace with fads, forcing brands to sell outdated pieces at reduced prices. If consumers start to gravitate less towards unethically made garments and potentially toxic fabrics, what is the future for these mainstream brands?  
Furthermore, the pandemic has adjusted people's values. Fashion has been deemed as frivolous for many since paychecks must be used for necessities such as food and toilet paper. When consumers do decide to buy their Zoom wardrobe, comfort is prioritized, causing them to reach towards sweatpants rather than trendy designs that will not be current by the time they get to step outside their house.
In addition, during quarantine, many teens have resorted to thrifting in charity shops or via online platforms such as Depop and Poshmark. This recent trend fosters a creative marketplace and a sustainable alternative. The online thrift community provides a getaway from reality rather than a piece of cloth: the ultimate escape from isolation achieved by buying vintage clothes to pretend you're living in a past decade with your Walkman, roller skates, and Jordache jeans listening to the Bee Gees "You Should be Dancing" or purchasing clothes to emulate Harry Styles's aesthetic and convince yourself you're in the "Golden" music video. 
The wave of consciousness in younger generations has caused many clothing companies to adopt different brand beliefs. Consumers now expect brands to not only provide products but also take part in a larger conversation. Nike's success with teen consumers stems from its marketing strategies of promoting activism. Like Nike, Calvin Klein has diverged from the status quo by redefining beauty by featuring Jari Jones, a Black transgender model, to pose for a billboard with the slogan "Proud in my Calvins," making an inclusive market for its brand. 
Where does the fashion industry stand? Well, society is in the midst of a revolution of ideas, awakening to the repressions of our decisions. Consumers are conscious of the industry's pollution, inhumane treatment of workers, and the portrayal of unattainable standards. It is essential for companies to readjust their values to align with those of Generation Z.