From Wildfires to a Global Pandemic: A 2020 Recap
The year 2020 has certainly been one for the record books. As we gathered around our TVs eleven months ago, preparing to ring in the new year, who could have guessed that in a few short months our world would be turned completely on its head, and the idea of thousands of people packed into Times Square would become virtually unthinkable. As this year finally comes to a close, it seems that waking up to an astonishing headline has become so much of a normality that it's hard to even wrap our heads around the crazy things that have happened this year. Let's be honest—we're all glad to see 2020 come to an end. So, here's a look back at this year's most defining moments. 
January
"A new year! A new decade! A fresh start with new opportunities!" 
Any hopes of 2020 being a great year were quickly crushed by more realistic views of what the year might entail. To say that a lot happened in January would be an understatement. Australia was ravaged by horrible bush fires, some of the worst in history. The U.S. and Iran became involved in a tense standoff after President Trump ordered an airstrike that killed Iran's top military general. COVID-19 spread rapidly across Wuhan, China, and the world watched as the city and country went quiet. Meanwhile, back in the United States, we turned our attention to the impeachment trial of President Trump, which took place in the middle of January. I know, it's hard to believe that was this year. To finish off what had already been an exhausting month, tragedy struck when basketball legend Kobe Byrant and his 13-year-old daughter Giana were killed in a helicopter crash in California. The country mourned the loss of one of the kindest, most inspiring players the world had ever seen. 
February
If you think January was bad, then you better hang on because we're just getting started. While February may not have been as jam-packed as January, it had its fair share of nerve-racking news stories as the world's fears over the novel coronavirus began to increase. Reports from countries across Asia and Europe showed that the virus was spreading at an alarming rate. By the end of February, it was clear that COVID-19 wasn't going to magically disappear any time soon, and cities across Europe were forced into lockdown. Oh, and remember President Trump and his impeachment trial? He was acquitted in mid-February, found not guilty. 
March
Enter March, and all hell breaks loose. In the span of about 24 hours, our lives went from crazy to, well, something you might find in some eerie science fiction movie you once watched. The NBA season was canceled, schools abruptly shut their doors, life came to a screeching halt, and you had to search every last food store to find cleaning supplies, hand sanitizer, canned foods, and—what was that?—toilet paper? Why toilet paper? As the stock market took one of the greatest crashes in history, and the Olympic games were postponed, we did as we were told to slow the spread. Your life began to feel a bit like a dream: stuck inside your house, binge-watching Netflix to your heart's content, anxiously tuning into the TV to catch the latest reports on the state of the country.  
April 
Coming out of March, April was a bit of a blur. It seems as if those days were just an endless cycle of waking up, doing online school work, and then… then what? Waiting. Watching the news and listening to the seemingly endless wail of sirens. Seeing the footage from New York City as it became the nation's epicenter. Growing increasingly thankful that you were merely stuck at home, while others were risking their lives on the front line. April was a month for adjusting, or at least attempting to process that this all was, in fact, actually happening. It was a time to branch out and explore new hobbies, try your hand at baking bread, and figure out how to workout at home while fending off your annoying younger siblings who were bored out of their minds. And, of course, we can't forget the painful hours spent reminiscing about the Spring break in the Bahamas you'd never get to have. 
May 
As life began to settle into a "new normal," lockdowns were extended, and it looked like we would be spending the rest of the school year virtually, whether for good or for bad. The U.S. reached a harrowing milestone, recording 100,000 COVID-19 caused deaths on May 27th. But it soon became apparent that COVID-19 wasn't the only curveball 2020 was going to throw at us. Suddenly there were murder hornets in North America. I mean, who could have ever predicted that? Well, actually, "The Simpsons" did, but that's beside the point. And then, as if life couldn't get any scarier, George Floyd was murdered at the hands of a white police officer, sending the country into an uproar. The calls for justice led to the beginnings of nationwide protests, sometimes turning into violent riots. They chanted, "no justice, no peace." 
June
As May fell into June, the Black Lives Matter movement became the focus of the country. Thousands took to social media in efforts to demand justice, participating in a social media blackout, a time to pause and educate oneself on the racial injustices that are buried in the roots of our nation, as well as spreading news and resources through posts. Meanwhile, the country watched in horror as buildings were burned to the ground, the National Guard was deployed to several cities, and reporters were arrested on live national television. Despite the pandemic, thousands turned out in protest across the world. 
July (and August)
Surprisingly, there really isn't that much to say here. I know what you may be thinking: wow, two months where some major headline doesn't grip the world? Yes, for the most part, July and August provided a bit of a break from the fast-paced action of the first half of the year. These months blurred together into one, rather strange, summer of social distancing and figuring out how to make the best of a rather unfortunate situation. Whether you were able to get out and travel a bit or not, it certainly wasn't the summer of our dreams. 
September
September brought the start of a school year as we've never experienced before. We found ourselves adjusting to a hectic new schedule, attempting to figure out how best to make the most of a school year with shortened classes, and trying to understand teachers through five layers of additional plastic. Our focus was once again drawn back to the news as we watched the western half of the country go up in flames, subject to one of the worst fire seasons in history. The smoke from these 2020 wildfires could be seen in New Jersey, and even traveled as far away as Europe. That's right. Europe. 
October
On October 2nd, President Trump announced, via Twitter, that he and the First Lady had tested positive for COVID-19. What a way to start off the month. This once again threw the country into a state of disarray. After it became clear that he would make a full recovery, our attention focused instead on the impending presidential election. All eyes turned to the TV to watch President Trump and Democratic candidate Joe Biden battle it out in the final presidential debate. Tensions reached a new high between supporters of opposing parties as November 3rd drew steadily closer. Oh! We can't forget about Halloween. Although certainly unique, many still found ways to enjoy the usual festivities, and it just may have been the highlight of the month. 
November
November 3rd arrived and, with it, the long-anticipated presidential election. Although millions had already voted by mail, people lined up at polls across the country to cast their ballots. But November 3rd didn't mark the end of election tension. As mail-in ballots were counted slowly and steadily over the next several days, the country held its breath as it came down to Georgia, Michigan, Pennsylvania, and… Nevada? Since when is Nevada important? After a tense and stressful weekend of waiting for everyone, AP called the election for Joe Biden.
December 
We have now arrived at the last—thank goodness!—month of what has felt like the longest, but also somehow shortest, year to date. December has brought news that a COVID-19 vaccination is on the horizon, and so as Christmas lights shine along the streets and we cherish the joys of the holiday, we can only hope that 2020 won't throw us any last-minute horrors. And maybe, just maybe, 2021 will be a bit better.
About the Writer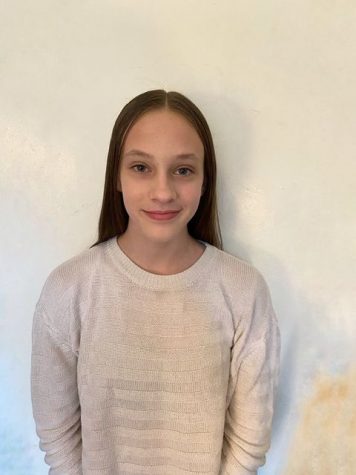 Rowan Copes, Staff Writer
Rowan Copes ('23) has always been interested in journalism and is excited to be publishing stories on The Echo. Her favorite subject is history, and outside...