Nothing But Net For Rylie Theuerkauf
There are ten seconds left in the game. The opposing team inbounds the ball. She steals it. She storms through a body of defenders. She shoots. The buzzer roars. And straight into the hoop the ball goes. Tenafly High School's basketball star, Rylie Theuerkauf, flashes her fist into the triumphant air as she takes the prize. 
It is quite extraordinary for a freshman to make her varsity basketball team, not to mention prove herself the star of the game. Solely since her freshman year, Theuerkauf was named first team all-league, third team all-county, and was invited to play SLAM16—a game of the top sixteen high school girls in the tri-state area. She also scored a whopping 521 points in her first season playing for Tenafly, quite the first step in a journey towards Tenafly's 2000-point-club. "There were few freshmen, if any, around the state that could score the ball like Theuerkauf," Greg Patuto, author at Prep Girls Hoops, said.
Theuerkauf has been playing basketball since the second grade when she made Our Lady of Mount Carmel's (OLMC) basketball team for the first time. Despite the excitement that arose from making the team, this was not the moment she instantly fell in love with the game. When Theuerkauf attended a local basketball practice in the third grade, she was captivated by all the sophisticated, impressive skills and drills she was introduced to. "I loved doing these dribbling drills so much, I started to do them at home and I would go to these practices every day," Theuerkauf said. She has "never stopped since." 
 As her sophomore season rolls around this week, Theuerkauf hopes to take advantage of every opportunity she gets to play, given this year's unprecedented circumstances. "Especially during these times, I think of how lucky I am to be able to get into a gym and just be able to play basketball," she said.
Regardless, she always makes certain to walk onto the court with a sense of confidence in a league of its own. Each game or practice, she plays with a piece of advice from one of her past coaches, Coach Catapano. "He told me it doesn't matter who believes in you before and after the game," Theuerkauf said. "The moment you step on that floor you are all you got." She is further inspired by her family—tracing to her aunts and uncles—who are always in the crowd, offering their support. "Whenever they watch me play no matter what is going on in their life, the smile that they get on their face when I make a shot, get a steal, or even when they see me just step on the court makes me believe that I can do anything on the court."
Many Sports fans can probably imitate their favorite athletes' signature walk, dance, or reaction when they score, or their distinguished move prior to making an important play in a game. Each athlete has a routine or signature move—unique to him or herself—that he or she must do before taking a shot, serving a ball, or simply before a match itself. For Theuerkauf, that is listening to music before the game starts. "The last song always has to be good because that is the song I sing in my head when I am taking a foul shot or in critical moments throughout the game," Theuerkauf said. She also wipes the bottom of her shoes before a tip-off, and has to put her left sock on before the right, and left shoe on before the right—classic.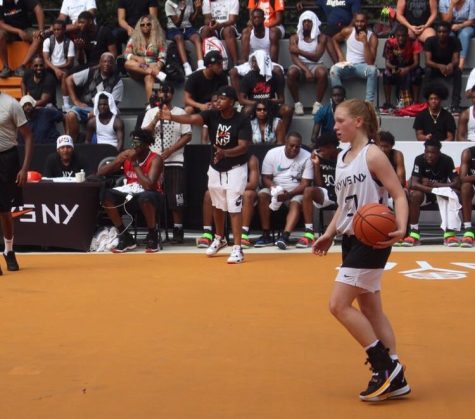 For Theuerkauf, basketball is more than just the game alone. "The best feeling in the game is when there are five seconds left, you are down by one, everything is silent and it is just you and your defender," she said. "The play is written for you to take the last shot, the clock is going down, and you score. The gym goes from silence to chaos, and you win." When she sees her parents, teammates, and coaches jump with extreme amounts of joy, she feels  "unstoppable." When this moment occurs, "it isn't necessarily the shot that made you get that feeling, it is the excitement that everyone brings."
As the star takes on her second year playing for Tenafly, she continues to exemplify her clear dedication to basketball. "My goal for the rest of high school is to score 2,000 points and change the Tenafly girls' basketball program into something that everyone wants to be a part of," she said. She additionally hopes her basketball journey eventually leads her to get recruited to play for a Division 1 team in the Atlantic Coast Conference (ACC) or the Big Ten Conference. 
Next time you hop onto the basketball court to shoot some hoops, make sure to watch out for a 5'7", strawberry-blonde shooting guard with the number 14 pasted on the back of her jersey. She will put up five 3-pointers before you know it.