The Album: A Review of BLACKPINK's First Full Album
BLACKPINK, a record-breaking K-Pop girl group, released their album called The Album on October 2nd, 2020. Many Blinks (BLACKPINK's fandom) have long anticipated this album, as this is their first full album since their debut in 2016.
BLACKPINK, comprised of Jennie, Rosé, Jisoo, and Lisa, have long anticipated their full album as well. There are eight songs in total, including ones that were made in collaboration with other well-known American artists such as Selena Gomez and Cardi B. The Album debuted at number two on US Billboard Hot 200 and is currently the highest-charting album by a Korean girl group, as well as the highest-charting album by an all-female girl-group since 2008. The Album has also already been on the top ten charts in about 20 countries around the world. BLACKPINK has already done a phenomenal job of promoting their album, with live performances on shows such as Good Morning America, Jimmy Kimmel Live!, and The Tonight Show Starring Jimmy Fallon. The first time I heard this 24-minute masterpiece, needless to say, I was speechless.
"How You Like That"
The leading track, "How You Like That", was first released on June 26th, 2020, prior to the album's release, and broke numerous records on YouTube: it had the most-watched premiere, the most views within 24 hours for a music video (accumulating 86.3 million views in that time), was the fastest video to reach 100 million, 200 million and 600 million views, and one of the most-liked videos on YouTube with over 17 million likes.
Overall, the music and the music video was a pleasure for both the eyes and the ears. Being a pop, trap, and a little hip-hop infused song, it was intriguing to hear the horn sounds and the beginning of the song and also the Arabian styled music later on. The lyrics are mainly about not being daunted about dark situations and getting back up on your feet. Overall, the lyrics gave an overall positive and promising message. 
"Ice Cream" (ft. Selena Gomez)
There is a very interesting backstory to this song. When YG (BLACKPINK's label) released that BLACKPINK was going to have a collaboration with an unnamed artist, fans started the #AriPink hashtag, believing that the unnamed singer was going to be Ariana Grande. It was later revealed that the artist was Selena Gomez. In an interview, Selena Gomez stated how she first was introduced to BLACKPINK after seeing members Rosé and Jisoo in the New York Fashion Week. They later filmed the music video (in separate locations due to Covid-19) and released their song.
With the lyrics mostly in English, the song grabbed the attention of numerous international fans. "Ice Cream" has elements of bubblegum pop and electro-pop as well as some elements of trap-pop. After listening to this song, it actually made me think about bubblegum and very bright pastel colors. To be frank, the lyrics do not carry much meaning but they are very catchy!
Pretty Savage
From the start, it's very engaging to hear the piano sounds accompanied by the members' "Uh-huh" sound that they make. Starting with rap, this trap genre song is later followed by each member's vocals and more rap by the group's main rapper Lisa. This song was also performed along with the album's main title song in shows such as Show! Music Core. Rolling Stone stated that this song was the "sassiest kiss-off track" since Ariana Grande's Thank You Next. Having its main message centered around the group's uniqueness and confidence, I can say for certain that the song boosted my confidence as well.
Bet You Wanna (feat. Cardi B)
Before The Album was released, Cardi teased the song and stated how difficult it was "to do a verse with no curse words and PG." As funny and interesting as that may sound, Cardi B seemed very proud of the work that she has created with BLACKPINK. In addition to this news, Cardi B mentioned the title of the song in a tweet to former US President, Donald Trump: "'Bet You Wanna' wear a mask now." Personally, I was intrigued by the intro's guitar sounds and the line "Cardi~" after BLACKPINK's signature intro. According to the producers, lyrically, the song talks about having a good time until the "person is hooked." It has also been stated by the producers that the song is an "upbeat party cut" with a pretty simple beat. 
Lovesick Girls
Here it is. The main title song of The Album that everybody has been waiting for. This electro-pop, dance-pop song not only broke records, but the song also healed many listener's ears. Having an amazing music video released on October 2nd, 2020, the cinematic approach of the music video was also very captivating. Lovesick Girls talks about the pain of heartbreak. With an echo-like sound, in the beginning, BLACKPINK carries us through their story with their song. The music video starts with the members in BLACKPINK in a pink Cadillac. The story later progresses to show each member's story, such as Jennie in a car that has crashed and Lisa breaking a car with a hammer. In the music video, lovesickness strikes the members in different ways and it shows how BLACKPINK gets through that. The choreography that accompanies the dance is truly amazing and I would highly recommend this song. 
Crazy Over You
The sixth song "Crazy Over You" is a retro-hip hop song that is accompanied by a trap rhythm. The song is about falling in love and how people who do are so "crazy." Personally, the song was pretty interesting because the genre and the beat seemed unique. If you want to listen to a BLACKPINK song with a funky beat, this is the song for you.
Love To Hate Me
From the start, this song was able to captivate many listener's ears. Being a dance-pop track, it definitely seemed to be one of the more popular songs on the album. In short, the song is about dismissing an ignorant ex-lover and how people who love to hate BLACKPINK don't deserve their attention. I personally listen to this song when I feel as if there are obstacles and "haters" around me. The lyrics deliver a message to be strong and to keep doing what you are doing. 
You Never Know
This closing track gives a ballad feel and it delivers a strong message about patience and empathy. Specifically, when Rosé and Jennie hit those high notes throughout the song, it gives chills down my spine and makes me "dive" into the song. Compared to all of the other songs in the album, this song would definitely be the one that isn't so bright.
Whether you listen to K-pop or not, The Album is definitely a wonderful album and I highly recommend listening to it if you haven't already done so. This album would be a wonderful introduction to the world of K-pop and the Korean wave.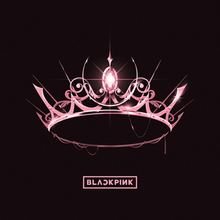 Link to the album (Spotify):
https://open.spotify.com/album/71O60S5gIJSIAhdnrDIh3N 
Link to the Lovesick Girls music video:
https://www.youtube.com/watch?v=dyRsYk0LyA8 
Link to BLACKPINK performing Lovesick Girls at Jimmy Kimmel Live!: