Curfew Cookies: A Tenafly Father-and-Son Team Deliver Homemade Cookies for Charity
It's Sunday and your sweet-tooth is kicking in, but there's nothing that can satisfy your craving in your own house. You consider DoorDashing some ice cream, but you don't just want to aimlessly spend money. What's the solution? Curfew Cookies: the cookie delivery business run by a father-and-son team from Tenafly. 
Keith and Elliot Baines ('22) began their business during the incipient stages of the coronavirus pandemic. Curfew Cookies was born after the duo noticed a line of people outside the Englewood food bank and wanted to create something to help them. 
Every month the Baines choose a charity to donate to, with a set goal of $1,000. Most recently, they have successfully raised over $1,500 for the Office of Concern Food Pantry in Englewood. Then, at random intervals, they will post on their Instagram story @CurfewCookiesNJ asking if anyone would like free cookies. To whomever responds with a "yes" to the Instagram poll question, they will DM you for your address. Then, they will drop off four delicious homemade New Jersey Style chocolate chip cookies right to your door. The cookies come with a piece of paper encouraging the customers to share their cookies on social media and send however much they feel comfortable sending to their Venmo, CurfewCookies, so that they can give money to their monthly charity. While posting or donating is never necessary, they hope their sweet treats will encourage their customers to spread the joy.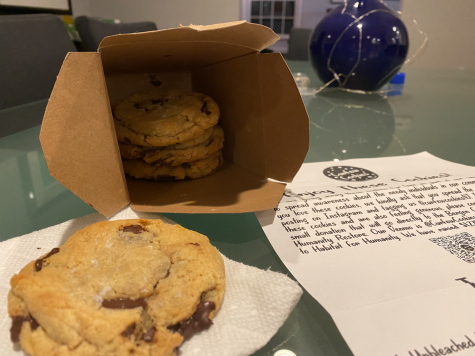 When asked about the cookie recipe, Elliot Baines explained that he and his father had developed it over the summer. "We try to deliver every week and we try to deliver to all of those who request cookie[s], but we have a very limited number of spots," Baines said. "We average about eight people per delivery." When asked about the future of his business, he mentioned that they are planning to kickstart their Send a Cookie Campaign, which gives locals the opportunity to send a cookie to a friend or loved one.  
I had a chance to taste some of Baines's cookies and they were absolutely delicious! They were chewy and gooey and chocolatey…just how I like them. If you are interested in getting a "drop" of cookies, make sure to follow their Instagram @CurfewCookiesNJ. In addition, you can check out their website, CurfewCookies.org. Lastly, if you'd like to make a donation, you can Venmo @CurfewCookies. Enjoy your cookies!