Amanda Gorman Makes History As the Youngest Inaugural Poet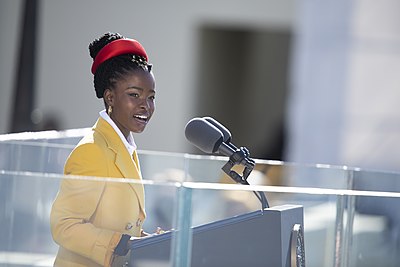 "The Hill We Climb." That's the title of the 22-year-old, cum laude Harvard graduate's poem that left America speechless through its efficacy and emotion. On January 20th, Amanda Gorman made history as the youngest poet to recite at a US presidential inauguration. The silence was deafening as thirsty ears listened to her incredible piece on finding bravery as a nation to conjure the dwindling hope that remains inside of us. Her words' message to seek  unity was successfully communicated to her vast audience, even though she admittedly said she struggled finding the right words to say to a nation that had recently survived a "a force that would shatter our nation rather than share it." 
As Gorman was studying past orators such as Abraham Lincoln and Frederick Douglass, she read previous inaugural poems in an attempt to group the right words to say in the dawn of President Joe Biden's term. The January 6th Capitol insurrections occurred right at the time Gorman was about half way through drafting the poem, clarifying the words and emotion she needed to employ in her poem addressed to not only Americans but to the world. She stated in her post-inaugural interview with CNN's Anderson Cooper that the insurrection "energized [her] even more to believe that much more firmly in a message of hope and unity and healing." The insurrections made her realize she needed to encourage the nation to be brave enough to find inner hope, hopefully giving them the strength to recover after such a sad, dark day in our history.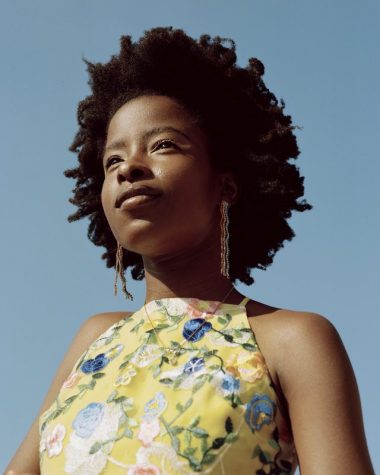 Although "The Hill We Climb" left a permanent mark on America, her history in poetry and writing started far before her pivotal performance. Growing up in Los Angeles, she was a skinny, black girl who suffered from a speech impediment, not being able to say the letter r. She tackled her speech impediment, which she overcame about two years ago by expressing herself through written words and rehearsing the catchy "Alexander Burr, Sir" song from the popular musical Hamilton. As a young girl, she utilized her local libraries and writing competitions to further immerse herself in the art of poetry, and she was able to become the shining star we witnessed on the inaugural podium. 
Gorman's talent in poetry has awarded her with countless opportunities such as performing at the Obama White House and for the likes of Al Gore, Secretary Hillary Clinton, Lin Manuel Miranda, and Malala Yousafzai. She has received recognition from Scholastic, YoungArts, Glamour Magazine, and the Webby Awards, while also receiving the Poets & Writers Barnes & Noble Writers for Writers Award. She became the youngest member of the largest youth writing network in America, and in 2017 she was deemed the the first ever National Youth Poet Laureate by the Library of Congress. Adding to her awards and recognition, she has also written for The Edit, a New York Times newsletter, and was the face of Nike's 2020 Black History Month campaign. 
Since Gorman's inaugural performance, her poetry collection, The Hill We Climb, and her children's book, Change Sings: A Child's Anthem, have reserved two spots on the Amazon bestseller list, even though they are to be released in the fall. Her fame is swelling as America watches her follow in the footsteps of decorated poets such as Maya Angelou, who Oprah Winfrey tweeted would be cheering her on. Gorman's inaugural performance is just the start of her influence on our country. Being a poet of only 22 years old, her ability to invoke hope, healing, and help in a nation that is truly in need is incredibly impressive. Although we cannot predict the future and what she has in store for us, Amanda Gorman is definitely a figure that should be watched closely as she triumphs through the art of poetry. After making history at the 46th inauguration, this will most definitely not be the last time she leaves her mark of youthful eloquence on the people of America.