Tenafly Seniors Named Regeneron STS Scholars
Three THS seniors, Kosei Dohi ('21), Michael Wong ('21), and Noam Yakar ('21) were named Top 300 Regeneron STS scholars this year.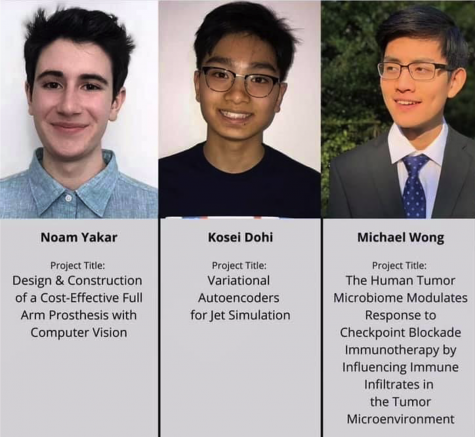 On January 7th, the Society for Science announced this year's top 300 scholars in the Regeneron Science Talent Search, the nation's oldest and most prestigious science and math competition for high school seniors. Three Tenafly High School seniors—Kosei Dohi, Michael Wong, and Noam Yakar, were among the 300 selected.
This year, the competition received a total of 1,760 applications from 611 high schools across 45 states and 10 countries. Among many applicants, the top 300 scholars were selected based on their "exceptional research skills, commitment to academics, innovative thinking and promise as scientists." To enter the competition, students had to submit a research paper describing an original research project they conducted throughout their high school career, as well as an extensive application consisting of essays, recommendations and more. The 300 scholars and their schools will be awarded $2,000 each. 
Dohi, The Echo's STEM blogger, completed a physics project titled "Variational Autoencoders for Jet Simulation," for which he created an artificial intelligence algorithm that could simulate detailed particle physics data 712 times faster than algorithms currently in use. "I am very happy about the award," he said. "Although I have worked hard for it, I definitely wouldn't have won it without all the wonderful people I have met. Specifically, I would like to thank my science research and AP physics teacher, Mrs. Coyle, for guiding me through the research process the past four years of high school." 
For his project titled "The Human Tumor Microbiome Modulates Response to Checkpoint Blockade Immunotherapy by Influencing Immune Infiltrates in the Tumor Microenvironment," Wong examined the microbiome inside tumors to see its effect on outcomes in cancer treatment at Harvard Medical School. Upon hearing the news that he had been named a Regeneron scholar, he expressed his gratitude to those who helped him throughout his research journey. "Being selected as an STS Regeneron Scholar is an amazing honor, and something that was honestly only possible thanks to the amazing professors and teachers who have helped me along the way," he said. "I'm very excited about my project and what the future of medicine will look like." 
The Echo congratulates our three scholars! 
To view the full list of the 300 scholars, please visit https://www.societyforscience.org/regeneron-sts/2021-scholars/.