Sexual Assault Prevention: Devices and Resources
Sexual assault, rape, and other forms of abusive relationships and situations are still prevalent in today's society. To prevent, or at the very least, slow down the constantly increasing number of victims, it is important for people, especially women, to educate and avail themselves of the self-defense resources or devices that can provide assistance at any moment.
Unfortunately, in today's society, rape culture and victim-blaming is especially rampant in all forms of domains, ranging from social media to court settings. Because of this, victims have often attributed some responsibility when they are assaulted, such as being asked by investigators, "Did you check if that drink was drugged?" or "Why weren't you carrying your pepper spray?" instead of crucial questions to narrow down the identity of perpetrators. 
With alarmingly high rates of sexual assault and rape cases around the world, self-defense devices and apps have increased to help prevent these situations from occurring. Although the ideal solution is to stop endorsing rape culture, perpetrating victim blaming, and committing sexual assault, having such devices will never not be helpful. However, many are not aware of these various devices, which could play a crucial role in life or death when placed in a desperate situation. The Rape, Abuse, Incest National Network (RAINN) states that every 73 seconds, nearly one American is sexually assaulted. One in six women experience attempted or completed rape, and one in 33 men experience the same. Though these will not guarantee a hundred percent prevention rate, as other forms of violence and danger could arise out of any situation, these will be sure to increase chances of escaping dangerous circumstances. 
Devices:
Athena

: Athena is a coin-size "wearable alert system" that can easily be placed in a belt loop or purse strap, or even worn as a pendant on a necklace chain for easy access. There is a recessed button that can be pressed for two options: giving off a loud alarm to deter perpetrators or sending a text message to alert the location to emergency contacts. To trigger the alarm, users should hold the button for at least three seconds, and to silently alert emergency contacts, users should press the button three times. Creator Yasmin Mustafa told Fast Company that she "found that women don't like the self-defense tools that are out there. They're too hard to use. They're afraid they'll use them against themselves. They don't want to be in hand-to-hand combat in the first place." Moreover, because the recessed button is deliberately placed at the center of the device, accidental alerts are unlikely to be made. Due to the versatile wearability of the product, users can easily access it with one hand.
Safelet

: The safelet is a wearable bracelet that allows users to send their location to predetermined emergency contacts without the use of their phones, so that these contacts can later call 911. It can be easily activated through simultaneously pushing the two buttons located on both sides of the bracelet. 
Siren Ring

: The Siren Ring is a device that can be activated to produce a sound over 110 decibels that both alarms and distracts attackers from up to 50 feet away. The official Siren Ring website states that to activate it, users must twist "the top of the ring 60 degrees counterclockwise (left) until the top locks firmly into position and can no longer rotate. Once activated, there is a delay of 1.5 seconds to allow the wearer to cancel the process by rotating the ring top clockwise until it clicks back into its original "off" position. This must be done immediately to prevent accidental activation." 
Watchoverme

: Xin-Ci Chin created this free app after escaping a high profile kidnap and rape attempt, with the intention of helping those in similar situations. When in a circumstance where the user cannot unlock their phone or vocally speak, they can simply shake their phone, regardless of whether it is locked or not, and Watchoverme automatically turns on the phone's alarm, video camera, and alerts the user's pre-set emergency contacts. Users can choose to add updates in texts, pictures, or videos, and if they do not tap the "I'm Safe" button before the time runs out, those emergency contacts are immediately given the user's GPS information. This app is particularly useful when someone is in a situation where they have limited movement and voice, as it is based on inactivity, so can even alert those contacts even if the user is separated from their phone. 
Anti-rape Bangle

: The Anti-rape Bangle produces an electric shock when the user's wrist is tilted in a certain way. This is especially useful when someone violently or physically comes close with intent of harming the user. 
Stiletto

: Stiletto is a wearable jewelry safety device that has the ability to place 911 calls on the user's behalf. With a less than one inch width on all sides, Stiletto can be worn as a pendant, bracelet, keychain, and other accessories. To activate this device, users only need to press the button once and it automatically dials an emergency contact or police. To top it all off, Stiletto has an automated voice assistant that will speak for that individual if they're in a situation where they cannot voice their help. If the situation escalates, then the user should press the button again. 
Undercover Colors

: Undercover Colors is a nail polish developed by college students to easily determine whether your drink has been tampered with. The polish changes color upon contact with a beverage that has Xanas, Rohypnol, GHB, or the most common date rape drugs to prevent individuals from getting drugged and later assaulted.
Revolar

: The Revolar serves as both a wearable device and a free app that anyone can easily install in their phone. Both only work with Wi-Fi or cellular data, and the actual product can be clipped onto a keychain, attached inside clothing, or even kept in a pocket. Users can "use a single click to let their contacts know they're safe, two clicks if they feel unsafe, or three if they're in imminent danger." They can additionally use the app version to send themselves a pre-recorded message for situations when they need to pretend they are in the middle of a call to escape an uncomfortable or uneasy situation. 
Anti-Rape Buckle

: The Anti-Rape Buckle was created in order to prevent anyone from forcefully opening the wearer's belt. Because of the complex maze-like structure, consisting of an intricate code and a particular position to lock or unlock the buckle, it is near impossible for anyone other than the wearer to unbuckle the device.
Invisawear

: The Invisiwear brand has a keychain, bracelet, and pendant that all have the same function in terms of self defense. These accessories are safety devices with a button hidden on the backside. To activate this button, users must double click it to send the user's location to up to five emergency contacts. In addition, users can connect to 911 dispatchers via their Invisiwear. Additionally, this device uses the same emergency response technology as ADT, the top name in security, so users can be assured that help will most definitely arrive. The great thing about Invisiwear is that there is no need to open a phone, app, or make a separate call to 911. 
Kitestring

: Kitestring is a text service, so users only need a mobile phone to access it. As long as you're connected to Wi-Fi or have cellular service, users can text Kitestring to set a certain time to check up on you—for example, if you wanted Kitestring to check up on you in 45 minutes, you would send "45m" to the contact. When the time limit you sent passes, Kitestring will notify you to text your reply, and if you fail to do so, Kitestring will send a personalized alert message to your emergency contacts.
React Mobile

: React Mobile has both a free safety app and tangible device that can be attached to clothing, keychains, purses, carried in hand, and more. This device has a panic button and once activated, a Reach Mobile dispatcher will immediately provide your emergency contacts with your current profile information as well as GPS location. 
Guardian Locke

t: Guardian Locket was designed to be worn and disguised as a bracelet. When pressed once, the locket rings the user's phone to distract potential perpetrators. When pressed an additional time, the locket sends three consecutive text messages to three separate emergency contacts, along with their location information, an image of their face, and a request for help. This image feature is essential as it could send crucial information to the emergency contacts.
Go Guarded

: The company has two products: the Go Guarded Ring and Go Guarded Hand Held. Both are made towards active individuals, particularly women, and those susceptible to danger during early morning runs, nighttime, etc. The Go Guarded Ring is described as a "heavy-duty plastic serrated-edge weapon that is worn on any finger" and fits nine ring sizes (5-14). Because the ring can simply be worn on the finger, it can increase chances of escaping a dangerous situation, as there is no need to reach into a bag or pocket to retrieve a weapon. Similarly, the Go Guarded Hand Held can be worn to fit an individuals' hand by adjusting the strap. Contrary to the one blade on the ring, the hand held includes pepper spray and a small knife used for "deterring an attack (pepper spray), and escaping a hands-on assault (knife)." Both products have silicone-like materials covering the blades so that they doesn't poke at the person wearing the product, but are also made to "automatically flex out of the way when…engaged"
Resources:
When in a situation that requires immediate support from the police, fire department, or ambulance, call 911 and be prepared to accurately answer the operator's questions. When in an abusive relationship or in an abusive or dangerous home, call 911, specifically, the fire department, as they are well known for efficiently helping survivors leave their unsafe situation.
Planned parenthood is well known for taking care of women lacking basic health care, yet lifeline and organization offers a plethora of other support. The clinic can do: STD testing, treatment and vaccines, provide birth control, provide pregnancy tests, provide patient education on their sexual and reproductive health, LGBT services—including hormone therapy for transgender patients, HIV services, emergency contraception, and abortion services. The lifeline can provide support for those in need of these services and will converse with individuals on their available options and help connect them with other providers in the area.
National Domestic Violence Hotline: 1.800.799.SAFE (7233) or 1.800.787.3224, and to call National Domestic Violence Videophone for Deaf survivors, dial 1-855-812-1001 • 

www.thehotline.org
There are specific hotlines within the main one, and the New Jersey Statewide Domestic Violence Helpline is 1-800-572-SAFE (7233). The NDVH serves to end domestic violence and states that they envision "a society where all are free from oppression, injustice, and violence." They provide assistance to those experiencing domestic violence and are in a situation where they cannot easily leave their perpetrators.
This hotline is dedicated to stop child abuse, and only serves in Canada and the U.S. For 24/7, professional crisis counselors provide help in over 170 languages, and " offers crisis intervention, information, and referrals to thousands of emergency, social service, and support resources," as stated on the homepage. Additionally, all calls are completely confidential, so users will not have to worry about their conversations getting back to their parents or other perpetrators.
National Rape, Abuse & Incest National Network: 1.800.656.4673 •

www.rainn.org
This lifeline will first direct you to a local RAINN affiliate organization depending on the first six digits of your phone number to accurately locate the nearest sexual assault provider. The conversation will remain safe and confidential, and providers who answer these calls, also known as RAINN affiliates are professionals in organizations or agencies dedicated to supporting survivors. 
The NTDAH operates 24/7 through text, phone, or live chat services. When calling, sending a live chat or text, users will be connected with a well trained and experienced advocate who can, as stated on the official site, "offer education, support and advocacy to those involved in dating abuse relationships as well as concerned friends, siblings, parents, teachers, law enforcement members and service providers." The live chat feature is especially useful as users will receive one-on-one confidential information and support from a trained peer advocate. 
This lifeline provides 24/7 free and confidential support from a network of local crisis centers. Specifically, this lifeline should be called when an individual is in emotional distress or contemplating suicide, as the NSPL's mission is "committed to improving crisis services and advancing suicide prevention by empowering individuals, advancing professional best practices, and building awareness."
Remember that there are always people there to help you, so don't hesitate to make a call!
About the Writer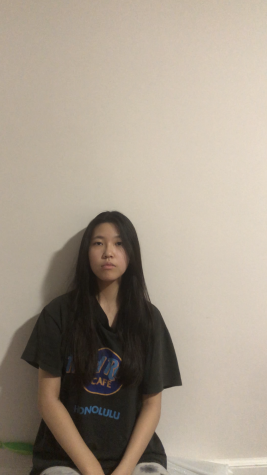 Kayla Cheng, Staff Writer
Kayla Cheng ('24) enjoys painting, watching anime, and also reading realistic fictions and romance novels. She is excited to work as a staff writer for...