THS Junior Accepted Into Prestigious Music Programs
Tenafly junior Hannah Park ('22) has recently been accepted into both the National Association for Music Education's (NAfME) All-Eastern Orchestra and the National Youth Orchestra of the United States of America. Park's previous role as concert-master in the previous All-State orchestra, along with her previous All-State scores, helped with her acceptance in the NAfME All-Eastern Orchestra. For NYO-USA, one of the most selective orchestral programs for young musicians, Park was picked out of thousands of applicants and named one of the 32 violins in the orchestra. Her application process for NYO-USA included preparing  5 orchestral excerpts, a solo piece, a biographical essay, a video essay, and a couple of recommendations, all submitted through NYO's application portal. 
On her acceptances, Park stated, "I am thankful to have been given the opportunity to connect with musicians from across the country. An important aspect of music is collaboration and connecting with artists, which is why I'm really looking forward to being a part of NYO-USA and All-Eastern. This was something I truly would've never imagined and I am still shocked." 
Park started her journey with the violin in first grade on a wholesome one-eighth-sized instrument. Her initial attraction to the violin itself may have been because it looked pretty, but she expressed that her love for music has grown since she was young, especially through car ride karaoke sessions with her eight years older brother. Although her parents were not familiar with how to grow their daughter's musical career in the beginning, they were incredibly enthusiastic about Park's passion, which made her the first musician in the family. "This enthusiasm probably really helped me in ways I didn't even notice," Park said. "After the first couple months of anything, things begin to get more difficult, and having that excited energy around you becomes very important." Park also acknowledges the indispensable role her violin teacher played in her career. "I cannot express how much gratitude and respect I have for her. I've been with her for the past ten years and she has been one of the biggest influences in my life," Park said. In all honesty, I've truly never met anyone as stable as her and I greatly admire that quality. Her benevolent yet fiery character inspires me every day." 
To Park, the violin represents a variety of things: "my best friend, my worst enemy, created opportunities, made sacrifices, feelings of fulfillment, and indescribable moments of frustration. Music to me is about creating moments where you can look inwards and reflect on yourself." Music itself has allowed her raw moments of honest reflection. "Music takes me to a place where school, grades, government, and society doesn't exist. There, I'm able to just think and feel," Park said. "Music is so incredibly necessary in the world because it's so difficult to find moments where we can just breathe and think without interruption."
Throughout her personal life, music is more than just the violin: "Sometimes, simply doing scales and arpeggios make my life feel more put-together, which in return brings me peace. Sometimes, listening to Mahler, Chopin, The Japanese House, or Lana Del Rey at three in the morning makes me aware of my own emotions. And sometimes, tying my hair back and grinding out practice sessions make me appreciate the idea of progress." Ultimately, Park believes that music has made her a more thoughtful person. "Music has given me direction, not necessarily by putting me on the right path, if there even is one," Park said, " but by showing me what ambition and motivation mean. I'm really happy that I'm more focused on developing my character and finding my role in the world, rather than reaching the standard definition of success."
Park shared how integral and cumulative practicing the violin is as a musician. "The difficult thing with playing the violin is that because it's so sensitive in terms of intonation, tone, rhythm, etc., a lot of practice is required. So, when you don't practice, instead of sustaining your technique, you go backwards," Park said. "For example, if I don't practice on Tuesday, I'll most likely sound worse on Wednesday than how I sounded on Monday. But it is incredibly difficult to keep a strict practice schedule as a high school student. Getting accepted makes me realize how worth it this whole practicing thing is and makes me want to work even harder." Park has found that the hardest part of practicing is not finding the time to practice or not procrastinating but focusing and persevering in the moment. "I have to do my best to concentrate on only the music when I'm practicing," she said, "and on only classwork when I'm studying. My mind easily wanders, so I have to actively make sure I'm not thinking about tomorrow's Socratic seminar or Le Chatelier's principle while practicing some Wieniawski."
The pandemic has been a huge influence on Park's relationship with music. Although in the beginning of the quarantine she found herself more motivated to practice with all the time on her hands, things changed when her family adopted kittens. Park expressed that being stuck at home practicing with tiny kittens prancing around has not been easy. The pandemic has also taught her how much music could touch the hearts of non-musicians. "It was incredible to see the amount of peace a Bach Sarabande or a Liszt Sonata could bring people," she said. "I am still inspired by the music community's goodwill and its determination to relieve the world of distress through performances."
Looking towards her future as a musician, Park plans to continue playing the violin in college, but not as a pursued profession. "I always knew that I wasn't particularly talented at music and that I didn't have any inborn musical gifts. I've always had to practice more than the people near me to master a certain passage or acquire a skill. Because of this, I credit getting into things like NYO-USA to hard work," Park said. "I know that that may sound super admirable, but I think that works only to a certain extent. I am not too sure how I would mentally feel if I was constantly aware that I wasn't naturally talented at music, yet pursuing a career in it. I simply want to pursue a career that I feel more built for and preferably more gifted at. I'm excited to find a profession where my efforts and talent can find a middleground." Park describes herself as an objective person, and one who wishes to  plan her future in a way that makes the most sense to her. "But regardless of what I choose to do, music will always be a huge part of my life because it's just too good to let go of forever."
In the end, Park emphasizes her gratitude for the tools music has given her to become the person she is, and her inner circle of support. "I wouldn't be here without my teachers, friends, and family," she said. "You guys inspire me and help me find my meaning, and I am so grateful for that. I hope everyone encounters someone or something that helps them realize the potential of this thing called life." 
About the Writer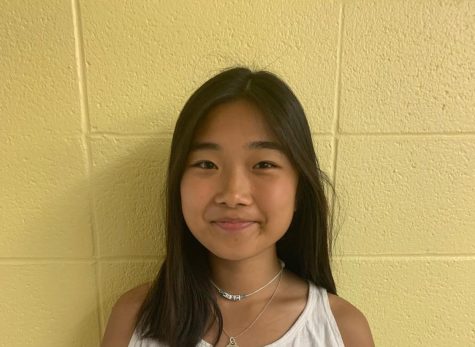 Michelle Lee, Co-Editor-in-Chief
Michelle Lee ('21), Co-Editor-in-Chief for The Echo, is ecstatic to expand her passion for writing in The Echo. In her free time, she likes to write, read,...