CCC and KCC Hosted Lunar New Year Festival Virtually
On February 28th, at 8 p.m., the annual Lunar New Year Festival hosted by the Chinese Cultural Club (CCC) and Korean Cultural Club (KCC) was streamed on Channel 77 to celebrate the Year of the Ox. The festival, which is held annually at Tenafly High School's Lalor Library Media Center, both celebrates the introduction of the new year in the lunar calendar and gives the THS community the chance to enjoy elements of both Chinese and Korean cultures. 
The festival was composed of three K-Pop dances, one taekwondo performance, one lion dance, and one traditional yoyo. Stephanie Chu ('22) performed ENHYPHEN's "Given-Taken;" Gieun Chae ('21), Michelle Dai ('21), and Eunice Koo ('21) performed (G)I-DLE's "LATATA;" and Michelle Dai, Michelle Lee ('21), Gieun Chae, Sally Kim ('21), Chanel Cho ('21), Eunice Koo, and Grace Nah ('24) performed TWICE's "I Can't Stop Me." Due to Covid-19, a majority of the performances were filmed in the library by members of the two clubs, who took precautions such as wearing masks and having the performers there at different times. Unlike previous years in which the festival was in the library for everyone to enjoy, these pre-recorded videos were then edited and put together for the broadcast. 
Since this year's Lunar New Year Festival took place virtually, it lacked some of the other cultural components that it used to have such as the traditional games and the cultural food. Before, the Lunar New Year Festival would have Chinese and Korean food such as bubble tea, tteok-bokki, or japchae for sale with the help of parents in the Chinese and Korean Moms Associations. "The festival felt different because a big part of our festivals in the past was the cultural food we would sell, which we weren't able to do this year," Eunice Koo, president of the KCC, said. "We also couldn't have more audience-oriented events, like traditional games, so I was a little disappointed."
Officers of the two clubs had a different experience organizing the festival this year, but they were still busy. They organized much of it over Zoom and text, from the scheduling practices to finalizing dates. "We didn't have many difficulties, except that we had to film independently, which is also an advantage, because it allows the students to express themselves in their own way through filming and editing without the pressure," said Dai, who played a significant role in putting together the festival by recording the performances and editing them. "We brought our own filming equipment and had a lot of fun filming, even though we didn't have an audience. Although it was a bit difficult coordinating, we were able to successfully produce a video of the festival. Especially since this year is virtual, I think it's great that there's a video that captures this year's events for us to look back on." Amanda Chao ('21), president of the CCC, added, "We didn't have a ton of time to work in person, but we did our best to put everything together so that we could still enjoy all the elements of the festival that were still possible compared to previous years."
Despite the unusual nature of this year's festival, the joint efforts of the CCC and KCC gave the audience an opportunity to watch amazing performances that reflected aspects of Chinese and Korean cultures. 
About the Writer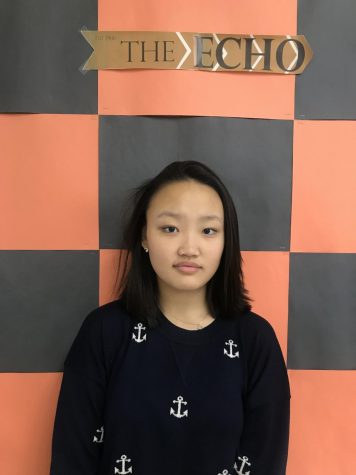 Seren Park, Co-Editor-in-Chief
Seren Park ('21), Co-Editor-in-Chief, enjoys spending her free time reading YA fantasy novels and watching Netflix shows. She tends to write pieces focused...