Queen's Gambit: The World of Just 64 Squares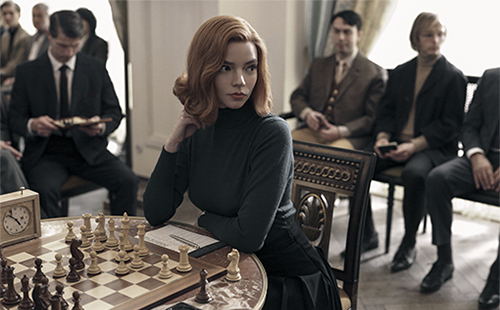 Netflix is like witnessing poverty in an abundance of wealth. To simplify, there are so many shows, but there aren't many that you want to watch. A couple of months ago, I was scrolling through my Netflix recommendations, hoping to find a movie or show that would keep me occupied. After watching various K-dramas, I wanted to watch something new. What then caught my eyes was a red-haired woman with a confident glare holding a chess piece. The title read: Queen's Gambit. Before watching Queen's Gambit, I thought that chess was a strategic board game for people who had no social life. But afterward, my perception of chess was changed. 
This historical drama takes you through the Cold War Era into the life of Beth Harmon, an orphaned chess prodigy. The movie starts with Harmon being placed in an orphanage, where she meets the custodian Mr. Shaibel, who teaches her about chess. Common in the 1950s, tranquilizers were given to the kids in the orphanage, and Harmon grows addicted to the drug. The tranquilizers quickly enhance Harmon's visualization skills of the chessboard. Time passes, and Harmon is adopted by Alma Wheatley and her husband. After entering high school, Harmon dominates many chess tournaments despite having no previous competition experience. Through her journey, Harmon encounters various people who not only help her improve but also provide her emotional support. During this journey, she struggles with drug and alcohol addiction and emotional problems. The main question of the show is: Can Beth Harmon rise to be the international champion?
When the film starts, it takes you through Beth Harmon in Paris, running to the site of the tournament from her hotel. As soon as I saw Beth Harmon, played by Anya Taylor-Joy, I was captivated. There was something about her presence that I can't quite explain. Her red hair and her large confident eyes lured me right into the character. Interestingly, her hair and her makeup significantly change throughout the story as Beth Harmon grows older. I personally thought that the entire staff of the movie did a good job portraying the character. 
In the movie, I also thought that the set production was incredible. They shot places like Mexico City in Las Vegas and they even shot "Paris" in a hotel in Berlin. Apparently, for one of the apartments, they shot the exterior in Toronto but the interior in a basement set. Honestly, the setting of the movie will make you ooh and ah, regardless of it being in a set or not. 
It was only after the drama that I realized that the story was fiction. Personally, I kind of expected the story to be based on a true story. Nevertheless, the story is extremely interesting, and I can assure you that you will be captivated by Beth Harmon. The story of the drama is from a book. And, while you don't necessarily need chess knowledge to enjoy the movie, be prepared to learn new facts about the game.