Not All Men, but All Women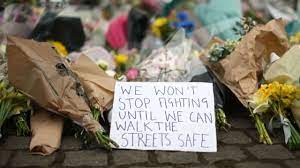 Women are constantly told to modify their behavior and take better safety precautions to avoid being objectified or sexually harassed, but what does it show about society when a woman does everything right?
Sarah Everard did everything right. She took all the precautions to be safe: chose longer and well-lit streets, wore brightly colored clothes, and spoke with her boyfriend on the phone. But even that wasn't enough to stop her from not returning home one night. On March 3rd, 33-year old Sarah Everard was walking home from her friend's house in the Clapham neighborhood of London. Everard's body was discovered the next day in the Woodlands in Kent.  On March 12th, police officer Wayne Couzens was arrested and charged with Everard's kidnapping and murder. News about Everard's death spread like wildfire, and her name became a symbol for all the unheard voices. As a result, more women across the UK started sharing their own personal experiences of sexual harassment. 
A survey from the UN Women in the UK showed that 80% throughout all age groups have been sexually harassed. When they narrowed down the age group they found that a startling 97% of women between 18-24 have experienced some form of sexual harassment. The survey not only conveys the severed trust between women and the UK authorities' abilities to deal with sexual harassment, but also the anger and frustration they have faced while living with their silenced stories.
Upset and horrified over the murder, people held multiple vigils to speak up against sexual crimes.  But on the evening of March 13th, vigils were broken up for not following Covid-19 guidelines, and the police received criticism for their methods of handling it. Multiple images of women being pinned and handcuffed further outraged the public. 
Despite its tragic nature, Sarah Everard's death sparked women to finally speak up. The hashtag of "NotAllMenButAllWomen" started to circulate on social media. This means that although not all men assault every woman, almost every woman has had a personal experience with sexual misdemeanors. A social movement trending "MeToo," started by Tarana Burke, raised awareness of sexual violence, encouraging more women to speak out. Other hashtags like "ReclaimTheseStreets" and "TextMeWhenYouGetHome" have been utilized to share what women do to feel safe when out walking alone. A counter hashtag, "NotAllMen," was used as a defensive mechanism by many who disagreed in response to feeling attacked and offended by the "MeToo" movement. Many women have redressed this to say that "although it is not all men, it's enough for men to keep women in a constant fear for their safety."  It's not all men, but it's just enough men to make it a social problem and a human rights crisis, not a personal one. 
But these experiences have not been occurring only in the United Kingdom. It can happen to anyone, on any day, at any time.  Speaking for myself and others, many girls this age have had experiences of being catcalled, objectified, and even ranked on a list by boys. One girl from Tenafly High School, who wishes to remain anonymous, shared an uncomfortable story with me. During a Black Lives Matter protest in Tenafly over the summer,  there had been a moment where participants chose to kneel in silence, mourning the loss of George Floyd. During this very sensitive moment during the protest, a group of young men, mostly in their 20s, saw this as the perfect opportunity to capitalize on. One of the males slyly took out his phone and began taking pictures of the girl's behind. It was a hot day, just like any other day in the summer, and she had chosen to wear casual shorts. Her friend, seeing this inappropriate act quickly moved her protest sign to cover her, but the damage had most likely been done. Upon hearing this later, this girl felt invaded and disgusted by the act. Even more infuriating was the fact that this was during a very serious time, further proving how it could happen to anyone despite the circumstances.
A recent trend further shows how corrupted our society has become. A group of six men on the social media app TikTok have reportedly designated April 24th as a "National Day" for carrying out sexual assault. They have claimed that it would be "legal to sexually assault anybody" and there have been allegedly tips given out on doing so. With over 90.5 million views, the hashtag "April24" has been trending. Women have been told not to go out, and countless women on TikTok have used this hashtag to show different forms of self defense. Whether it's a sick joke, or a terrifying reality, women have even more reason to fear. If people are starting to think a national rape day is funny, the world is becoming a place of genuinely sick individuals. 
Since April is Sexual Assault Awareness and Prevention month, it is important to take steps to prohibit these acts from occurring.  Our society has a duty to do everything in its power to prevent this. If you hear someone speaking about women in a derogatory way, speak up. If you see a woman being harassed, walk over and support her. If a woman opens up to you about sexual assault, do not blame her or draw attention away from the incident. Listen, hear and encourage her to report to authorities: do not pass it off as nothing. If we continue to lead with compassion, and use our voices to speak up, then maybe future generations of women won't feel a wave of fear when walking home alone, especially when doing everything right.