An Olympics for the Ages
Olympics 2021 will be more strange and fun than every before!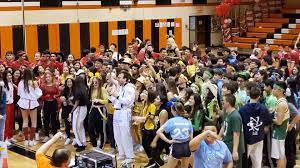 In a constantly evolving world, there is little one can count on to stay consistent. Technology is developed, information is gained, rules are amended. However, one thing has always been there for THS students. For over 40 years, students have endured mind-breaking work, suffered through essays and tests, and had precious hours of their lives stolen because they knew what was coming every March. They knew that it would all be worth it in the end when they'd have the chance to band together with the rest of their grade and triumph over the others. Only now, for the first time ever, THS Olympics won't be the same.
COVID-19 has changed things, making it impossible for a normal Olympics to occur. This year, the official Olympics day will be June 18th, a Friday and the last day of the marking period. "It is going to be a regular school day," Mrs. Tang-Johnson, two-time co-advisor of the Olympics Committee. said. "Actually, it's not even going to start until about 10:30, so the first few classes of the day will occur as usual." The events will end at 1:04, at the end of the school day.
Tang-Johnson cautioned that, because of COVID restrictions, only some events will be available in the main gym, with only the participants being invited. These will be the main, more popular events. "We're hoping that students will sign up to participate in an event that day, so they didn't just come to school to just watch other people participate," Tang-Johnson said. "So, like, cage ball is really popular and can encompass a lot of participants, tug-of-war, things like that."
Those not participating in events will spectate from home or their classrooms. "Remote students will be able to watch it on THS-TV, as well," Ms. Barker, lead advisor of the Olympics Committee, said. As it's still technically a school day, teachers will take attendance and students will rotate through their classes. Those participating in events will be called down and their classmates can watch their broadcasted event. Tang-Johnson encouraged students to get dressed up and cheer their classmates on from their rooms. She sees this altered version of Olympics as an interesting experience. "Say you're in a mixed-grade class," she proposed, "like a language class or an elective, you might be cheering for different teams as you're watching something happen." On the other hand, if students were in the gym, per usual, they'd be surrounded by only those on the same team as them. Things are always more fun when there's direct competition. "It might be interesting for some of the rivalries, 'cause that might happen while watching."
It's impossible to have the hundreds of Olympic events take place on that same day. Plus, it's unsafe to have it all so close together, time and space-wise. To remedy this, there will be pre-events leading up to the 18th taking place after the end of the school day. "We're hoping that it will just keep the numbers low at any given place," Barker said. "They're probably gonna be between 1:15 and 3:15 in the days prior to the main day," Tang-Johnson confirmed. "Only in-person students can participate in [the main] events, whereas anyone who's home doing remote schooling can come back to school and participate in any of the pre-events they want to, and have, signed up for."
The pre-events will be pre-recorded by Mr. Moger and his TV crew and broadcasted on the main day. "Between calling the participants from their classrooms to come to the main gym and to get set up for musical chairs or whatever it is we're doing," Tang-Johnson said, "in those in-between times, we're going to broadcast some of the other fun events—probably something like karaoke, theatre improv, some of those fun ones to watch." Barker explained how this is "so that the whole thing moves along kind of quickly and there's some downtime in-between events so people can exit the gym, go back to their classroom with their teacher, and the new group can come in."
A lot of what will happen this June is still up in the air. The Olympics Committee's current plans were only just solidified, according to Tang-Johnson, "Because we needed to hear from the administration what the rules were, what we were allowed to do." There are very many regulations that must be followed for health purposes, now. "If there's any sports, we have to make sure it goes through guidelines," Olympics Committee President Katherine Espiritu ('21) explained. "You have to kind of rely on the coaches to help us out with that."
Tang-Johnson and her fellow advisors meet with the Olympics Committee weekly to discuss various Olympic events. "We keep trying to tweak things to make it as engaging and as exciting as possible for the students," Tang-Johnson said. The teachers give them tasks to guide them, but the students really run almost everything themselves. "We design the events, we make sure we have the equipment, we make sure that we have the judges, and then we don't make any decisions, really, about what students participate in what event," Barker agreed. "That's left to the class officers: To make those decisions."
Recently, students have received surveys testing the waters of Olympics. Tang-Johnson expressed how helpful it's been to those tasked with planning Olympics: "It's given us the sense of what students liked, what events students really wanted to be involved in, whether students even want to have an Olympics—and it sounds like the majority of the school does still want to experience something akin to the Olympics as much as possible." The faculty of THS has done the same thing, filling out surveys of their own "Because we cannot run the Olympics without the help of the amazing school staff," Tang-Johnson explained. "three adults can't judge all the events. So we're still in the middle of receiving staff survey results to help us see, because as long as we can get the help for the judging and the running of the events, then we can run more events."
The survey has also given Espiritu and her fellow committee members a lot to think about. "There were a lot of relay race ideas," she said, "and there were a lot of people that were, like, 'You need a better playlist.' 'Make sure the music is hype.' And I thought, you know, 'It's good to know this stuff.'" Student opinion is always invaluable in determining the different events. When chess and checkers were voted out of the survey, closer inspection of the past participation of the events revealed how few people have gone in the past. Upon discovering this, the committee decided to cut the event out of all future Olympics. All because of a simple survey.
"It was mostly about driving events," Barker said, "and it gave us an idea of, maybe, some things to try to make virtual." While there didn't seem to be many students interested in the virtual events, Barker is intent on having some to include remote learners in the Olympic experience. These include Uno, bingo, trivia, and many more fun events that have been moved online.
With COVID restrictions imposing harsh regulations on Olympics, this year, most of the events, as Tang-Johnson put it, "any events that we could possibly put outside," will be outdoors. According to Barker, "As much as possible outdoors" and "as much as possible keeping students apart" are the goals. The picnic tables in the administrative courtyard and the space outside the cafeteria will both be used for outdoor events, plus some socially distanced indoor events, like video games. "We can't put monitors and plugs and remotes outside," Tang-Johnson said, "so those will be done either in the cafeteria space or in one of the gym spaces." Students at all events, indoor or outdoor, will be required to wear masks.
"Social distancing will be taken into account," Barker affirmed. "And, ya know, social distancing, I think, with masks, outdoors, is gonna be three feet." Those events deemed unsafe were discarded, this year, including Twister and pie-eating. Barker also said that she believed they would switch from T-shirt design to mask design: "Hey, we gotta do what we can, right?"
Keeping all of these things in mind, the rules for Olympics have been further adjusted, with, according to Barker, the rules on substitutions and the limit on a student's number of events being relaxed. "Normally," she said, "we want the class to be encouraged to keep as many kids involved as possible, and, that way, you really shouldn't have, like, one kid do 20 events and that leaves it with another kid with zero." However, this year, the officers have had some trouble "filling the holes," as Barker put it. "I would hope that class officers would try to bring some of the virtual students into the fold by giving them those spots," Barker said.
It's difficult to gauge how engaged in Olympics students will be, this year, with all of these changes. "We were thinking of making, maybe, a prize," Espiritu said, "but we may not have the budget for that. We don't really know." 
Tang-Johnson expects a whole lot of excitement from participants. "I think a lot of students, especially sophomores through seniors, who've seen it and participated in the past," Tang-Johnson predicted, "still have this desire to have this group feeling of competition, and fun, and a day to just not worry about school." There are definitely positives to this kind of Olympics. It's an understatement to say that Olympics can be overwhelming for some. "Having a million things going on, being forced to stand in the gym, and it's loud," Tang-Johnson described. She spoke of students who'd rather just go to a pre-event ahead of time and be able to fully enjoy it without being "stuck at school" and having the added stress and pressure of Olympics Day.
While optimistic that most students, especially the seniors, will be excited and find some way to participate, Barker admitted that this year's Olympics is going to be difficult. "It was the last thing that we did last year as a school," Barker said, "and I know it's just a really big tradition, so I'm hoping that we put together something that makes people feel like they at least had this."
COVID can take our social lives, it can take our sanity, and it can take our state testing and finals (thank God), but there's one thing it can't take; one thing we'll always have. Olympics.