THS Girls Volleyball Dives into Sectional Final with a Win
The music blasts. Teammates roar. Streaks of orange and black dominate the gym. Volleyballs zoom in every direction. All hands are in. The clock ticks. The buzzer sounds. And, boom, the ball is served. It's game time for THS Girls Volleyball.
This typical pre-game environment never goes unnoticed at Tenafly High School, especially during such major milestones in these athletes' athletic careers. All the sweat, tears, time, and energy dedicated to this game by each and every player was worthwhile when Tenafly Girls Volleyball triumphed over dominant Northern Highlands, ranked Number 1 in the NJ.com Top 20, in a 2-0 victorylast Monday night. Following a successful first set with a 25-19 win, Tenafly's volleyball stars did not fail to prove themselves once more. In persisting through their road to victory, this team showcased its tiger stripes with a whopping 25-20 win in the last set, revealing who is truly number one. 
Nevertheless, Tenafly Girls Volleyball is not all fun and games, particularly during such an unprecedented season as this one. The constant echo of cheers and post-victory smiles that are hard to miss would be a mere fantasy without this team's undoubted talent and dedication to the game. 
In August, COVID-19 put a halt to the volleyball season, a devastation for the players who had worked relentlessly since the second of their last game to prepare for the upcoming season. With this postponement, many veterans of the sport were tempted to conclude their volleyball careers, altering the typical upperclassmen line-up to one dominated by younger players. But this hurdle did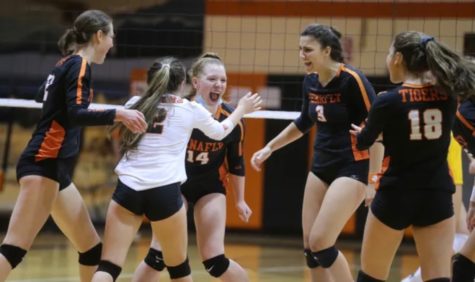 not stop Tenafly Girls Volleyball from jumping right over with seeming ease. "We knew we were going to be young," said Coach Koehler, who just capped off his 25th year as a volleyball coach for Tenafly High School. "It propelled the sophomores to have a big role in this team."
These sophomores did not hesitate to display their talent and roles, not only during the state championship, but throughout the entire season as well. With Sofia Bell ('23) acquiring three kills and three blocks in the final game, Anna Taufield ('23) with 11 digs, and Meghan Koehler ('23) with 21 assists, each sophomore's contributions helped lead the team on its path to victory. As for the Tigers' next two seasons, the volleyball program can count on members to advance the growth of their team. "My ultimate goal is to have have made a difference in the Tenafly volleyball program and that I grow to be a great player and teammate," Bell said. "Our goals are to grow together on and off the court since most of the sophomores will be playing together for the next two years." 
Rylie Theuerkauf also lent her hand in the final game with six kills and five digs. Not only did Theuerkauf play one of her best games, she played following a basketball injury that transpired the night prior to the big game. The sophomore, who recently reached 1,000 points in basketball, never fails to embody a true athlete. "That's what's so special about Rylie," Coach Koehler said. "She's just a gamer." Koehler highlighted how many of his athletes would have made it apparent that they were injured, but Theuerkauf just taped it up, "played and played a great game."
Apart from the sophomores, this team could not have progressed toward the championship without captains Noa Ben-Ari ('21), Danielle Korenkov ('21), and Zuzanna Buchnajzer ('21). The role of captain is given to those athletes who have strong leadership skills and can pivot the team in the right direction, that being the state championship for the volleyball team. Coach Koehler put trust in his three seniors to serve as a foundation for the volleyball team's success. "The three of them—I can say now—were the best captains I ever had 'cause we ended up winning [it all]," he said. He placed emphasis on Ben-Ari's ability to be tough on the team, while simultaneously giving love and gaining respect from the players. "She would tell the kids this is something where you have to be, you can't miss, you are here every day."
Placing another captain in the spotlight, Koehler said that Buchnajzer's talent and charisma strongly influenced the team: "She walked [on the court], she was always happy, always in a good mood, and that rub
s off on everybody." Another aspect of being captain is fostering newfound skills in the younger athletes. "The way she hits—the girls watch her and try to emulate her," Koehler said. Buchnajzer collected 14 kills in the finals, finishing off her senior season with 171 in total. 
The younger players undeniably utilize every one of the captains' points to better the team and the program. "Personally, I've learned so much from them and how I want to be as a senior," Bell said. "They've shown the true meaning of leadership, a good attitude, and a strong mentality…. I know that all of the sophomores can agree with me that the seniors have taught us all how to be such great leaders of this program and we feel ready to play that part in the upcoming years." The captain's strong influence culminates from the team's friendships on and off the volleyball court. Aside from the team's immeasurable talent, the bond between the girls was a huge factor in their victory. "We are such a close-knit team," Korenkov said. "After every point, gained or lost, we cheered each other up and then went back to our spots to focus on the next point." These bonds, which are building-blocks for the team, add an element of optimism, no matter the numbers on the scoreboard. 
All in all, Tenafly's sectional title could not have been achieved without the guidance of the one and only Coach Koehler. His extensive knowledge in sports, combined with his love and experience in coaching volleyball, drives his players to put their hearts and soul into the game. Succeeding his championship, Coach Koehler was flooded with congratulating messages from his alumni from the last 25 years, who were equally as exhilarated about the game as his own players. He cherishes this "kind of family atmosphere at this program." 
His players continually emphasize how significant an impact he has made on their volleyball and athletic careers as a whole. "I always learn something new from him," Korenkov said. "I could not be more grateful for such an amazing coach like Koehler."
Bell added that Coach Koehler has a unique way of mentoring his players, and fans can notice the evident growth his players experience as a result of his coaching. "Since before freshman year, Coach Koehler has played a large part in the way that I present myself as a player," Bell said. "Koehler has taught me so many things not only regarding high school volleyball, but about college, and adulthood after that." 
Tenafly Girls Volleyball certainly demonstrated that a combination of talent, commitment, and passion is the true recipe for success. This season, especially, cultivated a family of volleyball girls who will forever leave a mark on this program.