Tenafly Holds Vigil for Anti-Asian Hate Crimes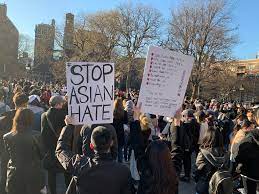 On March 16th, 2021, a man was charged with the murders of eight individuals across three spa parlors in Atlanta, Georgia. Six of these eight victims were women of Asian descent. However, the offender defended his actions as a provocation of "sexual addiction." And police have yet to charge this offense as a hate crime.
This shooting enraged Asian communities across the world, who view this incident as an act of blatant racism, especially considering the ever-increasing list of hate crimes committed against Asians since the coronavirus outbreak. Now, these acts of violence targeted towards Asians have finally amounted to irreversible hurt and loss. And beyond the irreparable damage done, there has been little action done in response to the clear racism behind the attack. Since the shooting, Asians have taken matters into their own hands, rising forward to speak against the hate directed towards them and embodying the voices of the repressed.
The change was long overdue, yet Bergen County remained silent.
As hours turned into days of silence, it was clear that something had to be done in acknowledgment of the fear and fury coursing through Bergen County behind closed doors. And rightful action was finally taken by none other than two ordinary Tenafly mothers. On Sunday, March 21st, a simple Facebook message was transformed into a county-wide vigil with over 800 attendees. 
Korean-American Mia Hur and Chinese-American Cecilia Chen arranged a vigil the Sunday following the shooting in recognition of the incident and the amounting Asian hate crimes worldwide. The vigil, held in Tenafly at Huyer Park, greatly resembled the Black Lives Matter protest that had been coordinated almost a year prior, and provided speakers across the county with a platform and audience to discuss the matter at hand and the change left to be done. "We [were] outraged that there [wasn't] more conversation on the local level about what is happening in the world," Hur said.
Tired of the "subtle judgment that happens, and as someone with a face like [ours]" and how race "plays a role into public perception and things that happen," they were determined to make a change. "It was more about the fact that we are 30% of the population here," Hur said. "[A friend and I] simultaneously posted onto Facebook that we are outraged that there isn't more conversation on the local level about what is happening in the world." Truly devoted to her cause, Hur "really wanted a formal statement and recognition for things that are happening to our community," and her hopes were answered by her initiative. After the event, other towns in Bergen County soon followed their footsteps to hold their own vigils and rallies. Governor Phil Murphy also called in, recognizing Hur and Chen's efforts.
Many speakers across Bergen County were gathered at local Tenafly to share their insight concerning the situation. Among the attendees was the Asian American Youth Council (AAYC), in hand with many other Asian county representatives. 
Brian Jon, founder of the Asian American Youth Council and one of the speakers at the vigil, offers his intel regarding the incessant Asian-directed racism across the country. "Throughout the media we've always been told, 'You have to be educated,' 'The police has to be educated,' 'Everyone has to be educated,' but [as] I mentioned in my speech [it's] too late," Jon said. "Too many people are dying out here and it's really important that the media, the prosecutors, the people who make the decisions, they must be educated so that they could prevent Asian hate crimes." An Asian American youth himself, Jon shares his perspective on the infuriating event from a position of initiative towards change. The AAYC's presence as a body of support at the vigil upheld its determination to remain firmly rooted in its fundamental cause. "[The Asian American Youth Council]  started because of an Asian hate crime, and we want to continue to stand up for the Asians living in our county."
Kaylie Rim, a junior at Tenafly High School, also gave a moving speech on the recent news. Although it was anxiety-inducing, she was "glad [she] did it." As president of THS Social Activist Club, Rim elaborated on what compelled her to share her speech. "I wanted to speak about this because I'm an Asian American and it has affected me greatly— worrying about the elderly, worrying about my mom, and going outside and I wanted to speak up about it [and] do something [about it]." Describing her anger regarding the situation, Rim said, "I'm really, really infuriated about the shootings but I'm also just heartbroken for the families because just seeing the news and seeing the families' reactions to how their parents were so unjustly murdered––it just breaks my heart." 
Brian Hall, a school teacher in Englewood and a Bergen County Asian Young Life leader offered a look at the diverse crowd. "I have a strong affinity for my Asian American friends, and I do feel like it shouldn't just be their battle," Hall shared after the vigil. "Like one of the speakers said, we are all American, we are all together." As a Caucasian male himself among the vigil's overwhelming crowd of Asian-related supporters, Hall discussed what drew him to attend the vigil and the importance behind supporting such causes. "One of the reasons why I'm here was also to learn. Because I don't know all the answers, I'm hoping that as I listen to what others say. I can learn what some of the other answers are, too." A big part of the solution, he said is "educating people more, emphasizing the message that we're all American and everyone has the right to be here." Hall referenced Dr. Martin Luther King Jr., saying, "'an injustice to one is an injustice to all,' so I feel like we all have a role in trying to be enlightened and part of the solution."
Amidst the crowd was also an overwhelming number of Asian youths. "[I found] it very inspiring to see not just Asian speakers, [but] … speakers of other races," Ryan Kim ('23) said. "Being an Asian American, I found it beautiful how other races [were] showing solidarity, and [were also] kind of united as a community." He views the shooting in Atlanta, Georgia as "absolutely terrible," and he thought it showed how much of a problem racism really is. "It wasn't just the action itself that concerned me so much," Kim said. "It was the aftermath of the event-how people were trying to defend [the shooter's] actions." Despite grief that has overtaken the nation, Kim remains "very excited for what the future has in store," as the movement towards change has begun. 
Hate crimes against Asian Americans show no signs of diminishing anytime soon. Even in our own community, minorities remain a target for racial discrimination. We must continue the narrative beyond an hour-long vigil. For actionable steps to support the Asian community, Zenerations, a "youth-led organization empowering Gen Z changemakers," published the "Hour of Action" plan. You can learn the history of European imperialism and how it affected Asian communities in just five minutes, sign petitions to demand justice for anti-Asian hate crime victims in 15, and read excerpts of books written by Asian American authors in ten. They also provide email templates to contact local representatives, along with a list to help people find officials to contact.
Change does not have to start on a large scale; it can be as simple as a local gathering or even correcting a family member at the dinner table. "Literally a conversation between two mothers turned into what you saw here today," said Hur. "So change happens on all levels. So keep talking and keep sharing."