Tenafly Alumna Josette Norris Races to the Olympics
You may have seen her name and portrait once or twice while strolling past Tenafly High School's trophy room, but have you ever stopped to wonder who is truly behind these golden trophies and wooden plaques up on display? Alumna Josette Norris left Tenafly in 2014 quite unknowing of what was waiting ahead of her, and little did Norris know that her passion for running would take her to great strides—strides so great, she'd have a shot at the Olympic Games.
On Saturday, May 15, Norris clinched the time needed to compete for a spot in the U.S. Olympic team, after she had qualified for the Olympic Team Trials at the Texas Qualifier in Austin back in February. Running 5,000 meters with an impressive 28-second personal best of 14:51.42, she ultimately ran the race head-to-head, finishing second to World Champion Sifan Hassan of the Netherlands. Not only did this race qualify Norris for the Olympic Team Trials, it additionally granted her the title of ninth fastest American in history, and third fastest 5,000-meter runner in the world as of now.
According to The Record, while Hassan, the Olympic favorite, cruised toward her first-place finish, Norris was on beast mode as she stormed through her last lap in 65.36 seconds, the fastest of the night, to secure that second-place title. Stepping onto the track with a personal record of 15:19.31, Norris tackled the race, expecting it to be a fast one, but not as fast. She solely had her mind fixed on one goal—to run under 15:10 and surpass that Olympic standard. "When I crossed the line I was just in shock but also just so happy," Norris said. "Everything just went the way you would hope for in a race, and I was really grateful that it did." 
Describing Norris's emotions during the race as happy would be an understatement. She closed her eyes, readying herself to take this irreversible step, and—boom—the race kicked off. 
For Norris, the race itself felt like she was running two races simultaneously—one against Hassan, and another against all the other U.S. runners. Even if you've never seen Norris on a track, her determination to dominate does not go unnoticed. She, along with all the U.S. runners, made certain to avoid going over their heads and just kept a close watch of the finish line, despite racing against a world champion. "We assumed [Hassan] would go off on her own," Norris said. "But it was really cool to, …at the end of the race, be there and be able to outkick the other U.S. runners and finish behind Hassan in such a fast last lap."  
Since running a 5k in under fifteen minutes is quite the feat, Norris's running career had to begin somewhere, and that somewhere was on the very same track—Geissinger Field—that Tenafly's present track stars use daily. After holding every possible running record at Mackay Elementary School, Norris joined the church team at Our Lady of Mount Carmel. Although she played other sports in high school, Norris committed to running full-time her junior year after being named captain of the cross country team twice, which marked the onset of her running dream. "I've always loved running, and it was definitely the sport I was best at," Norris said. "In the end, I was grateful that it opened so many doors for me to go run in college and now professionally."
During many of her meets at Georgetown University, where Norris attended college, she would reminisce about her Tenafly days, where running came to her with ease, and her confidence and rhythm soared to great heights. Norris's first ever high school indoor meet was at the Armory Track, just fifteen minutes outside Tenafly. Her first ever professional debut happened to be at that exact track. "That just felt so full-circle because I remember there were so many professional meets at The Armory and I was, like, 'one day I hope that I can run a professional meet there,' and my opening meet as a professional runner was in our backyard in Tenafly," Norris said.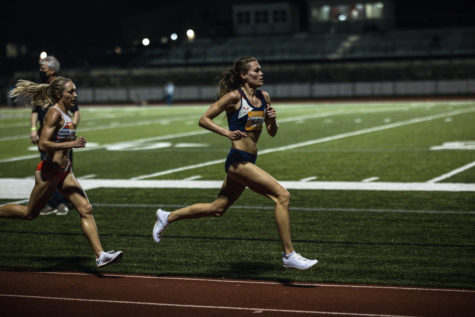 While the pandemic put a halt to many people's daily endeavors, COVID-19 did quite the opposite for Norris. As competitions drew to a close, Norris's journey as a runner only progressed. As a new professional runner back in 2019, discovering that the Olympics were postponed eased her mind. Joining a professional team with a professional coach was a bundle of getting used to, so much so that "it felt like I was a freshman in college all over again," Norris noted. The leisure time that the pandemic granted Norris was crucial to her development as an athlete in terms of strength and confidence. "Now I'm finally seeing those results from training last year and this year," she said. "So things are clicking at the right time."
Those results were most certainly seen in her last race, during which she ran her first 3000 meters in 9:01, only three seconds slower than when she ran a 3000-meter race during her indoor season—except this time, she still had another 2000 meters to go. "If you step on the line and you're not believing in what you're doing and you're worried about what everyone else is doing, you're already at a disadvantage on that start line," Norris said. "And in that moment I just had to focus on myself and not worry about the time on the clock and just… trusting myself and my body that I could go and get that time, and it was okay that I was out that fast."  
Now, as Norris sets the scene for the Olympic Team Trials, which begin on June 18th, she continues to train by running countless 1500-meters, a distance that aids in her process of advancing her speed and closing speed. "You'll see a lot of other professional runners go down in distance as they are gearing up for their main event," Norris said. "You don't know what you're gonna get 'till the gun goes off, so it just helps you prepare and get a little sharper for your main event."
Norris seizes every opportunity she gets to return to the sandstone orange track that built the foundation for her career. While she wishes she could visit Tenafly more often, the Geissinger Field track "brings back a lot of memories," she said. In hopes of going to the Olympics, Norris dreams of representing the United States of America, and she plans to pursue running professionally for as long as she can. "Hopefully, the next time I'm going back to Tenafly, I have a lot to celebrate."