Junior Jessica Huang Starts Teddy Bear Charity Organization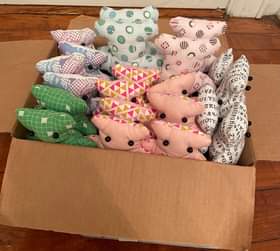 In late August, THS junior Jessica Huang decided to recruit local craftists to join her latest major project, Stuft with Love, through which Huang aims to donate fifty homemade teddy bears to women and childrens' shelters by Christmas as a way to brighten the days of those in difficult circumstances. 
The start up of the project all began with Huang's obsession with claw machines. Throughout the summer, Huang gradually accumulated an impressive collection of claw machine prizes. As her collection continued to grow, she began to consider donating some of her stuffed animals to local women and childrens' shelters as a means to give back to the community. "I started donating those stuffed animals because I had a surplus of [them]," Huang said. "And then I realized I could make them myself and donate them." This led to the tentative creation of Stuft with Love. Through the collective volunteerism of fellow Tenafly High School students, Huang hopes to make a true difference in the lives of others by "[giving] back to the community that has already given [her] so much."
Huang made her first donation of claw machine prizes to the organization Oasis – A Haven for Women and Children in Paterson, New Jersey, last Christmas. "I think I donated like 50, which totalled to like $500 worth… of… stuffed animals," Huang said. Through her organization, she hopes to accomplish this same goal of donating fifty stuffed animals in time for this Christmas as well. "For the donation process, I just box up all the stuffed animals and then I just drop it off," Huang said. "I wasn't allowed to go in last year because of corona––so I just dropped off outside… And then they sent me a letter afterwards saying, 'Thank you for your generous donation,' and it was really nice and wholesome." The reward of knowing that she has truly made a difference makes the entire process all the more worthwhile, according to Huang.
Huang is now in the process of rallying volunteers to contribute to the project, and has already received a considerable amount of support. Stuft with Love has enlisted the help of  eleven volunteers and has produced around 35 bears awaiting donation.
The process of producing the bears is quite simple. Huang manages the distribution of fabrics, stuffing, and buttons, and volunteers then take on the task of creating and assembling the bears. The shape of the bear slowly emerges as fabric is either hand or machine sewn together and then stuffed with handfuls of polyester filling and "love." Although the bears are simple and far from store-bought perfect, they each possess the unique quirks that come along with the process of personalized handiwork, making them that much more meaningful to recipients. With the addition of button eyes, felt noses, and ribbons tied around their necks, the bears come to life, ready to meet their next owners and forever-friends. 
Junior Crystal Ye, an active participant in Stuft with Love, shared a similar sentiment of excitement for the project and its cause. "Jessica texted me and gave me some information about the organization, and I thought that it would be fun and a good way to support the younger children," Ye said. "I learned how to sew––my mom helped me out––and it's been [a good experience] overall." Simply being able to connect with others and make an impact on the community, especially during these difficult times marked by separation due to COVID, has rekindled a sense of connection. "I'd like to meet the kids one day––if I could bring in the actual bears one day that would be cool," Ye said.
Although the project is still in early stages, Huang has great ambitions for the future of Stuft with Love. "Hopefully I can make this into a club by next year if I can get more people, and maybe around every major holiday, like Christmas, Thanksgiving, etcetera, we can donate the bears to the shelters," she said. By integrating this project into the high school, Huang aims to draw in more interested volunteers while further localizing the organization. Interested students can contact Jessica Huang ([email protected]) to become involved with Stuft With Love and make the next holiday donation goal a reality.