Broadway Finally Back After 15 Months of Closed Curtains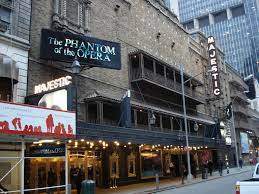 Most Tenaflicians have seen a Broadway show, whether it be the Phantom of the Opera, The Lion King, or any other production that takes place on the bustling streets of mid-town. So when these esteemed shows were cut with a brief goodbye due to COVID, it left audiences in a deep pit of anticipation and anxiousness. Finally, after fifteen months of delays and the longest Broadway shutdown in history, productions were given the approval to reopen. Preparation began immediately and excitement erupted across the Tri-state area.
At the beginning of March, Governor Cuomo ordered all 41 Broadway theaters based in New York City to be shut down. The original plan was to close theaters until January 3rd of 2021, but because of New York's critical condition, that date was pushed back until further instruction. Not only did the closings force individuals to lose their jobs, but tourist numbers decreased dramatically. According to CNBC, "The Actors' Equity Association, the labor union that represents around 51,000 stage actors and managers in the live theatrical performance industry, said more than 1,100 actors and managers lost work on Broadway during the pandemic." Even before COVID-19, Broadway was a high-risk business. With some shows not even making a month, there was no promise in how long it would last. 
Thankfully, the pandemic didn't wipe out all optimism. All through the downtime, performers had to become more inventive to hone their skills under the plight. Live streams became increasingly popular, Zooms were the new routine, and the standard living room became a studio for auditions. Though the opportunities were limited, performers coped as best they could. "What I did most was keep in touch with my fellow performers, taking any chances I could to act, sing, or dance, even if only on Zoom," child Broadway actress Mehret Marsh said. "And I looked forward to a time when I could do everything again in person." Marsh appeared as the first African-born "Young Nala" at just age 9 in the beloved Broadway production The Lion King and went on to be selected for the original cast of Tina on Broadway, which opened in November of 2019.
Since the reopenings that commenced in September, productions are back, although many have been tweaked to fit the relevant needs. The Broadway League has decided to mandate a vaccination card, mask, and proof of ID for audiences and all theater workers. The theater industry's desire to stay open henceforward is powerful, and Broadway is now ready to bounce back by taking every precautionary action possible. "Though I don't believe that Broadway will ever be the same, that doesn't mean that it still won't be amazing. The people who perform have a passion for this. They won't let it fade," Marsh said.